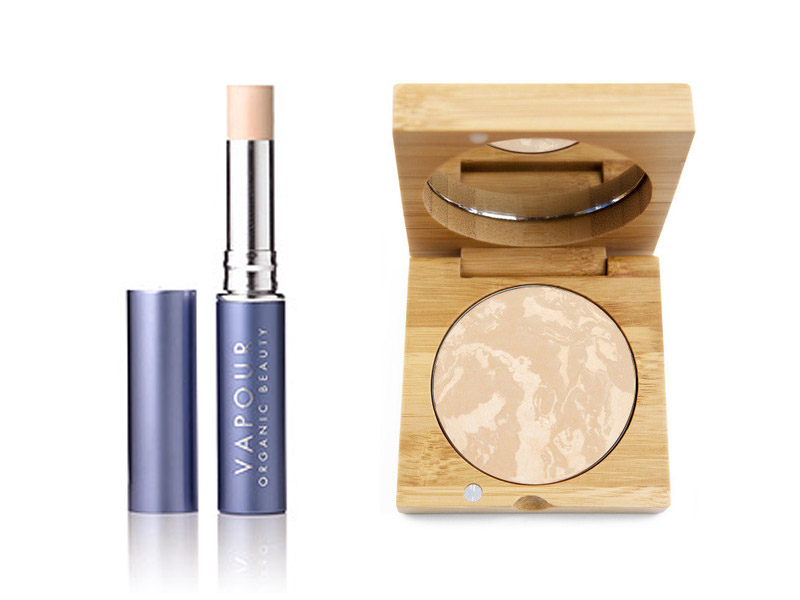 When I'm in a hurry and don't have time to put a lot of effort into makeup (meaning I've got two minutes or less), there are a couple of products that are fantastic for brightening up my complexion and making me feel more put together in a jiff. These products are also super portable and make perfect touch-up companions throughout the day. I'm talking about the Vapour Organic Beauty Illusionist Concealer and the Antonym Cosmetics Baked Foundation. If you're looking for a quick and easy way to look glowing and healthy, these two items are a great addition to your makeup kit.
Starting with the Vapour Organic Beauty Illusionist Concealer, I'll quickly swipe this little stick under my eyes and alongside my nostrils and chin—basically anywhere that needs brightening and evening out. Tapping to blend in, I'll make sure to go over my eyelids as well for a more awakened and bright-eyed appearance. This concealer has a beautiful consistency that never ever feels heavy. It has a luminous soft focus finish with a slight light reflecting quality—not in the same way a highlighter does—it just puts off this noticeable glow. The coverage is good, if not a little more sheer than other concealers, which is fine with me because of the aforementioned brightening qualities. Plus, heavier concealers have a way of looking too obvious later in the day. The Illusionist Concealer can be reapplied for touch-ups as easily as a lipstick.
Following the Illusionist Concealer, I'll dust on the Antonym Baked Foundation with a big powder brush. While Antonym calls this powder compact a foundation, it doesn't have the full coverage that something like a loose mineral foundation or a cream does. Instead, it offers a totally natural looking transparent finish that brightens and evens out skin. Since it is a powder, the finish is more matte. You can apply this so quickly—like 15 seconds to done! The compact contains a multi-hued dome shaped baked powder, meaning they turn a foundation cream into a finely textured powder through a unique baking process. The foundation has light reflecting properties—but again—no sparkles or shininess here. Just glow. While I like to apply with a big powder brush for quick and light coverage, a kabuki brush works beautifully, and you can enhance coverage by using a traditional flat foundation brush.
Together, the Vapour Illusionist Concealer and Antonym Baked Foundation are two face brightening makeup essentials that make a busy morning just a bit more manageable. Have you tried them?