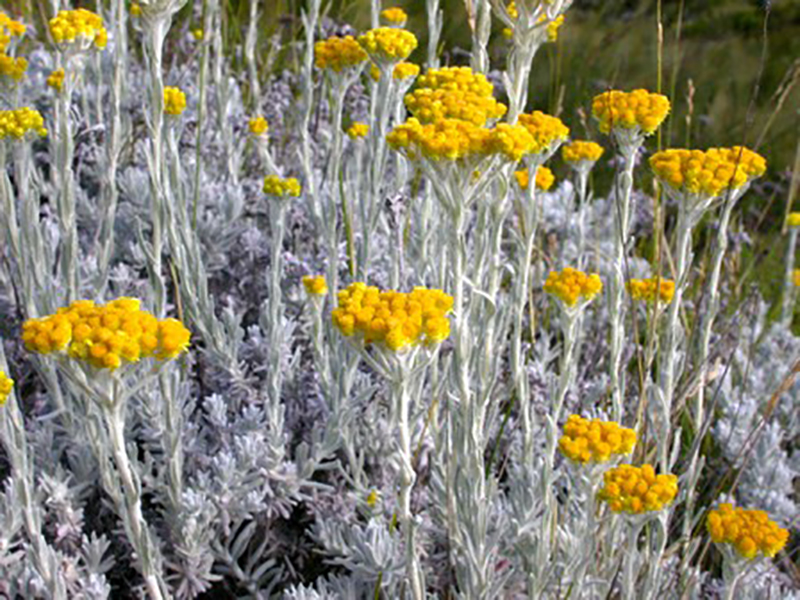 Have you noticed helichrysum in the ingredients of many of your skin care products? There's a good reason for that. Helichrysum is an essential oil that promotes skin regeneration and acts as a super healer.
There are over 600 species of flowers in the helichrysum genus, which is part of the sunflower family. The type of helichrysum most often used in skin care is helichrysum italicum, but you may see it listed on ingredient labels as "immortelle" or "everlasting"—names that came about because the flowers retain their bright color even when dried.
Helichrysum italicum is the preferred species for skin care and first aid because it contains high levels of neryl acetate, a compound that works synergistically with other constituents present in the oil to rebuild and heal tissue. Helichrysum is often included in first aid formulas for wounds, bruises and scar tissue due to its healing properties. In addition to stimulating cell renewal, healing helichrysum oil acts as an anti-coagulant (blood thinner). Injuries can cause a constriction of the blood supply to the damaged area (hello bruises!), which obstructs oxygen and nutrients from traveling between cells. Helichrysum thins the blood out where injury has occurred and encourages cell regeneration.
Helichrysum also has anti-inflammatory properties that calm and soothe skin cells. The essential oil is non-irritating and non-sensitizing—perfect for those who are sensitive but need some serious healing action. Even people with rosacea and dermatitis can benefit from this oil. Like most essential oils, helichrysum is rich in antioxidants, which helps protect the skin from damaging free radicals. Skin regeneration is where helichrysum truly shines as a natural ingredient. Helichrysum helps fade scars and stretch marks while stimulating the growth of new skin tissue. It promotes a youthful and fresh appearance while keeping skin healthy and happy.
Want to add helichrysum to your skincare routine? Look for it in these products…