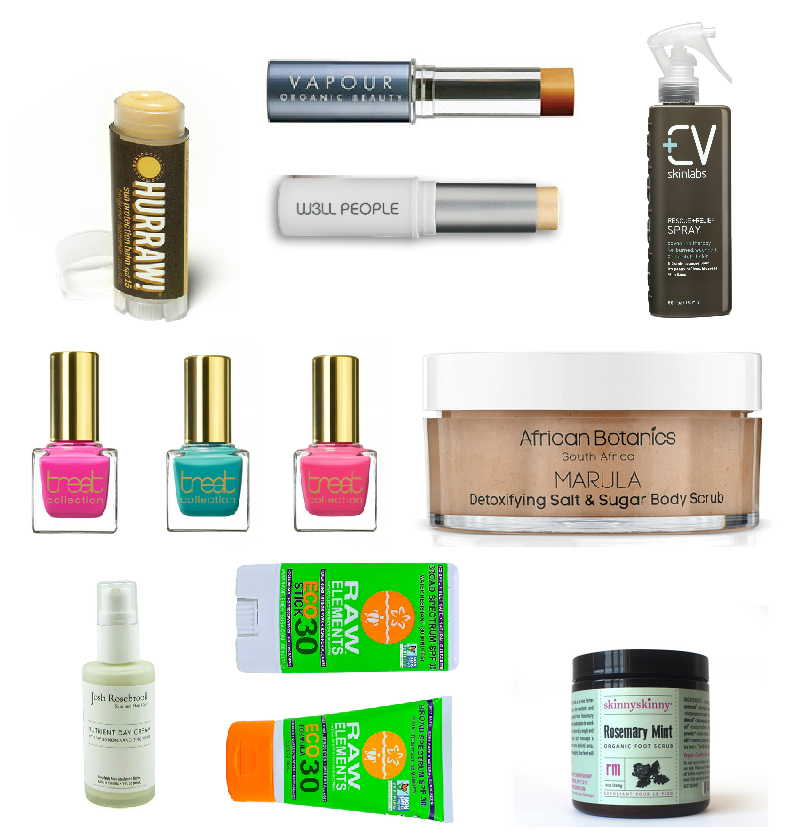 Living on the east coast for the last decade has really turned me into a beach lover. I crave the ocean air, salty skin and beautiful views. Before I lived on the coast, I enjoyed summers at the lake or floating along in rivers. Whether you're at the beach or poolside, there are some great natural products that will help look and feel your best. Here are my suggestions for getting beach ready from head to toe:
Exfoliate and Revive Skin
Let's face it, going to the beach means baring more skin than normal, and the African Botanics Detoxifying Salt & Sugar Body Scrub primes and exfoliates, leaving you with glowing baby soft skin. Antioxidant-rich oils like African Marula and Kalahari Melon Seed act as a treatment to renew and hydrate skin. Before you paint those pretty toes, use the skinnyskinny Organic Rosemary Mint Foot Scrub to slough dead skin and smooth rough heels. Sea salt, pumice and cornmeal exfoliate calloused areas while peppermint and eucalyptus lend a cooling affect that deeply relaxes.
Accessorize with Pretty Color
A cute manicure and pedicure is absolutely essential in my book, and Treat Collection has some gorgeous colors for the summer season. Outdoors is an electrifying shade of green that is fresh and unexpected yet so perfect for the season. Dance Floor is a classic hot pink that screams "wear me to the beach!" and Poppies & Peonies is a bright pink with a touch of fuchsia that recalls the gorgeous flowers it's named after. Maybe you're one to skip makeup altogether at the beach, but if not keep it super simple with a brightener and bronzer. The W3LL PEOPLE Bio Brightener will give you a radiant glow and make you look more rested than you really are, while the Vapour Organics Solar Bronzer brings life and color to cheeks without the damaging UV rays. Both come in a stick for easy portability and application on the go.
Protect from Harmful UV Exposure
Though not waterproof, you won't mind reapplying the Josh Rosebrook Nutrient Day Cream with SPF 30 Non Nano Zinc Oxide. It's a gorgeous lightweight moisturizer packed with herbal infusions and botanical goodness that balances and protects, yet you wouldn't even know you're wearing sunscreen if the label didn't tell you so. For the body, check out the water resistant Raw Elements Eco Formula SPF 30 Lotion. If you prefer a stick for quick touch ups and easy application, Raw Elements Eco Stick and Eco Tint Stick in SPF 30 are wonderful portable options. Don't forget to protect your lips! Hurraw! Sun Lip Balm SPF 15 is the absolute best I've tried, and I wear it daily — not just to the beach but to the park and more. I'm prone to discoloration right around my lips where sunscreen wears off easily, and this lip balm keeps that from happening.
Be Prepared with After Sun Care
Sometimes despite our best efforts the sun gets the best of us. Make sure you have CV Skinlabs Rescue + Relief Spray on hand to provide cooling, instant relief and calm burned or irritated skin. I do not go to the beach without this spray, and last summer it saved my friend who got too much sun on our first day at the shore. It calmed and relieved the burn over night, allowing her to enjoy more days on the beach without a break. Besides treating sunburn, it's excellent for heat rash and other annoying summertime skin problems. You'll come to rely on this water-thin, healing spray once you try it for yourself.