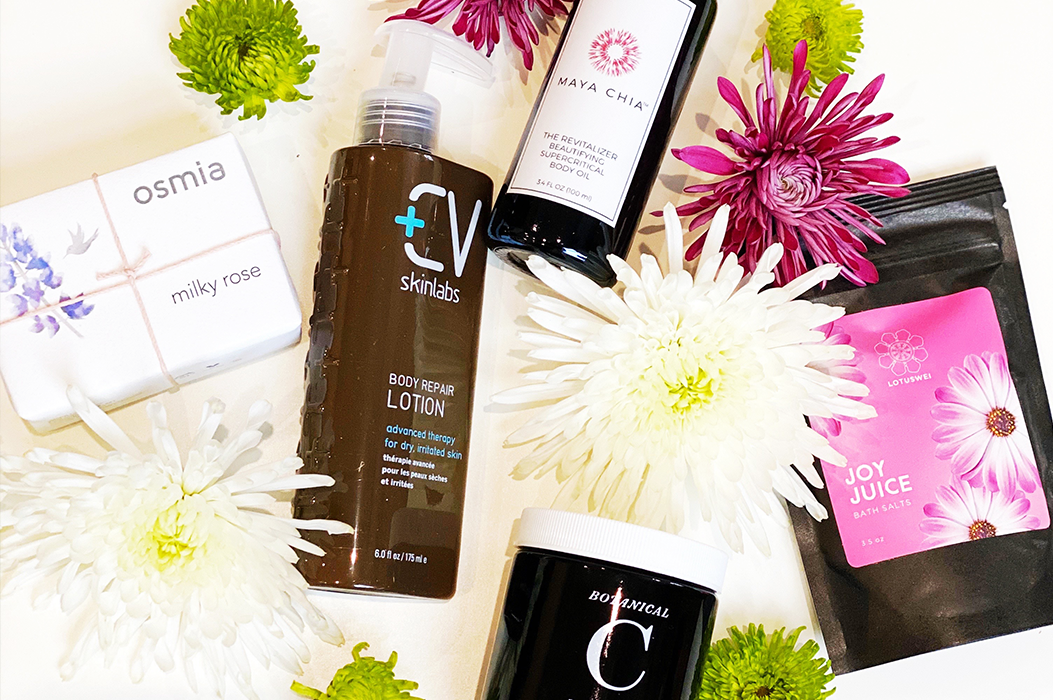 Most articles about how to care for the skin on your body are published at the start of spring or summer, when people are thinking about wearing shorts, bathing suits, sundresses, and other things that expose their skin to the elements (and to other people's view!).
But I think it's important to talk about the best ways to take care of the skin on your body when it's not shorts season, even when potentially no one but you will see most of your skin. Because it's not about what other people think, or how your skin looks to others, but instead it's about how you feel.
Your skin is your largest organ. So much emphasis is put on the skin on our faces, which I get because it's the most visible, the most fragile, and the most complex, but the rest of our skin matters, too, even during winter. Especially during winter! What better time than the driest, coldest season to protect this glorious covering in which our bones and brains are housed?
I've put together a guide of the products I love to use for taking care of the skin between my neck and my toes, organized by the portion of the routine or ritual I follow to get the best results! From bath to moisturizer, here are my recommendations, secret tips, and the things that have helped me love and nurture my skin all year round!

#1. Bath
Not everyone is a bath person. I sure didn't think I was until a few years ago, when I had some chronic pain in my hip and back, and my physical therapist recommended baths. I grudgingly tried it and found that not only did a soak that included epsom salts really help with the pain, but that I actually loved the decadent ritual of relaxing in the water for twenty minutes, with a virtual Do Not Disturb sign on the door (in the form of my husband keeping the children from barging in!).
Not all baths are great for your skin— you want to avoid taking a bath that's too hot or too long— but in moderation and with the right products, it can be a lovely stress-reducer, body cleanser, moisturizer, and "me time."
My first recommendation is to light a good-quality, non-toxic candle while you take the bath. It costs little when measured in cost-per-use, can add ambiance in the form of both light and scent, and is a good reminder to other members of your family that this is more than a utilitarian cleansing moment, so they should give you some space! For this purpose, I love Woodlot's candles, especially their Original scent, and all of Red Flower's petal topped candles.
I would never take a bath in just plain water— that's a missed opportunity, and, as mentioned above, can be drying for your skin. You want to find a great bath salt or milk mix that will give your skin nutrients and treatments while you relax and unwind. For salt-based baths, I adore Osmia's Recovery Bath Salts, which contain some Epsom Salts for those sore muscles, plus a lot of other great kinds of salts, extracts, and oils to please your senses and help draw out toxins. I also love Joy Juice Bath Salts by Lotus Wei. It's next-level gem essences and aromatherapy are a perfect blend with the pure sea salt for an uplifting experience.
For a more mellow, moisturizing bath, I love Osmia's Serenity Milk Bath. The name says it all, and it's every bit as luxe and pampering as you'd expect!
#2. Body Washes
I personally like to shower off after a nice soak in the bath, but it's not required. However, I assume that most of us shower at least several times a week, so here's where your daily ritual for pampered skin can begin, even if you're not a bath person. From foamy and fragrant (Red Flower's all-natural Purifying Body Washes) to rich, luxe, and gel-like (Kahina Giving Beauty's Beldi Soap), to classic with a fresh twist and dried petals (Osmia Milky Rose Soap), there is something for every kind of body washer.
#3.  Scrubs
I'm kind of obsessed with scrubs. And by kind of, I mean completely! I love a good scrub because it forces me to pause and give myself a short massage. I like to turn off the water towards the end of the shower and spend a few minutes massaging in One Love Organics' Vitamin C Body Polish or Red Flower's Lemon Coffee Blossom Olive Stone Scrub. Then, after a quick rinse, when I get out of the shower, I don't need to moisturize. I love a good multitasking product, and these exfoliating-while-moisturizing scrubs are the best. Plus, you get the aromatherapy from the gorgeous essential oils or extracts and aromatics (like coffee seed powder, in the case of Red Flower). Scrubs improve circulation, making them a totally indispensable part of my routine. Use a scrub twice a week, or as directed.
#4. Lotions/Creams
I'm fairly certain I use more lotion or cream than one is supposed to, but I really love that fresh-from-the-shower-and-all-moisturized-up feeling. Sometimes, when I'm feeling fancy, I'll use something very luxe, like Ayuna's Restorative Prebiotic Care Body Cream. With the same signature scent as the rest of their products, you'll love the thick texture and the skin smoothing results.
My every-day, in-a-hurry/rush-favorite are Kosmatology Lotion Bars. So easy to apply, the moisture lasts all day, and the very light scents don't compete with any perfume I might spray on last-minute. A new discovery I'm really loving is the Sensitive Baby Fragrance Free Daily Hydra Lotion by Babo Botanicals. Don't let the name fool you— it's great for babies and kids, but I promise adults love it, too! It's so good, and the price is incredible, and since there's no fragrance at all, you can layer it with your favorite perfume or essential oil blend to customize it (I love using it with Leahlani's Bless Aromatherapy Essence, obviously!). When my skin needs some real, extra TLC, my go to is always CV Skinlabs products. I love the Body Repair Lotion for all over, the Balm for particularly irritated or dry spots, and the spray to use in concert with all the other products for an extra boost of moisture.
#5.  Oils
If I'm using a body oil, I don't even bother to towel off after my shower. I drip dry for a moment, and then use the water on my body to mix with my body oil of choice to form a perfect emulsion of moisture! My new favorite for applying right before bed to wake up feeling smooth and fresh is Live Botanical's Coconut and Bergamot Ultra Rich Body Oil. It smells so good!!!! And I can't live without Maya Chia's The Revitalizer, with it's facial oil-caliber ingredients, it's a true body treat. I love the subtle shimmer and uplifting scent of Mahalo Vacation Glow, especially when it's cold and dark outside and I need a lift. Circle of Protection, by Max and Me, holds a special place in my heart (and on my shelf) for the times that it's not just my skin, but also my spirit, that needs a little extra love. For travel, I love the Aster & Bay Serum Spectre— small enough to pack, glittery for special occasions, and sweet-smelling so you don't also need perfume. Get this one soon, though– Aster & Bay just announced that they'll be doing a big brand update soon, and many formulas won't be coming back! Stock up on Spectre, the brand's Aura Body Serum: Solstice, and anything else you love from the current lineup from Aster & Bay before it's all gone!!
Last but not least, I've added a few bonus tips for how to care for your body, all year round!
I know the term "Self-Care" is tossed about constantly and casually these days, but like every cliché, there is a reason. Taking care of your body is an excuse to check in with yourself. How is each part of my body feeling? What, if anything, is different? What did I do today that made my body feel good? What did I do that didn't leave my body feeling so great? Am I resting/exercising/sleeping enough?
Coming at one's body from this perspective is important because it is a reminder that how our bodies look to other people, or even to ourselves, isn't what really matters. How they feel, what they can do, how they enable us to do wonderful things, like dance and take care of our kids and experience nature– that's what matters. But none of that is possible without a body, and having a body means having skin. If that skin is cracked, dry, or itchy, it's a lot harder to dance and take care of the people we love and get outside to enjoy nature. Which brings us back to self care: take care of the skin on your body because it needs to be healthy. Take care of it because you want to go out and see the world– not because you care that the world might see you.