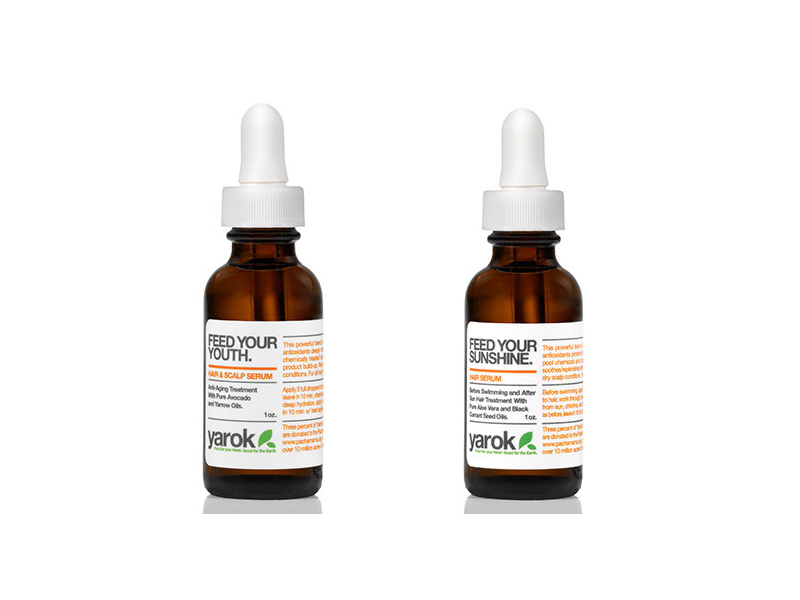 Have you ventured into hair oil treatments? They are new to me, but I love the results so far. The process is relaxing, and it doesn't have to be as involved or messy as you might imagine. When I was a kid, there were commercials and magazine advertisements everywhere for V05 Hot Oil Treatments. That was my first introduction to the concept of a hair oil treatment, and while I watched a few curly-headed friends use them, I never dared. I have no idea, but my guess is that mineral oil and other petrochemicals make up the bulk of those ingredients. Yuck. Since becoming such an ardent fan of botanical oils for the face and body, it has occurred to me that I need to revisit this idea of hair oil treatments. Yarok was able to tempt me into it with their delicious smelling and nutrient-rich treatments—the Feed Your Youth and Feed Your Sunshine hair serums.
After my first whiff of the Yarok Feed Your Youth serum, I couldn't get it into my hair fast enough. It smells incredible with its ylang-ylang and orange blossom scent. The ingredient list is simple but effective— Avocado Oil, Apricot Kernel Oil, Ylang Ylang, Yarrow, Orange Blossom, and Bitter Orange. The essential oils smell great, but their true purpose is to impart vitamins, minerals and antioxidants to your hair and scalp. The avocado and apricot oils hydrate and soften while also soothing any scalp irritation. Yarrow oil is the special active in this formula. It helps heal inflammation from conditions like eczema and promotes hair growth. Apart from the fantastic ingredients and the gorgeous smell, the simple and quick application process is what really drew me to this treatment. I don't have a lot of free time to sit around with oil in my hair, and the Yarok hair oil treatments are meant to do their thing in 10 minutes flat. It's easy to work the oil through your tresses 10 minutes before hopping into the shower, and it's easy to wash the treatment out. I'm left with baby soft hair that feels rejuvenated.
The Yarok Feed Your Sunshine serum is another very cool option that has some versatility to it. It's lighter weight than the Feed Your Youth serum, and has an equally impressive formula— Jojoba Oil, Black Currant Seed Oil, Aloe Vera Oil, Tea Tree, Lemongrass Oil and Geranium Oil. The lemongrass scent is bright and summery, which is appropriate since this treatment is particularly adept at protecting and repairing damage that comes with the summer season. If you are a frequent swimmer or spend time in the sun, Feed Your Sunshine is for you. Just apply three full droppers and work through the hair prior to swimming for protection from the sun, chlorine or ocean salt. Because the base of the serum is jojoba oil it's easy to apply on the go and it works into the hair and scalp without a ton of effort. Once you've had your time in the sun, reapply as before, leave in for 10 minutes and wash out. I haven't had the opportunity to test this prior to swimming, but it can be used as a lighter treatment oil just like the Feed Your Youth serum because it was specially formulated to combat the results of over processed hair and environmental damage as well as dry scalp conditions. If you've been looking for an easy yet effective hair oil treatment, give one of these options from Yarok a try.
Special offer: Get a free special "shot size" 10 ml vial (good for one treatment) of Feed Your Youth or Feed Your Sunshine with any Yarok purchase of $25 or more at Integrity Botanicals. Code: YOUTH or SUNSHINE