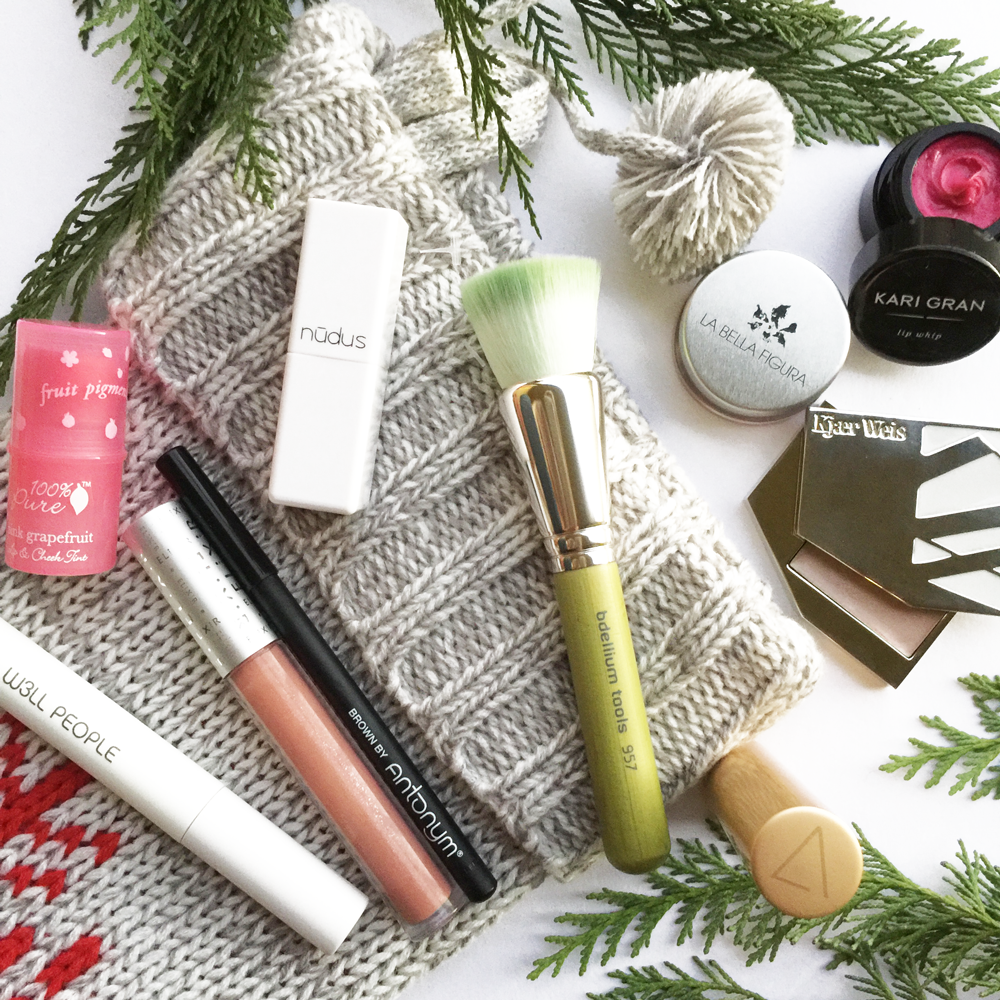 With all the gorgeous nontoxic makeup we have to choose from these days, we're pretty grateful for how far green beauty has come in the last few years. Conventional makeup is one of the worst offenders when it comes to hiding nasty ingredients in formulas. Help show your loved ones how incredible and nourishing clean makeup can be by including some of these options in stockings this year.
You can't go wrong with our top 10 stocking stuffers for makeup lovers. There's something for everyone's preference—from natural to glam and everything in between!
1.  Kari Gran Lip Whips — On the top of every green beauty's list of lip treatments, the Kari Gran Lip Whips pack a punch when it comes to luscious, moisturizing formulas. Try the new 'Jolene' for a pop of pink that deserves a starring role this New Year's Eve.
2.  Nudus Lipsticks — Check out 27 Kisses from this Aussie line known for including adaptogenic herbs and rich botanical ingredients in their handmade lippies. Bestseller 27 Kisses is the perfect mid tone mauve that's universally flattering. Go ahead and splurge on some 'lip euphoria'.
3.  Axiology Lipsticks — American-made with chic unique packaging that we can't get enough of, this vegan lip line has bold earth-based tones for every complexion that are guaranteed to turn heads and dress up that perfect LBD for the holiday parties.
4.  La Bella Figura Makeup — Disco Queen Gloria is our pick for a creamy rose gold blush that leaves the perfect glow with subtle gold flecks. Not only does this color bring cheeks to life, the formula is rich with antioxidants and essential fatty acids that plump and repair.
5.  W3LL PEOPLE Expressionist Bio Extreme Mascara — This is the natural mascara the beauty world has been raving about all year, and it's legit. Two coats make lashes naturally fierce, so share this with your sister, mom or BFF for serious street cred.
6.  Vapour Organic Beauty Elixir Plumping Lip Glosses — Never sticky and always gorgeous, Vapour Lip Glosses add hydration and plumping liposomes while soothing with a blend of myrrh, lemon balm, green tea and Iceland moss. Shades like Bitten, Vivid and Flutter bring cheer to the holidays.
7.  Antonym Eye Pencils — This is the best eyeliner in my toolkit, so gift it to anyone who really loves makeup, because even the most natural look benefits from the tight-lining technique. In addition to the bestselling Noir, it's now available in Brown!
8.  Kjaer Weis Radiance Highlighter — This organic highlighter has earned tons of fanfare from beauties looking for an alternative to the silvery highlighters so readily available. The warm pearl color provides a kissed by the sun glow that transcends winter.
9.  Bdellium Tools Foundation 4 Piece Set — A stocking stuffer no-brainer, Bdellium brushes are ecofriendly, hypoallergenic, vegan and made from sustainable bamboo and recycled aluminum. Oh and they perform their duties beautifully. Makeup lovers can't ask for a better gift than that!
10.  100% Pure Lip and Cheek Tints — With these fruit pigmented lip and cheek tints, you not only get gorgeous natural color, but all the antioxidants that come with the fruit pigments. Shea and cocoa butters make a nourishing base for this adorable and portable little tube. Perfect for teens and women alike!
What makeup would you love to give or receive this year? A little of everything? Me too!