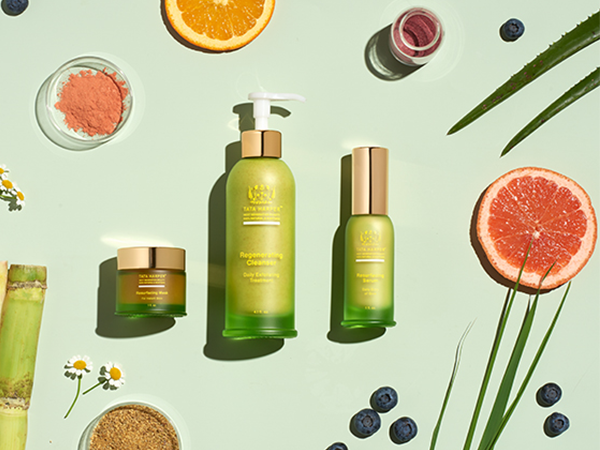 No one is more thrilled than I that Integrity Botanicals is now carrying Tata Harper! Why is this so exciting, you ask? Great question, I'm really glad you said that.
If you've followed Green Beauty at all for the past decade +, and I assume you have because you're here, reading this blog, you've heard of Tata Harper. You probably know her products are effective, luxurious, and very popular. But why? What sets Tata Harper apart?
First of all, Tata Harper is one of the few brands that has been at this as long as I have! When I started blogging about Green Beauty in 2010, Tata Harper was just beginning, too. I had heard about it, but first met the team from this brand at the first-ever Indie Beauty Expo event in New York City in 2015!!! As you can see from this photo, a) I was a baby! (Actually I had just recently HAD my second baby!), b) Tata herself was not at the event but I posed with this photo of her and loved meeting the team, c) the TH signature look of the packaging and branding hasn't changed much in the past 6 years because it is and always has been PERFECT!
This was the first time I'd had the opportunity to test out Tata Harper products, and let me tell you, I was completely hooked from the start.
I blogged about Tata Harper back then, and, a few years later when I was writing for Allure.com, I had the opportunity to interview the woman herself for an article in 2018. She was as delightful and lovely as one might hope, and it only cemented my fandom. But the essence of Tata Harper, the person, is exactly what makes the brand special: she REALLY knows her ingredients.
The brand makes all of its products by hand on their 1,200 acre organic farm in the Champlain Valley of Vermont, and they grow as many of the ingredients as possible there, as well. Those they can't grow there, due to the climate, they carefully procure from trusted farmers all over the world. Another way this brand is unique is that, as natural and organic-focused as they are when it comes to ingredients, Tata Harper also doesn't shy away from science. The lab on their farm, where the products are made, is full of female scientists, who have figured out some of the technology that gives us natural preservatives, emulsifications, and the groundbreaking results the brand is known for. This mix of nature and science is what sets Tata Harper apart.
Sneak peek inside Tata Harper's Skincare Lab
In celebration of Tata Harper joining the Integrity Botanicals family, I got to interview Ms. Harper again, this time via email, and talk about some of our favorite products!
Emily: What is the first product you would recommend to someone who has never tried the brand before?
Tata Harper: The Resurfacing Mask is like glow in a jar – everyone should have it! It was one of the original products that we launched the brand with, and it's honestly been such a client favorite since Day 1. I think what people love about it is that it works so quickly- it gives you that glowy, renewed look that a chemical peel would give you with any of the irritation or downtime.It is one of our bestsellers because it instantly transforms a dull complexion into glowing, healthy-looking skin with BHA from white willow bark and pomegranate enzymes. We included 3 sources of glow, 4 sources to refine pores, and 6 sources to smooth and soften skin texture.
Emily: If you had to pick a basic 3-piece skincare routine using Tata Harper products, what would you recommend?
TH: I always recommend trying our Resurfacing Mask and Regenerating Cleanser if you're totally new to the brand. The power duo are the best starter products and our bestsellers that really show you the power and give you the experience of our brand. I always use the set to restore glow and radiance to my skin. In this routine, I start off by cleansing and exfoliating my skin with the Regenerating Cleanser and I finish with applying our Resurfacing Mask for an instant glow. I love it because the combo gives me results like a peel, but without the downtime.
An anti-aging serum is a must for anyone with aging concerns; I recommend starting with the Rejuvenating Serum at a younger age. It's an intensive age defense system with micro-smoothing technology to help target visible signs of aging.
Let our products speak for themselves and see how natural products deliver serious results!
Emily: How is the Water-Lock Moisturizer different from the Repairative Moisturizer?
TH: Our Repairative Moisturizer is an everyday moisturizer with anti-aging benefits. It hydrates on every layer of the skin, and simultaneously plumps the skin with hydration while diminishing the look of wrinkles. Unlike other moisturizers that are anti-aging and hydrate every layer, Water-Lock Moisturizer is formulated to smooth the skin by specifically hydrating the outermost layer of the skin. This moisturizer is especially great for younger clients, because they already have so much moisture in the deeper layers of the skin.
Emily: What is the most under-rated product? Something everyone should try, but maybe a lot of people overlook?
TH: We launched the Resurfacing Serum in 2018 and it has been a cult favorite ever since. It transforms dullness with a combination of 7 AHAs and BHAs that slough off dead skin cells to give you a healthy-looking glow. I love to use the Resurfacing Serum for a glowing complexion because it transforms dullness to reveal brighter, more radiant skin.
Emily: What's the most exciting innovation Tata Harper has made recently and/or the coolest new breakthrough?
TH: We're always looking for the newest, innovative green technology out there and the most powerful ingredients available. One of the biggest things we're focused on is sustainable innovations. We're going to continue to launch product refills, like our Water-Lock Moisturizer that will reduce overall waste, so our clients can join the movement of living a more sustainable, waste-free life.
If I had to answer some of the same questions, I'd tell you that I completely agree with Ms. Harper! My two favorite products of the line are the Resurfacing Mask and the Regenerating Cleanser. If I had to make a three-step routine for daily use aside from those two favorites, I'd choose the Hydrating Floral Essence, Rejuvenating Serum, and Repairative Moisturizer. The Hydrating Floral Essence might get my vote for the most underrated product, because so many people still don't appreciate the importance of a great toner, as I recently wrote about for this very blog! But my recommendation for the one thing you should buy if you're new to the brand would have to be Tata's Daily Essenstials Set. You get to try SIX of their best selling products, including all my picks from this paragraph! It's a great way to start falling in love with this amazing brand.