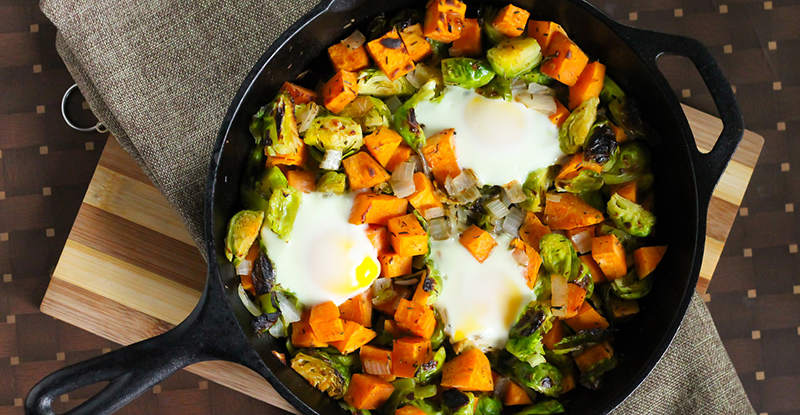 This is it—the last day of 2015, and what an amazing year it has been! As you know, this is resolution season. Have you been thinking about your goals and dreams for 2016? It's easy to think big when it comes to resolutions, and I'm doing plenty of that, but there are a few more mundane resolutions on my list than usual this year. One of them is to start each day with a healthy breakfast. In addition to helping your body and mind function at their best, a healthy breakfast can set the tone for making healthy choices the rest of the day.
Speaking of setting the tone, I'm planning a nutritious and hearty breakfast for New Year's Day. After all the treats and sweets from this holiday season, I'm really looking forward to it, too. I love to incorporate vegetables whenever I can into breakfast, and hash is the perfect way to introduce veggies that typically wouldn't make it into your breakfast routine. This Sweet Potato and Brussels Sprout Breakfast Hash features nutrient dense sweet potatoes—a great alternative to regular potatoes—and vitamin C rich Brussels sprouts. Full of antioxidants and immune boosting vitamins, this breakfast will keep you satisfied and fueled for whatever lies ahead in the day.
Sweet Potato and Brussels Sprout Breakfast Hash
1 medium sweet potato, peeled and diced
2 teaspoons olive oil
2 cups trimmed Brussels sprouts, halved or quartered if large
½ cup diced yellow onion
1 ½ teaspoons dried thyme
½ teaspoon dried rosemary
1 tablespoon fresh parsley
4 eggs
Directions
Preheat oven to 400 degrees.
In a small pot, boil sweet potatoes for about 2 minutes until they begin to soften and can just be pierced with a fork.
Heat skillet, preferably a cast iron skillet, over high heat and drizzle in olive oil. Saute Brussels sprouts and onions.
Drain sweet potatoes and add to skillet with thyme, rosemary, and parsley. Continue cooking for 3 more minutes, coating vegetables in herbs.
Make 4 small indentations in mixture and crack an egg into each one. Transfer the skillet to the oven and bake for 10 minutes or until eggs reach desired doneness.
Broil for 1 to 2 additional minutes to turn veggies slightly golden, then carefully remove from the oven. Garnish with additional parsley.
Happy New Year! Don't forget to dream big for 2016!
*recipe and photo adapted from greatest.com