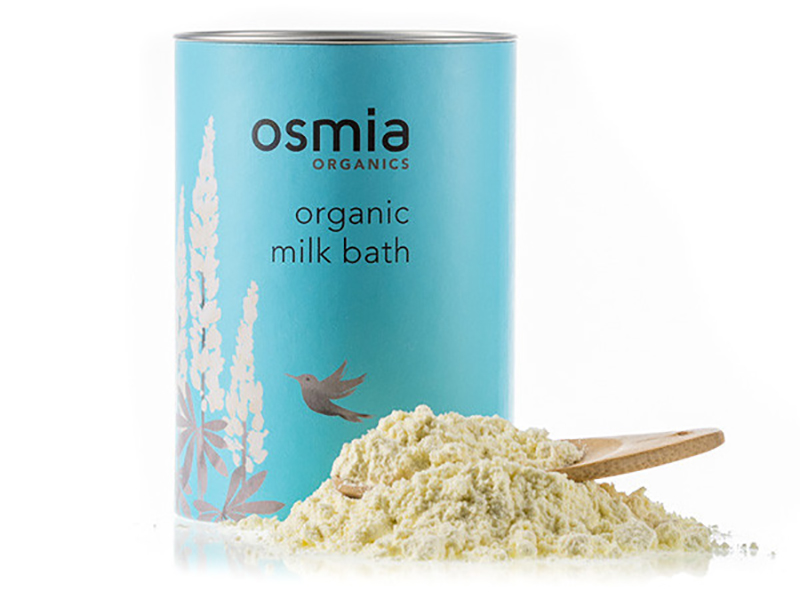 Osmia Organics may be known for their exquisite soaps and body oils, among other delights, but did you know that Osmia has also launched bath soaks that include a salt bath, tea bath and milk bath? Oh yum. The Organic Milk Bath caught my eye because it's a little more unusual, and though I'm well versed in the lovely things milk can do for skin, I'd not actually bathed in it. Cleopatra, among other historical figures, purportedly bathed in milk from time to time. If it's good enough for a queen…
So why a milk bath anyway? Let me give you one good reason—soft, fresh skin. Milk contains gentle amounts of lactic acid, an alpha hydroxy acid, which helps dissolve the proteins that hold together dead skin cells. Take a dip in milk and it will help slough away dead skin cells and leaves you with soft, smooth baby skin. The Osmia Organic Milk bath uses buttermilk and skim milk powders as well as soothing oats and baking soda. Osmia added some relaxing aromatics to this ritual that you'll smell at the outset of the bath but dissipate pretty quickly. These include lavender, rose geranium and chamomile. If a hot bath alone isn't enough to relax you, this essential oil blend will.
The Osmia Organic Milk Bath includes a handy wooden spoon that allows you to easily add a few heaps of the formula to your bath. Swirl the mixture around the water to help the milk dissolve. The water will feel noticeable softer and will be cloudy looking. I like to soak for at least 20 minutes to allow the Milk Bath to work its skin softening magic. The Organic Milk Bath is a luxurious treat, but a practical one, too. Skip the warm glass of milk before bed and try a warm milk bath instead. You'll sleep like a baby and have soft skin to match.