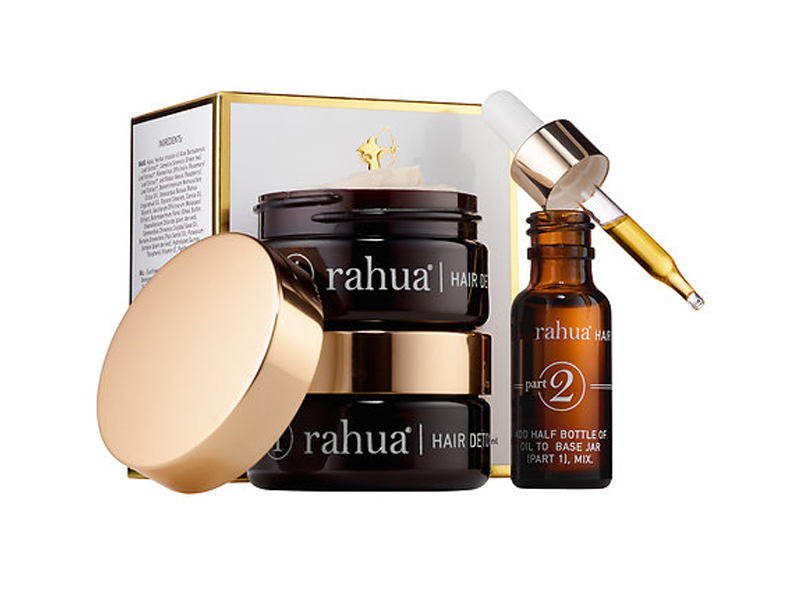 It seems as though there's a detox for everything these days. I'm certainly not complaining—I am a huge fan of skin cleanses and detoxes, and I try to keep my diet and daily habits in line by doing things that stimulate the body's natural detoxification process. It doesn't have to be complicated, either. Simply adding lemon water into your day helps. In fact, the less complicated something is, the more likely I am to actually stick with it. This is just one reason why the new Rahua Detox and Renewal Treatment Kit is so appealing. It's uncomplicated and effective, but it feels indulgent.
So what is a hair and scalp detox anyway and how do you know if you need one? This particular Rahua treatment has two main effects. It detoxes by loosening and pulling the residue from product build-up and environmental pollution from your hair and scalp. At the same time, it infuses your hair and scalp with the plant-based nutrients and moisture it needs. The description notes that it's ideal for color and chemically treated hair in need of moisture and repair, but keep in mind that almost anyone will benefit from this detox. I don't use many styling products, but even shampoo and conditioner can build up after a while. And city life? It really takes its toll on tresses. Everyone benefits from a fresh start, and this Rahua Detox and Renewal Treatment Kit is a luxurious yet simple way to achieve that.
I love the process behind this Rahua Detox and Renewal Treatment Kit because it's simple but fun self-care that doesn't require a big commitment. The kit includes enough product for two treatments. In the box you'll find two small jars of the Hair Detox and Renewal Base. The base is part 1 of the treatment, and this silky cream is reminiscent of the Rahua Classic Conditioner in terms of consistency and scent. It is packed with wonderful botanical extracts like green tea, rosemary and raspberry as well as key conditioners. There's also a bottle of Detox Oil in the box, which is part 2 of the treatment. This oil is a blend of incredible omega-rich and antioxidant-loaded botanicals like sacha inchi and buriti oil.
To create the detox treatment, you simply add half of the Detox Oil to one jar of the Renewal Base and mix well with one of the wooden blending sticks included in the box. It's really easy to measure out the oil because the bottle has a dropper and a line marked through the middle of the bottle that indicates the halfway point. You'll reserve the second half of the Detox Oil for the second jar of the Renewal Base when you're ready to do another detox treatment. Once mixed, just apply the treatment and massage well into the hair and scalp. The fragrant palo santo scent is relaxing, and the treatment feels really soothing on the scalp. Let it sit for 20-30 minute before washing out, then enjoy your extra soft revivified hair.
Organic, vegan, and gluten free? Check. Full of incredible botanical ingredients? Check. Easy to use with rewarding results? Double check. I hope you'll enjoy the Rahua Detox and Renewal Treatment Kit as much as I have!