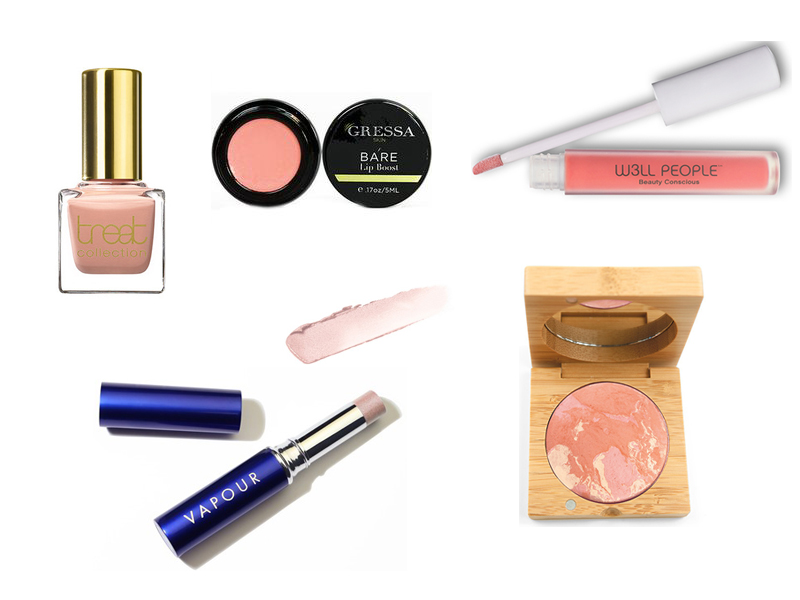 Spring is here! And with everything just beginning to bloom where I live, my makeup mood has shifted from the warmer, richer colors I'm drawn to in winter to lighter, blush and peach toned hues. There are so many colors that work well for spring that also translate well into other seasons, too. However, I know as soon as summer arrives I'll want to really brighten my look, so I'm enjoying the soft blooming season and all the romantic colors that come with it as long as possible.
Here's what's included in my fresh spring makeup palette…
Treat Collection in Tea, Please — For some reason, nail color can feel way more seasonal to me than other makeup. While I can envision wearing Tea, Please (how cute is that name?) with a cozy oversized sweater in the winter, it's truly a spring color in my book. This creamy peach hue is just what I want on my nails as I stroll over to the Tidal Basin to see if the cherry blossom trees have popped. It's soft and romantic yet sophisticated.
Gressa Lip Boost in Bare — This sheer peachy nude is definitely a "your lips but better" shade. In my opinion, it's the quintessential nude lip. Not too brown, not too pink, not too peach—just right. Did I mention it feels amazing on lips? I love that it's in a little pot, which means I can apply on the go without a mirror. Bare Lip Boost will be my go-to daily wear color well into the summer and beyond. Honestly, I didn't think I could wear nude lip color until this beauty came along! Now I understand the hype behind a nude lip. Thanks Gressa!
W3LL PEOPLE Bio Extreme Lip Gloss Sparking Grapefruit — My love for the Bio Extreme Lip Gloss in Berry is well documented, so I'm not sure why it's taken me so long to pick up Sparkling Grapefruit, but this pretty thing belongs in every Easter basket. It's a soft coral with a slight shimmer that really moisturizes the lips. It looks stunning on top of Gressa's Bare Lip Boost, really dressing up the color for an easy upgrade. If you have a special teenage girl in your life, give her Sparkling Grapefruit for a fun, low-key nontoxic makeup option. This gloss can put the finishing touch on a look or work all on it's own when you're rocking the "no-makeup" trend.
Antonym Organic Baked Blush in Peach — Nothing says spring like a soft blushing cheek, and if you're like me after a long winter, your pale skin needs a little kiss of color. This blush comes in a bamboo compact with an easy to open magnetic closure and a large, deep-set mirror for touch-ups on the go. The marbled combination of several shades of peach allows you to really tailor your look. The palest shade of peach does a great job of highlighting, while the more pigmented colors give a natural flush of color to the cheeks. Rest assured that whichever part of the palette you choose, this blush will send you into spring with a gorgeous glow.
Vapour Organics Mesmerize Eye Shimmer in Sugar — Before I tell you how much I adore this eye shadow, let me first say I normally avoid products with the word shimmer in the name or description. At the very least, I have to see it in person before deciding whether it's too much of a nightclub vibe for me. I fell in love with the Sugar Eye Shimmer the moment it touched my skin. It is super subtle and has the faintest golden peachy pink hue. More than anything, it brightens my eyes and makes them look fresh and awake. I'm obsessed and can't wait to try the other Eye Shimmers from Vapour. I use this mostly on it's own as an all over eye shadow color.
What colors are you drawn to this spring? Feeling the blushing peaches and pinks found here?