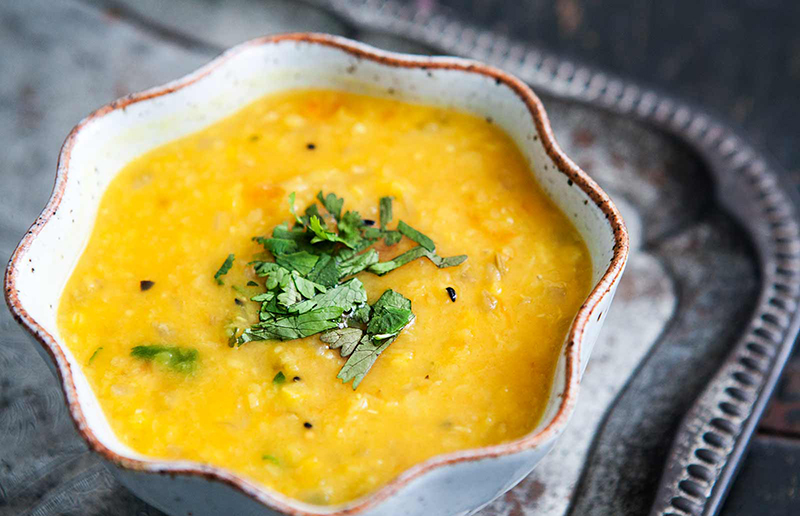 Do you have cookbooks that have influenced your cooking style and food preferences? I have many, including one called "Vegetarian Cooking For Everyone" by Deborah Madision. The book was a wedding gift from our friend Nancy—the same person who taught me about homemade date bites (the equivalent of a Larabar or similar date-based energy snack) nearly a decade ago when she sent my husband home from work with a jelly jar full of her treats for me to enjoy. It's fitting that Nancy would be the one to give us this treasure trove of wholesome and satisfying plant-based recipes. She's also the first person I knew who could intuitively throw a bunch of seemingly disparate ingredients into a crockpot and have it turn into a delicious vegetarian stew. I wanted some of her magic touch with vegetables, and this cookbook has helped me along the way.
The stews and soups in "Vegetarian Cooking For Everyone" are just a few of the highlights for me, and this bright lentil soup in particular is the perfect companion for chilly spring evenings. I've made many variations of citrusy red lentil soup, and this is among the best. You'll enjoy the leftovers thinned out with a little stock, too.
Light + Fresh Red Lentil Soup with Lime
Ingredients:
1 cup split red lentils, cleaned
1 tablespoon turmeric
4 tablespoons butter
salt
1 small onion, diced (about 1 cup)
2 teaspoons ground cumin
1 ½ teaspoon mustard seeds (or 1 teaspoon mustard powder)
½ cup chopped cilantro
juice of 1-2 limes or to taste
1 large bunch spinach leaves, chopped
1 cup cooked rice (optional)
Put the lentils in a pot with 5 cups water, turmeric, 1 tablespoon of butter and ½ tablespoon of salt. Bring to a boil then lower the heat and simmer, covered, until the lentils are soft and falling apart, about 20 minutes.
While the soup is cooking, prepare the onion flavoring. In a medium skillet over low heat, cook the onion in 2 tablespoons of butter with the cumin and mustard seed, stirring occasionally. When soft, about the time the lentils are cooked or after 15 minutes, add the cilantro and cook another minute. Add the onion mixture to the soup and then add the juice of 1-2 limes. The soup should be a bit sour.
Just before serving, add 1 tablespoon of butter to the skillet. When foamy, add the spinach, sprinkle with salt and cook just long enough to wilt. Serve the soup with a scoop of rice (optional) and spinach. Swirl in a spoonful of yogurt if you wish.
The ingredients are simple and pure, and the flavors are perfectly harmonized in this easy recipe. I hope you enjoy it as much as I do!
*image simplyrecipes.com