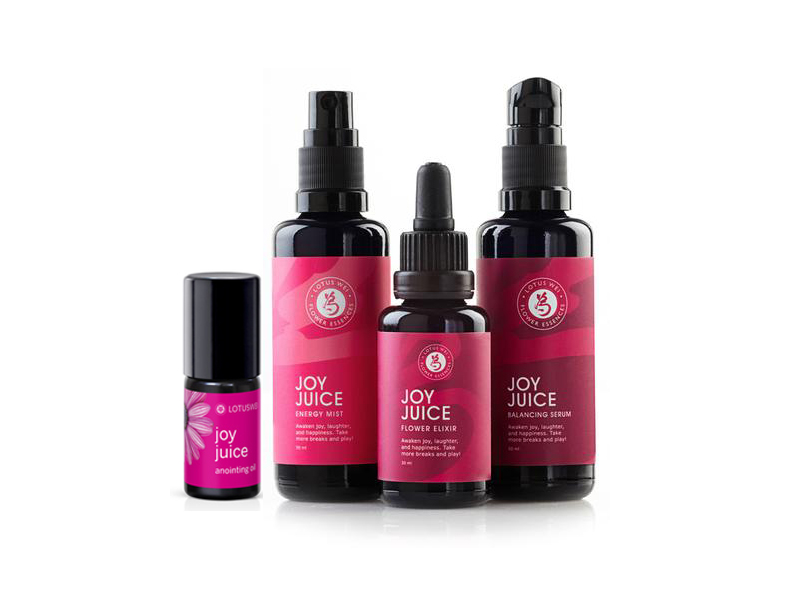 Day to day life is far easier to manage when you have supportive tools at your disposal, and mine tend to be botanical in nature. I love aromatherapy in particular, and flower therapy ranks up there for its subtle vibrational effect, too. We often think about aromatherapy when we want to unwind, calm down and relax—but scent can do so much more. Scent has as many moods as you and I do, and it can be used to encourage and enhance how you want to feel. The scent behind the Lotus Wei Joy Juice collection is the perfect example. Need to nudge yourself out of a bad mood? The Joy Juice collection was formulated to help you feel unbridled joy, laughter, euphoria, and contentment. It's for releasing your playful side and enjoying life more. For someone with all work and no play Capricorn tendencies like me, it's essential to finding balance.
The Joy Juice Anointing Oil is how I prefer to get my dose of this happy elixir. The concentrated formula is a blend of organic essential oils and transformative flower essences in a base of organic jojoba oil, all bottled in a pocket-friendly 5ml roll on. I love to roll this onto the back of my hand, periodically inhaling a deep breath of the Joy Juice to activate its beautiful effect. This is a real heart opener, and it comes in a wave of juicy sweet orange softened by a touch of jasmine and the strawberry-like davana. It smells as happy as childhood—all Starbursts and Bubbleyum—in other words, delicious. The jasmine is understated but its effect is euphoric. The Joy Juice scent is indulgent but light-hearted and mellowing.
If you're feeling a touch too serious, or you often worry and fret about responsibilities and overcomplicate things in the process, the flower essences that Lotus Wei collects and includes in the Joy Juice formulas are a supportive tool for helping to dispel these negative tendencies. Essences of African daisy, chocolate flower, pink spirea and birdsfoot lotus join together to bring ease and light-heartedness to your day. Gem essence of red garnet provides joyful strength and energy. All of these botanicals embody the same kind of characteristics that they impart when you inhale and absorb them. The Joy Juice collection releases the kind of endorphins you experience when you feel pleasure.
Here are the ways I incorporate the Joy Juice collection into my day…
Have you tried the Lotus Wei Joy Juice collection? I recommend it for anyone looking for a next-level way to practice self-care.