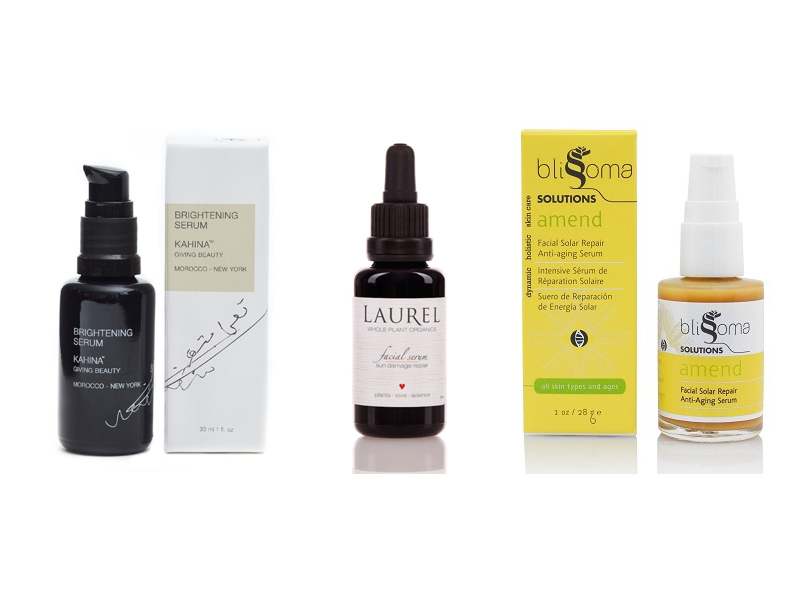 The summer is winding down, and it's time to start thinking about the shift from protecting to repairing. It's never too early to start incorporating a treatment that helps repair skin that's stressed and damaged from too much sun, or to help ensure that damage doesn't appear in the form of fine lines and discoloration to begin with. You can absolutely think of brightening treatments as something that's beneficial year round, or you can simply work your way through a round of a targeted sun damage treatment during the transition from summer to fall. If you spent anytime at the beach, by the pool or out enjoying the summer sun, your skin will benefit from reparative botanical ingredients that help turn over damaged skin cells, rebuild collagen, and lighten sunspots.
Try one of the following 3 treatments for sun damage. You'll thank yourself 8 weeks from now.
Blissoma Amend – If a light and calming formula is your cup of tea, the Blissoma Amend Facial Solar Repair Anti-Aging Serum is the one for you. Known for their light as air lotions and nutrient dense herbal complexes, Blissoma provides that cooling experience we all want when we apply a treatment in the summer. Perhaps it's the Rooibos tea infusion or the healing club moss, comfrey, linden and aloe at play that I find so soothing. The star ingredient is a concentrated pomegranate extract that has been proven to reduce the UV damage and free radicals that result from overexposure to the sun. Amend works at the cellular level to improve skin smoothness, elasticity, and the integrity of collagen. We're talking antioxidants in spades, so grab this if your skin is mature, sun-damaged or sensitive.
Laurel Sun Damage Repair – With 27 active botanical ingredients, the Laurel Sun Damage Repair serum not only reverses damage, it helps protect with a base of botanical oils that have been linked to sun protection, like red raspberry seed, carrot seed and cranberry seed oil. Rosehip and sea buckthorn berry oils are high in vitamin C and beta carotene, so they help stimulate collagen and repair and prevent UV damage. A healing house-made whole plant blend of herbs like scarlet pimpernel, gotu kola and licorice helps with skin discoloration and essential oils like helichrysum and carrot seed revitalize and even skin tone. You can't ask for a more active or healing botanical face oil. Use this as your daily moisturizer and see how much you love your complexion at the end of the bottle.
Kahina Brightening Serum – If you can't stand "wearing" products and think bare skin is best, but you know you need some TLC to help even out your skin, I recommend the Kahina Brightening Serum. The ultimate in barely-there skincare, this gel serum absorbs rapidly and feels weightless. The blend of rare white lily and Japanese wakeme seaweed was created to inhibit melanin production, reducing the likelihood for discolorations. Powerful ingredients like maritime pine and green tea boost the skin's natural ability to protect against environmental damage, leaving skin smooth and supple. After 4 – 6 weeks of regular use, you'll notice a reduction in hyper-pigmentation and dark spots.
Did you spend time outdoors this summer? Try one of these targeted treatments to restore your smooth and clear complexion.