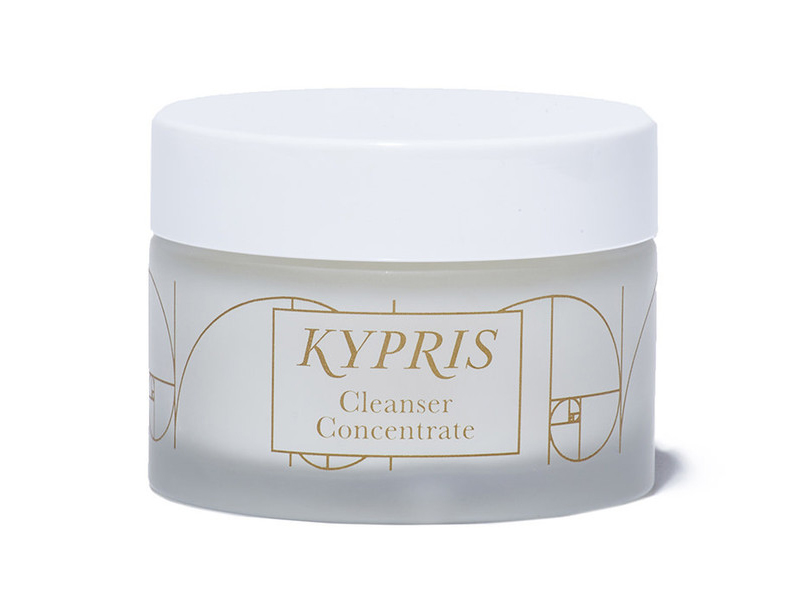 Remember when we spoke with Chase from KYPRIS earlier this month? We got the scoop on the latest product from this skincare line, and now the Cleanser Concentrate is finally here! The name sounds a little mysterious, right? What's a Cleanser Concentrate anyway? Let's see if I can paint a clear picture for you since I've been trialing this pretty new thing this last week and loving it.
First, as expected—the presentation is gorgeous. The minimalist and chic design on both the box and the glass jar is as lux as we've come to expect from KYPRIS. Inside the jar is a formulation unlike anything I've encountered in a cleanser before, so if you love new and novel things, prepare for some fun. The KYPRIS Cleanser Concentrate looks sort of like the cold creams of our grandmothers' generation, adding a touch of old school glamour to the experience. It's got this creamy, milky gel-like consistency that feels wonderful and cooling when applied to the face. The scent is not neutral, despite the description, but it smells lovely and lightly floral like rose candies.
KYPRIS suggests that the Cleanser Concentrate may be used on dry or damp skin. I've found it makes a really gentle morning cleanse, but it works just as effectively in the evening to thoroughly cleanse and treat. For my own routine, I first loosen and remove my mascara with a swipe of coconut oil and then massage a dollop of the Cleanser Concentrate onto my dry face. While the Cleanser Concentrate lifts and removes sunscreen, foundation and other grime from the day, I've found that it's helpful to remove mascara separately if you don't want to use a washcloth in the cleansing process.
After massaging the Cleanser Concentrate in well, which is easy to do with its unique texture, I rinse clean. Note this is not a foaming cleanser, nor is it similar to an oil cleanser. It's hard to compare this to anything else, but it works really well to gently remove impurities without stripping the skin. I love how my face feels after washing with the Cleanser Concentrate. The cleanser does not leave a trace of residue, and my skin feels smooth, supple and clean. Active natural ingredients include moringa, shea, prickly pear, rose flower extract, algae and more. If you're looking for a gentle cleanse for delicate skin, this is it.