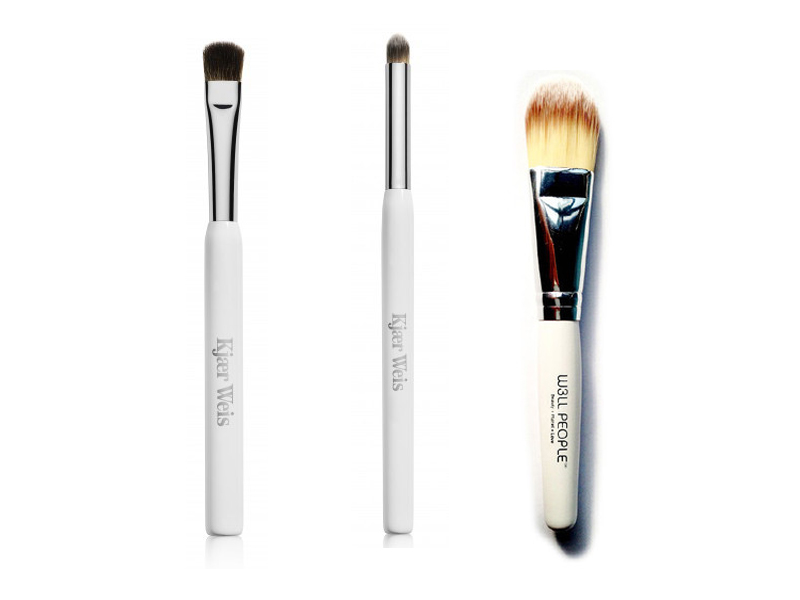 If I've learned anything in life, it's that the right tools for the job matter. I love that many of the clean makeup products I use can be applied beautifully with the fingers—one of the best beauty tools available to you. In addition, owning a choice selection of makeup brushes can really improve your application technique and allow your makeup to pop into place more naturally.
Here are a few of my favorite Kjaer Weiss + W3LL PEOPLE makeup brushes—all of them are vegan, cruelty free and make a huge difference in my makeup routine.
Kjaer Weis Soft Eye Brush. For a while I suspected my Kjaer Weis Eye Shadows should have been performing a lot better than they were. I couldn't get the powder to pick up consistently with my go-to, grabbed-it-from-Target Eco Tools eye shadow brush, so I decided to try the brush that I imagine Kirsten Kjaer Weis herself would use with her eye shadows. Lo and behold, the Soft Eye Brush deposits an even, beautiful wash of color and really boosts the performance of my eye shadows. It's perfect for applying color all over eyes and blending, too. This is a must have in my beauty tool kit.
Kjaer Weis Definition Eye Brush. Have you ever wanted the perfect smoky eye tool? Or wished you could expertly blend color into the crease of your eyes? What about lightly lining your lashes with just a smidge of bronzer—just to give an "oh hey there" bump to your everyday look? (Looks fab with a red lip, btw.) I do all of these things with my bad to the bone Kjaer Weis Definition Eye Brush. If the Soft Eye Brush lays the foundation for your eye look, this Definition Eye Brush provides all the intrigue. Not only does it make these application techniques possible, it makes them easy—even the makeup artistry novice (ahem) will feel quite capable with this brush.
W3LL PEOPLE Basic Foundation + Concealer Brush. The first time I went to the W3LL PEOPLE studio in Austin, their makeup artist Christine taught me to apply the loose mineral powder foundation with this Basic Foundation + Concealer Brush, and it's been a staple ever since. This versatile tool is just as useful for applying powder foundation (it's true—a flat brush really works well for this purpose!) as it is a cream or liquid formula. Working quickly in small rapid brush strokes, it spreads and blends makeup into skin evenly, and it can also be used for cheek colors and contouring—especially with loose mineral powders.
What I love about finding the perfect brush for the task is that it allows me to pare back and keeps me from having a chaotic collection of brushes that are just ok. I'm all about quality over quantity! How about you?