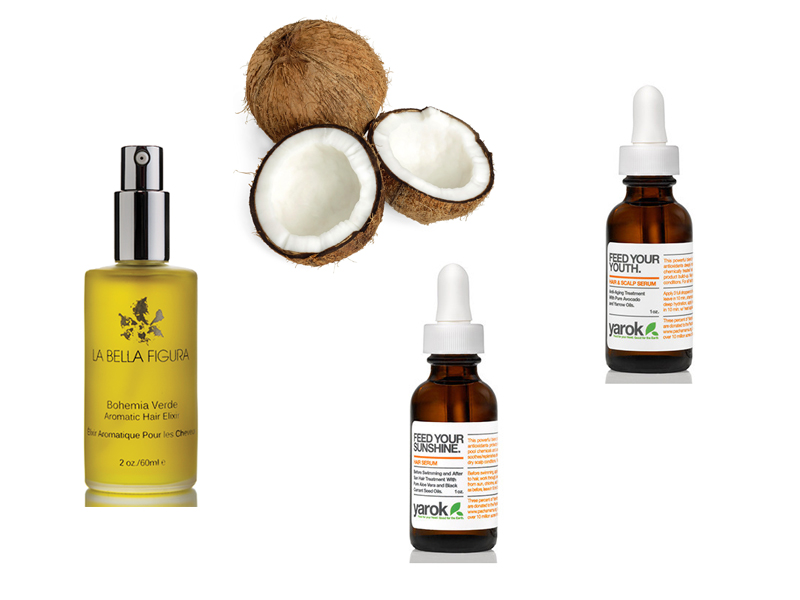 In many ways, the idea of using oil for the hair was far more intimidating to me than anything else the oil craze has brought about. I'd slather myself in face oils and body oils, but my hair? There was a learning curve, but I've come around. Whether you're on the fence or just looking for fresh ideas, here are 3 ways to use a hair oil that are easy to add to your routine.
Style with it. This is where your investment in a hair oil goes a long way. Rub a few drops at a time between your fingers and work through the ends of your hair where you'd like to add definition. This adds dimension and movement to your overall look. If your hair is fine, don't be afraid to style with oil; just know that less is more. Start with only one drop of oil and thoroughly rub between fingers and palms before applying to hair. Your hands should feel as if you've already massaged the oil totally into them before you start working them through the hair. Trust me, this keeps you from getting too much oil on your tresses. I love the fragrant La Bella Figura Bohemia Verde Aromatic Hair Elixir for styling (as well as conditioning). Do you use a body oil? Experiment with applying it to your body like normal and then style with the remaining moisture left on your hands. Thick, dry or coarse hair adores oil as a styling treatment, and you can be more liberal with it. Fly-aways and static are easily quelled with a touch of oil, too, so think of it as a finishing treatment.
Condition and Repair. Oils are fantastic conditioning and reparative treatments for the hair and the scalp. Look, if your scalp is flaky and itchy all of a sudden—you almost assuredly do not have dandruff (a true medical condition)—you probably just have a dry scalp that is suffering more than usual due to climatic conditions (dry indoor heat, cold outdoor temps, extra hot showers—ring a bell?). You need to give your scalp a good vigorous scrub and replenish it with an oil treatment. Look for a treatment like the Yarok Feed Your Youth Hair & Scalp Serum, which calms scalp irritation, promotes hair growth and softens dry hair all at once.
If dull, dry ends are your story, use oil as a deep conditioning treatment. Olive oil and coconut oil from the kitchen are perfect for this task. Thoroughly massage the oil into the ends, making sure they're well coated (it doesn't have to be an excessive amount, though). Work as far up the hair shaft as you'd like, applying to your scalp if it needs the extra moisture and nutrients. Let the oil condition for up to 45 minutes and then shampoo it out. It may take a couple of shampoos to get the oil out, but the effort is worth it. Use a hair oil treatment on a routine basis and you'll see stronger, healthier hair as a result.
Protect with it. It may be less obvious that our hair needs protection from the elements just like our skin does, but it's true! Oil can act as a protective barrier that helps lock in moisture and keeps damage at bay. If you've spent a lot of time outdoors, you know how damaging the sun alone can be to the hair, but the fun activities that keep us healthy—like swimming—can expose our hair to chemical stressors. You can do simple things to protect your hair, like coat it with coconut oil before a day on the beach or at the pool. Coconut oil, like many other botanical oils, naturally protects against UV damage. The Yarok Feed Your Sunshine Hair Serum contains a nourishing blend of oils like black current seed that coat to protect before your romp in the waves and hydrate and replenish after time in the sun.