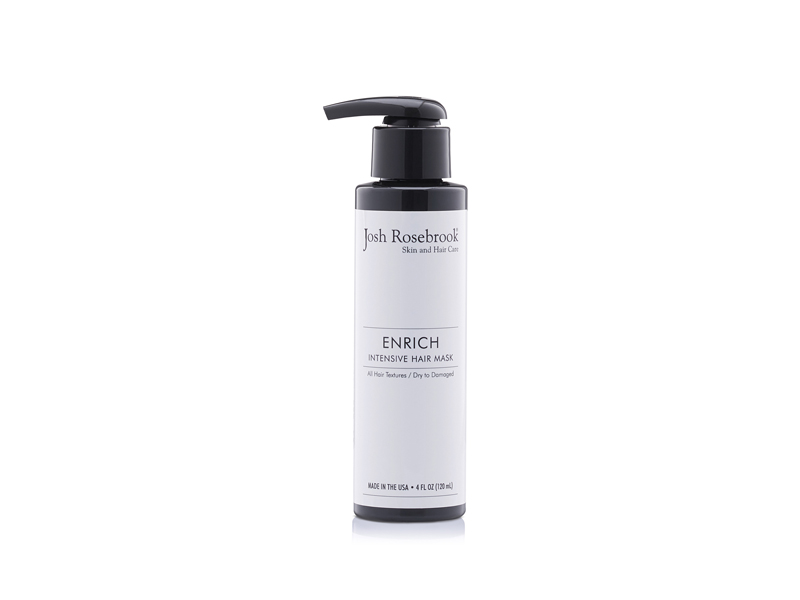 Before I'd tried the Josh Rosebrook Enrich Mask, I had never truly been wowed by a hair mask—at least enough to use with any frequency. Yet here I am with a satisfied grin on my face because I feel like I've cracked the code to good hair and ironically, it's thanks to a hair mask after all.
Enrich is like the Sade of hair masks—you'll be singing Smooth Operator all day after this treatment. Hair takes on that smooth, freshly cut finish that I've only achieved straight out of the salon chair. The difference that the Josh Rosebrook Enrich Mask made after just one use honestly took me by surprise. It conditions hair to the extent that all damage and dryness disappear. My hair looks clean, and mega healthy—never weighed-down with oils. After my first treatment I kept touching my hair in disbelief at its softness. Angel hair never gets old.
The Enrich Mask replaces a conditioner a few times a week and resets your hair back to its optimum health. It's like acupuncture for hair that's feeling frazzled and chaotic.
I've come to be cautious with hair masks because my fine hair can look saturated and a little limp from some natural hair masks until a couple of shampoos later. I usually reserve masking for days I'm at home with no big plans to go out. With the Enrich Mask, the opposite is true—my hair looks so glossy and happy afterward that I make sure to add it to my routine the day of a fun social engagement or important event. Healthy hair is a confidence booster, you know?
Josh Rosebrook formulations are careful and gentle yet alive with energy and vitamins. They have a vibrancy that comes from all the phytochemicals found in the 20 plus herbal extracts used for their antioxidant properties and more. Take Amla, or Indian Gooseberry, for example—an herb revered in traditional Ayurvedic medicine for radiance and health. It's rich in vitamin C and has almost twice the antioxidant content of acai berry. Amla promotes hair growth and conditions and strengthens the hair. All of the herbal extracts in Josh Rosebrook formulas serve a purpose like this.
The real feat, however, are the precisely balanced amounts of fatty acid-rich plant oils from African Marula, Baobab and Argan, Jojoba, Tahitian Tamanu, Hemp and Coconut. Combined with ultra-hydrating aloe vera they revitalize and smooth out the hair cuticle. I believe it's all a matter of ingredient quality and expert formulation when it comes to balance, because the ingredients in the Enrich Mask have some seriously rich fatty acid profiles, yet the mask is perfect for all hair types and works exceptionally well with fine hair. It's amazing what Josh Rosebrook is able to accomplish using all natural botanicals, and the Enrich Mask has a permanent place in my weekly hair care routine.