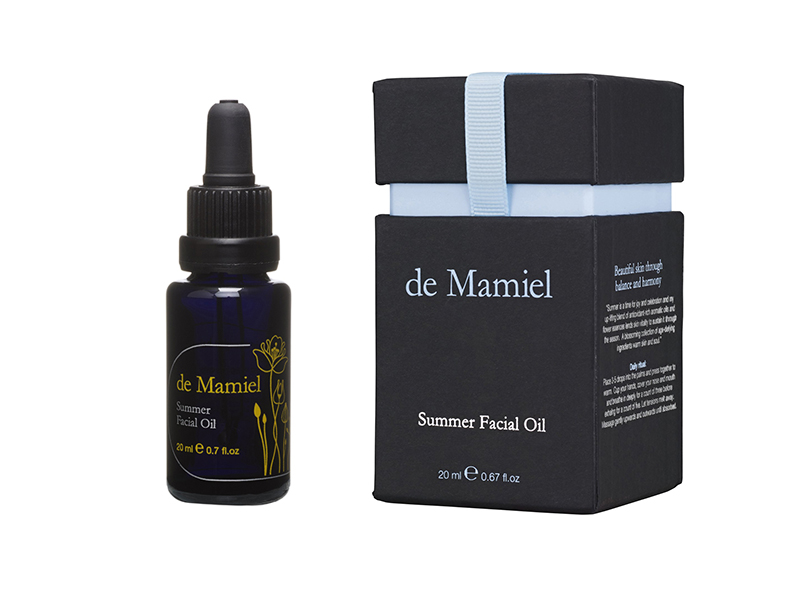 The summer solstice arrived last week and with the seasonal shift comes a new limited edition Summer Seasonal Facial Oil blend from de Mamiel. Luscious and handmade, this healing face oil is the perfect antidote to overexposure to sun, sand and all the summer elements. With longer days and warm sunny weather at our fingertips, most of us can't help ourselves from spending as much time as possible outdoors. The Summer Seasonal Facial Oil helps protect while you're out having fun, and it helps restore and heal post-sun with a combination of truly beautiful botanical oils.
While I'm accustomed to de Mamiel going above and beyond when it comes to formulating, I'm still always pleasantly surprised by the ingredient list with each new seasonal facial oil. The de Mamiel Summer Seasonal Facial Oil is brimming with active, nutrient rich botanicals that will do precisely what they claim—heal and restore.
The heart of the formula includes evening primrose and rosehip seed oils, rich in gamma linolenic acid for post-sun healing (bye bye sun spots), prickly pear and echium seed oils for ultra calming anti-inflammation effects, plus pomegranate and seabuckthorn for their skin smoothing and age-defying abilities. Balancing essential oils like ylang ylang and rose geranium are accompanied by a host of bespoke flower essences like Marsh Marigold and Pink Frangipani crafted to enhance your emotional well-being through the season. The formula is rich in antioxidants and important fatty acids, and your glowing skin will attest to its potency.
The beauty of the Summer Seasonal Facial Oil is that despite the opulent ingredients, the oil is light enough to help your skin feel balanced through hot, muggy conditions. I live in a humid climate where sometimes oils just seem to sit on top of skin or worse—feel a little suffocating. The Summer Seasonal Oil leaves me with comfortable, soothed skin that feels balanced and properly moisturized but not too oily. It wears well under SPF and makeup, and it's a beautiful oil to sleep in, too, allowing your skin to really benefit from the rejuvenating botanicals while your body rests and repairs itself. The scent is light and floral with notes of jasmine and rose lifted by a refreshing pop of neroli. It's happy and bright as summer itself.