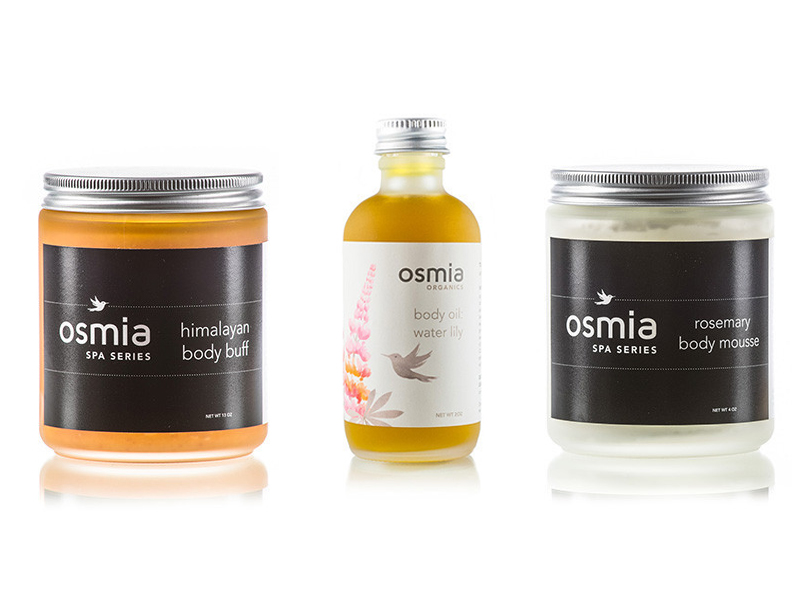 There are product lines that hook you with their high quality botanical ingredients and superior formulas, and then there are product lines that reel you in with their luscious, dreamy fragrances. Osmia Organics does both, which is one reason that I've gifted more Osmia products to friends and family (and myself) over the years than I can count. My first introduction to Osmia was their handmade bar soaps and to die for body oils. Then I discovered their perfumes, which had a huge impact on my life, but that's a story for another time. What you need to know now is that Osmia was created by a brilliant woman named Sarah Villafranco who left her medical career as an emergency room doctor to care for and heal people in a different way. What started with soap and has grown into a luxurious and healing line of face and body care made in the crisp mountains of Colorado.
Here's my take on a few of Osmia's treats, which will be available at Integrity Botanicals beginning this week.
The Osmia Organics Body Oils were one of my first big green beauty splurges. Body oils were newish to me, and prior to my Osmia purchase I'd only used oils I could snag at Whole Foods or out of my kitchen cabinets. Osmia is the reason I don't hesitate to invest more on a body oil. I learned the regular stuff just doesn't compare. If you use one of the gorgeously scented varieties like my personal favorites the Sunset Body Oil and Water Lily Body Oil, you'll be sniffing your arms all day with a peaced-out grin on your face. Sorry, but it happens. Water Lily is a grounding and relaxing scent that features vetiver, juniper and ginger lily. The Sunset Body Oil features vanilla, jasmine, bergamot and coriander. The scent is a warm and seductive floral that is irresistible. Can't handle smelling so good? Osmia offers an Unscented Body Oil that will do the trick. The Body Oil formula contains some of my favorite botanical oils—jojoba, hemp, borage, rosehip, sea buckthorn berry, and evening primrose—truly food for your skin.
New to the Osmia Organics lineup, the Himalayan Body Buff and Rosemary Body Mousse are part of their just launched Spa Series, and oh my goodness where have these been all my life? The Himalayan Body Buff is anything but basic, but it will become one of those little skincare necessities that just so happens to feel like an indulgence in the process. When it comes to exfoliating body scrubs, I tend to prefer salt over sugar. Salt is so detoxifying and softening, and this fine pink Himalayan salt makes a lux treatment. The base of the scrub is the Unscented Body Oil combined with organic essential oils of Bulgarian lavender and Canadian fir. The scrub leaves you with smooth skin that's already moisturized as long as you lightly pat yourself dry and allow the remaining oil to sink in after your shower.
While combining the Himalayan Body Buff and the Rosemary Body Mousse might be overkill (although who knows…winter isn't here yet), the Rosemary Body Mousse is a thing of beauty. I find myself just sticking my nose in the jar to get that invigorating little pick-me-up that fresh rosemary offers. The scent is so purifying, but as I mentioned—Osmia is more than just scent, and this formula is among the best I've tried. Shea butter, babassu and jojoba oils make up the base, and though it sounds simple, this light and fluffy blend is pure magic. You have no idea how many shea butter concoctions I've tried that either turn rock-hard and become impossible to spread or never ever sink in properly and leave me too greasy. The Rosemary Body Mousse melts into skin and sinks in nicely, especially when applied to damp skin. It's a breeze to apply and has serious healing power. I find myself reaching for it to rub on my hands, legs and feet before bed, and I love the soft skin I wake up to in the morning. It also makes a great middle of the day treatment when you need that afternoon sleepiness to go away. Rosemary to the rescue.
Check back with us on Thursday for an interview with Osmia's founder and a special offer you won't want to miss!