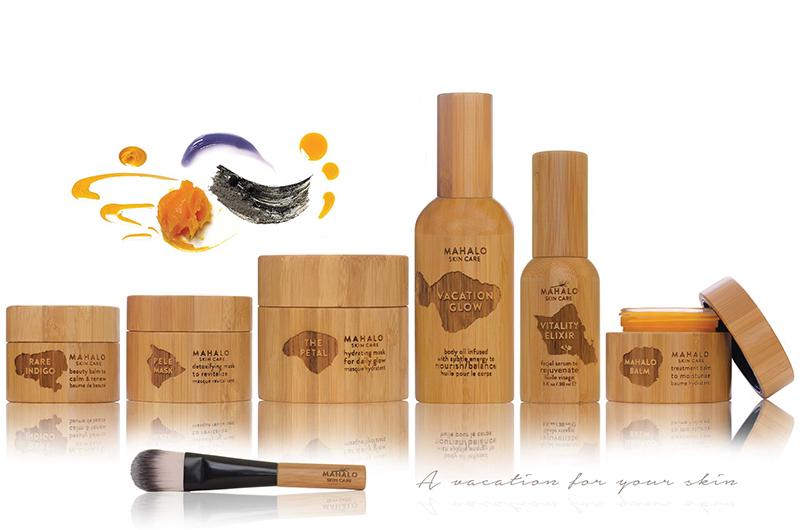 Mahalo has a certain Hawaiian charm that is evident the moment you crack open the bottles and jars. Your senses will come alive. Mahalo has received much love and attention from the green beauty community over the last year or so, and I've been dying to try this brand. What I didn't expect was to be so transported by products that are unlike anything I've tried before. Mahalo is exotic and innovative, but most importantly, their products deliver results—and quickly! While I'm still getting to know the line, the three products I'm obsessed with are the brand new Petal Mask, the Rare Indigo Balm and the Vitality Elixir.
The Petal Mask is a brand new launch from Mahalo, and to my surprise when opening the jar, this pretty pink mask is unlike anything I've tried before. Opaque with a gel consistency, the mask is slightly tacky, but as it comes into contact with the face it spreads evenly into a nice layer and stays put until you're ready to rinse. It doesn't harden as it dries, just stays soft and flexible, and it emulsifies and rinses clean in a flash. The scent is rosy, sweet and soft—very feminine. It's so gentle, so I've been using it a lot—like 3-4 mornings a week. The white clay tones skin while manuka and Hawaiian honey plus hyaluronic acid boost the skin's ability to retain moisture—a huge help during the coldest part of our winter. Speaking of moisture, the Petal Mask features rose, one of my favorite moisturizing ingredients, in many forms—rose hydrosol, petals, essential oil and absolute. The Petal Mask is replenishing, and my skin looks more refined and bright after use. I'm in love.
The first time I tried the Rare Indigo Balm, it was like tasting a new flavor. It's so distinctive and I enjoyed the experience so thoroughly that I've been practically rushing to the jar each day ever since. Dare I say I'm addicted to this balm? The unusual scent is both rich and soothing, like a strong herbal tea with a fruity floral finish. The color is luminescent purple with an almost pearled hue, and the texture has the perfect consistency—firm enough to stay put in the jar but gives easily under your finger. When you warm a little pea-sized (or less) amount between your fingers and press it into your skin, the balm spreads like butter. The texture is so soft—not oily, just silky. What I adore about the Rare Indigo Balm is that is absorbs in a flash and it's not heavy. It leaves skin firm and soft to the touch and takes out redness like a charm. Acai, vitamin C ester, coenzyme Q10 and carrot seed are just a few of the brightening and skin rejuvenating ingredients featured in this rare beauty. It's light enough for normal to oily skin types.
The scent of the Vitality Elixir— a gorgeous golden facial serum—took me instantly back to my early days of experimenting with raw botanical ingredients. It's the distinctive scent of tamanu oil, the main ingredient in this formula. Then notes of rose, geranium, frankincense, bergamot and helichrysum come through with an earthy and fresh floral undertone—but these do more than smell gorgeous—they repair damage and calm inflammation. Sea buckthorn, carrot seed and tamanu make a potent brightening trio that knock out discoloration and fade scars while conditioning. I've been using the Vitality Elixir in the evening, on top of the Rare Indigo Balm, and my skin is happy and glowing each morning. I've noticed a serious brightening affect, and I love the medium weight finish of this serum both on it's own and on top of the balm.
There's more to discover from Mahalo. Don't miss the Pele Mask, which is a super detoxifying treat, or the Mahalo Balm, which is perhaps a better fit for those with dry skin. Mahalo also makes a tantalizing body oil, the Vacation Glow.
Receive a Free Travel Size Mahalo Rare Indigo Balm ($28 value) when you purchase 2 or more Full Size Mahalo products at Integrity Botanicals. *Excludes Bowl and Brush* Code: MAHALO