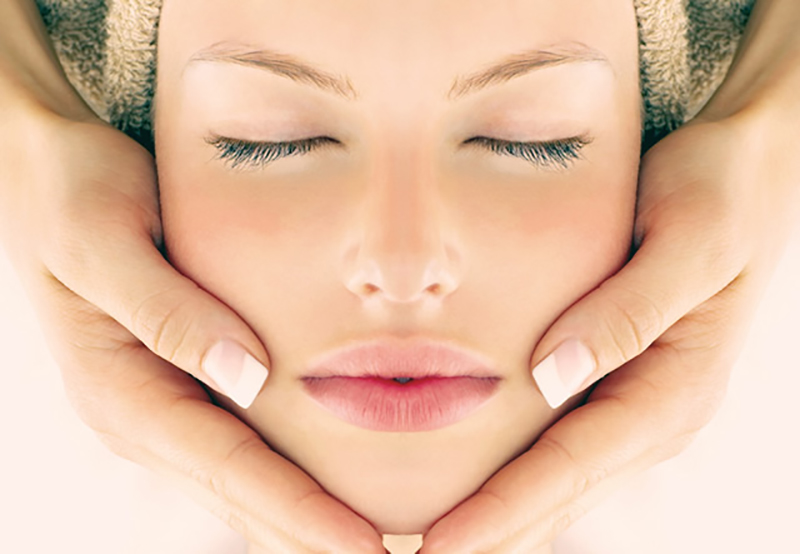 When you think of ways to relax and let go of tension, massage surely comes to mind. There's no denying that a massage can do incredible things for an aching, tired body, but have you ever stopped to consider that the muscles in your face can benefit from gentle massage, too? We rarely think about how hard the muscles in our face work all day long—talking, chewing and making expressions we're not even aware of. Have you ever caught yourself thinking really hard with your eyebrows all furled up or clenching your jaw during a suspenseful movie? Start paying attention to all the work your face does in a day, and then give yourself a facial massage for happy, glowing skin.
Facial massage is something you can incorporate easily, especially if you already use an oil cleanser or a facial oil in your routine.
If you don't use an oil routinely, grab a nice bottle of olive oil or coconut oil from your kitchen for this job. Apply the oil of your choice and massage with a light touch (two fingers) in small circular motions. Start in the middle of your forehead right between your eyebrows and massage outward toward your temples. Work around the eyes, being sure not to pull at the delicate skin. Move along the sides of the jaw, using a little more pressure to release tension in the jaw. Gently massage around the lips and chin, and finish by using long upward strokes on the neck. After you've massaged the face and neck, lightly and quickly tap the tips of your fingers along all the wrinkle prone areas of your face to stimulate the circulation and bring oxygen to the skin.
If you have issues with puffiness, fluid retention or just dull looking skin—you should notice great results from facial massage. My face looks more plumped, bright and fresh the next morning, so I like to do a quick facial massage a few times a week before bed. I love to use an oil with a therapeutic scent for facial massage, like the lavender rich Kari Gran Cleansing Oil.