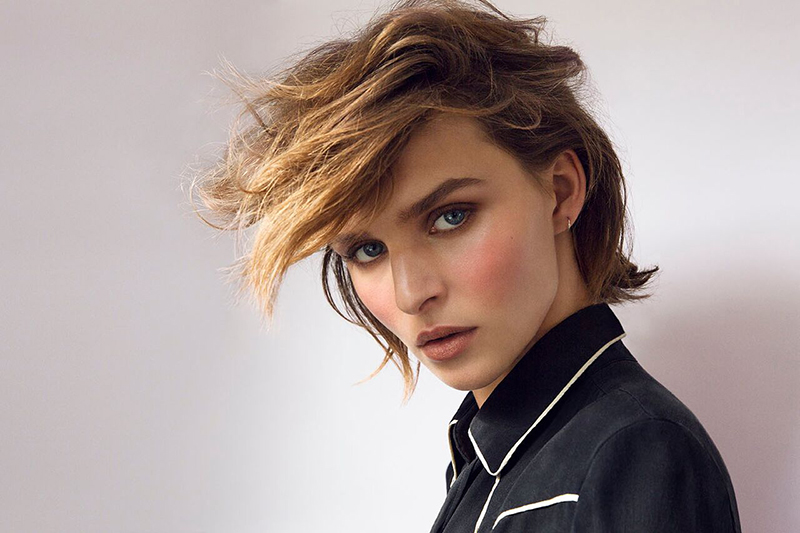 Get ready to kiss any remaining conventional makeup products in your kit goodbye. With gorgeous, reusable packaging and formulas that really perform, Kjaer Weis will quickly become one of your go-to makeup brands for everything from daily wear to maximum glamour. The founder, Danish-born and New York-based makeup artist Kirsten Kjaer Weis, wanted to create a look of sustainable luxury, which she achieved with refillable metal compacts that are sleek and weighty in the best way. When you hold a compact in your hand for the first time, you'll fall in love, but it's the organic non-toxic formulas that will keep you coming back.
Kjaer Weis has continued to steadily add colors to their collection of foundations, eye shadows, blushes and lip tints since launching a few years ago, and they have added elements that every makeup kit needs like a highlighter, bronzer and mascara. The newest eye shadow and lip tint are two of my favorites.
While I love a good cream shadow, I really love eye shadow compacts. Loose powders can feel more challenging than I can handle when I'm in a rush to apply makeup (which is most of the time), but a good powder eye shadow in a compact is hard to come by in the clean beauty world. Kjaer Weis eye shadows have all the versatility of traditional eye shadows, and they last all day on my lids without creasing. Just released for fall, Transcend is one of my favorite colors Kjaer Weis offers. Kjaer Weis describes it as somewhere between a reddish-brown and metallic copper. It has just enough metallic glimmer to illuminate the eyes, but it's still totally day-time friendly. It's gorgeous on its own or layered with other colors in the Kjaer Weis line. I love it because it's a rich neutral that is more original and unique than the typical browns I usually wear.
Once you try your first Kjaer Weis lip tint, you'll want to collect them all. Captivate is the newest color for fall, and it's a beautiful nude/brown with a slight golden iridescent finish (the first of its kind in the collection) that gives the lips a slightly more glossy look. Captivate is not a color I would normally reach for, but I'm so happy I tried it out. The coverage is fairly sheer and the color is subtle. It really warms up my lips and creates a finished look without being overdone—a great choice for when you play up the eyes or cheeks with brighter pops of color. The sleek and slim compact is so easy to toss in a pocket or tiny clutch, so you can take it along easily for touch ups. The shea butter and jojoba oil among other botanical ingredients make the formula nice and moisturizing.
Finally, the product that made me a true lover of Kjaer Weis is the cream foundation. The coverage is significant but weightless, and you can apply just enough to even out your skin tone or a little more to get a full-coverage, very polished look. The formula is semi-matte, almost powdery but not chalky or drying. The Kjaer Weiss cream foundation blends in effortlessly and disappears, leaving a fresh and bright looking face in its place. No settling in pores or fine lines, no oil slick halfway through the day, no obvious makeup face. It's perfectly balanced for my skin, and it works well under eyes or on eyelids, too. Application is a breeze—I use my fingers to apply and a blending sponge or brush to even it out a bit. I don't even need a finishing powder.
With Kjaer Weis launching at Integrity Botanicals this week, I'm looking forward to digging into more of their products and trying out more colors. Check back with us on Thursday for an interview with the makeup artist behind Kjaer Weis and a special offer!