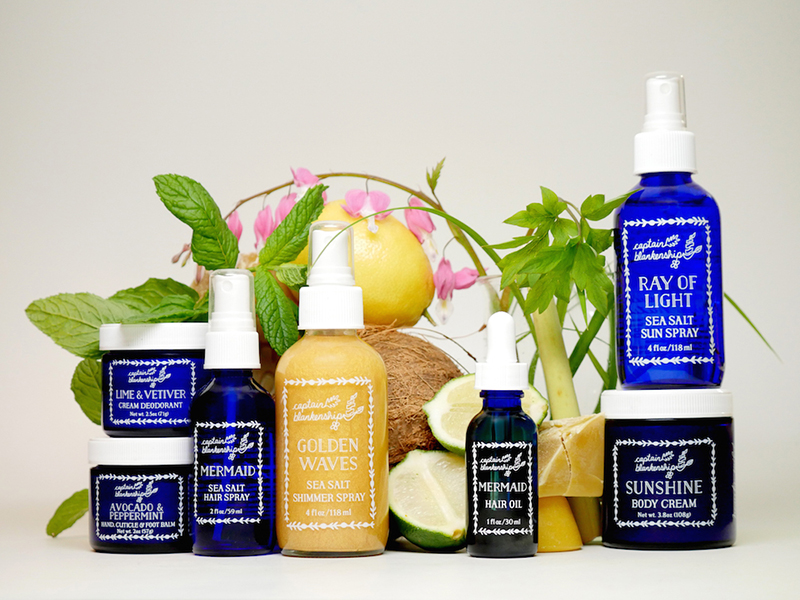 Captain Blankenship is launching at Integrity Botanicals this Friday! As a long-time fan of this gorgeous line, I'm thrilled their products will be available for you to try and for me to write about here on the Integrity Botanicals blog. I was first attracted to Captain Blankenship for the wholesome, straightforward ingredients and the light-hearted packaging that's artful and full of whimsy. What really hooked me, though, were the beautiful scents wafting from each product and the effectiveness of the formulas.
Captain Blankenship has a full range of skin and hair care plus perfume and aromatherapy, but hair care is where I developed my first crush on this line years ago, and I've repurchased those products more times than I can count.
For starters, Captain Blankenship makes my all-time favorite dry shampoo—the Mermaid Dry Shampoo. The formula is simply magic—it absorbs oil and adds volume while organic essential oils of rose geranium and palmarosa create a beachy fresh rose smell. The powder is super fine, never clumps and distributes evenly with ease, which results in clean looking hair rather than the powdered wig effect. While many dry shampoos absorb oil, I love the results I get with the Mermaid Dry Shampoo above all else. The clean smelling scent is a serious bonus, and I can't tell you the number of times I've hugged a friend and received comments on how good my hair smells thanks to this powder.
The Mermaid Sea Salt Spray is another favorite in my hair care routine. It has the fresh rose geranium and palmarosa scent in common with the Mermaid Dry Shampoo. The Mermaid Sea Salt Spray is the perfect styling product for my hair because it's lightweight but adds texture, waves and gentle hold to styles. I use this on damp hair most often, but it works well on dry hair to refresh your style and give hair a boost. I especially love to spritz some on and then braid my hair before bed. I wake up with beautifully set waves.
Captain Blankenship has added to their sea salt spray collection recently with the Ray of Light Sea Salt Sun Spray, which includes organic essential oils like chamomile, lemon, lime and grapefruit that lighten hair when activated by the sun. Brilliant! Then there's the Golden Waves Sea Salt Shimmer Spray, which includes natural gold mica for a subtle golden shimmer. So fun!
The Mermaid Hair Oil is the perfect compliment to the Mermaid Dry Shampoo and the Sea Salt Sprays. Use a bit of this lusciously scented oil (hello rosemary, fir needles, wild harvested sweet orange and cedarwood) to nourish dry ends or add a little gloss and luster to your locks. It's lightweight but moisturizing thanks to the organic argan, kukui nut and jojoba oils. I love to add this after I've styled with the Mermaid Sea Salt Spray.
Finally, do not miss Captain Blankenship's aromatherapy sprays. They are delightful and super useful, too. The Meteor Spray makes a brilliant linen spray, and it freshens up anything it touches—sheets and pillowcases, your dog, the car—but it's not a utilitarian scent in the least. You will want to spray it in your hair and on your body, too! You'll smell a fresh yet grounding blend of vetiver, pine and ylang ylang that is quite addictive.
The New Moon Spray is for all you palo santo lovers. I like to burn palo santo sticks to cleanse the air in my home, and the New Moon Spray is a great alternative to the smoke for purifying your environment. The sweet woody scent of palo santo is combined with wild harvested white sage, organic ruby red grapefruit and wild harvested sweet orange essential oils. Spray this around your room to freshen the air and your mood. Just like the smudge sticks, it moves bad energy out of a space in a jiff. Need a head change? Get the New Moon Spray.
There's so much more to love from Captain Blankenship! I look forward to sharing more with you. Check back with us on Thursday for an exclusive interview with the founder of Captain Blankenship, and make sure you are signed up for the Integrity Botanicals newsletter so you receive a special offer to celebrate the launch this Friday!