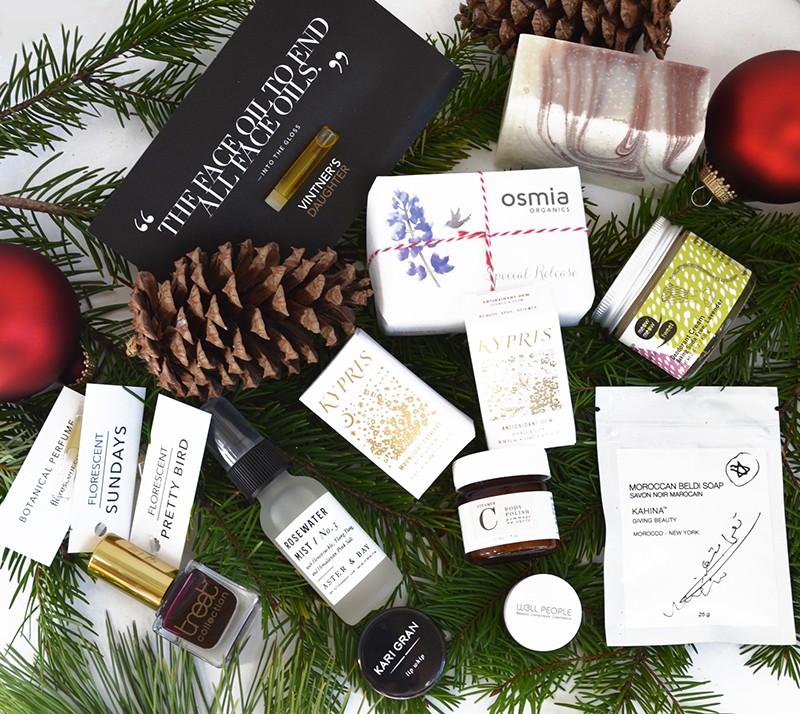 The holiday shopping season is officially here! Do you know what gifts you're giving this year? I love to offer a mix of handmade and store bought gifts to my loved ones, and for me less is always more. A thoughtful gift that is made with care from ethically sourced ingredients or materials provides so much more pleasure than a slew of gifts that have been purchased in a mad dash to get something under the tree. It's not always easy to find "the one", so I've pulled together a Holiday Gift Guide for everyone on your list with green beauty items that are guaranteed to impress and bring joy.
Winter Wonderland Holiday Gift Box by Integrity Botanicals, $95 ($160 value)
Not sure where to start? Integrity Botanicals curated a gorgeous box of green beauty goodies that includes a deluxe sampling of skincare, makeup, body care, nail care and fragrance. The box includes full size products like a Treat Collection polish, Meow Meow Tweet's Limited Edition Deodorant and Kari Gran's Limited Edition Lip Whip in "Jolene"—plus deluxe travel sizes of the best in green beauty. This box is the perfect gift for someone new to green beauty or the green beauty enthusiast who wants to try everything but can't decide where to start. The box includes an exclusive discount card toward your next Integrity Botanicals purchase.
MUN Travel Gift Set, $50
Oh how I love MUN skincare! This collection is perfect for your mom or aunt (or for yourself if you'd like to try some of the most effective botanical formulations around). The MUN Travel Gift Set includes travel friendly sizes of the cult favorite No.1 Aknari Brightening Youth Serum, the No.11 Anarose Toner (one of the finest toners on the market) plus MUN's Argan Oil, which is exclusive to this kit. Once your gift recipient sees the glow that comes with regular use of MUN's products, you'll be their favorite person in 2016.
Kjaer Weis Essential Trio 3 and Essential Trio 4, $130
If you have a stylish sister or best friend on your Christmas shopping list who loves makeup, then definitely consider one of the Kjaer Weis gift sets. Packaged like fine jewelry in gorgeous boxes, your BFF will swoon when she opens the box to find three sleek and chic refillable compacts that include a blush, eye shadow and lip tint—all made with organic ingredients and free of the nasty ingredients lurking in conventional makeup. You have two color palettes to choose from, and both will look stunning on anyone lucky enough to receive these kits.
This mini set packs a big punch! Perfect for the men and women in your life, this set will help keep skin supple and protected during the cold winter months. It includes a mini Rosemary Body Mousse to nourish and soften dry skin (perfect for popping in a hand bag), plus the fresh rosemary scent is invigorating and will make you smile during the darkest time of the year. The Himalayan Body Buff combines beautiful botanical oils with fine pink salt from the Himalayas to scrub away that dry patchy winter skin, and the lavender and fir scent is uplifting and happy. The kit includes a little wooden spoon that can be used with both products.
With so many great choices, Integrity Botanicals has something for everyone on your list! Stay tuned for more holiday ideas in December.