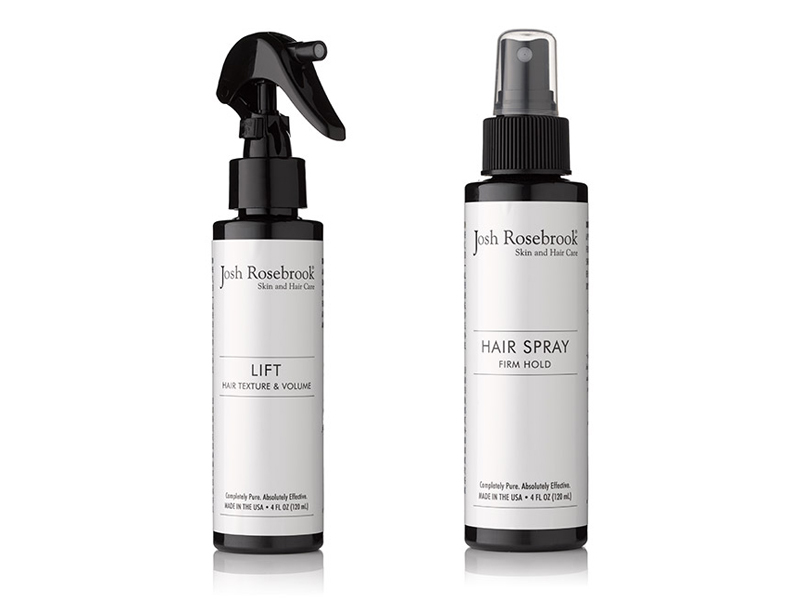 Never ever would I have imagined I'd become a hair product lover. Chalk it up to my fine, mostly straight hair that doesn't do much or the fact that I have very basic skills in the styling department—I've just never used much hair product out of the shower. When I started experimenting with hair products from brands like Josh Rosebrook and Yarok, everything changed. The experience wasn't accompanied by the sticky residue or strong smells I've always associated with hair products. Nope, just gentle smelling botanicals and natural feeling finishes. Styling my hair became easier, too, and I credit big moments like learning to French braid my own hair to some of these products that give hair a little more grip and texture.
I adore the hair styling products from Josh Rosebrook, and the two that meet my daily needs are the Josh Rosebrook Lift for Hair Texture and Volume and Josh Rosebrook Firm Hold Hair Spray.
The Josh Rosebrook Lift for Hair Texture and Volume is one of my all-time favorite hair products. It's a unique thickening spray that takes my fine hair from flat to full. It gives a little more texture and definition, but nothing stiff—you can still run your fingers through your hair. Lift gives just enough texture and pliability to hair that styling (like that French braid) is made easy. Organic yucca plant is the magic ingredient that creates thicker looking tresses while giving lightweight body and dimension. The scent is light and airy with notes of ylang ylang and lavender, and the spray bottle makes application quick and easy. I spritz this on damp hair after washing and either blow dry for super volume or air dry for a more low key finish. This leave-in product offers oomph and salon-quality texture and finish. A bonus for me is that when I apply Lift to my roots, I can go a little longer between shampooing.
The Josh Rosebrook Firm Hold Hair Spray is not the shellac in an aerosol can your grandma used when you were growing up. Don't get me wrong—this formula will keep a hairstyle in place. However, it's not going to feel sticky or rock hard or flake throughout the day. I love to use a fine misting of the Hair Spray to keep my high bun in place or to set a curl. It really works all day long while offering a natural look and finish. As you'd expect from Josh Rosebrook, the formula is also full of herbal extracts that gently stimulate the scalp and strengthen hair (same with Lift). Organic cornstarch gives hair hold while the vegetable glycerin softens and adds shine. Perhaps it's the cornstarch, but I've noticed that the Hair Spray tends to absorb excess oil when I haven't washed my hair, acting a bit like a dry shampoo treatment. I've been experimenting with spritzing my roots with the Hair Spray in lieu of a dry shampoo and brushing it out once it dries just to freshen up my hair. It's a nice option when you don't want the powdery mess of a dry shampoo.