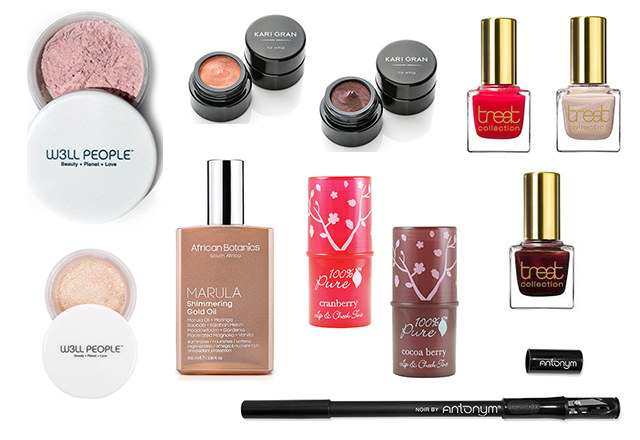 Let me guess — your social calendar looks pretty crazy right now with holiday parties and festivities galore on the horizon. Tis the season, but dashing around more than normal doesn't have to impinge on your pretty looks. With a few glamour-enhancing products that can often double as daily wear, you can be ready for a big night out or an intimate dinner with friends and family in a flash. That is a huge plus for those of us with time-starved days. I love this selection of products because they are glamorous yet understated, functional and all natural, of course — perfect choices for the holiday party season.
This holiday season Kari Gran debuted two new colors as part of their much-loved Lip Whip collection. Available in Naughty and Nice, wear these on bare lips for a subtle but seductive sheen or over a lipstick for more gloss and moisture. A little dab goes a long way. Naughty is a shimmery deep plum with caramel undertones, and Nice is a sparkling champagne with a hint of peach and gold. For those of you who haven't tried Kari Gran Lip Whips, these are incredibly hydrating and protective. You get a nice amount of gloss and shine plus a little color, and they are easy to apply without a mirror for touch-ups.
Nail polish can dress up the most basic look in a big way. Admittedly, I feel a little naked without nail polish these days, and I get excited about choosing what color I'll wear for a fun party or dinner. With a high quality polish you can give yourself a manicure in no time that looks professional and chic. I'm happy to have added Treat to my nail polish line-up recently. The Treat Collection includes 54 different colors (so much choice!) that are 5-free, cruelty-free, and long-lasting. For the holidays, I'm loving Cocktail Hour — the perfect neutral taupe dressed up with golden shimmer — and Date Night – a luscious Bordeaux red infused with golden shimmer. The golden shimmer makes them both so festive. If you're into a more traditional look then check out Paris, Paris is a classic red with blue undertones that is ultra feminine.
Available in six colors, these Lip and Cheek Tints are creamy and hydrating and each has a light fruity scent (seriously, check out the ingredient list and you'll find over a dozen fruits). The color is buildable and can go from sheer to quite pigmented with just a few swipes. It blends into cheeks beautifully for a natural flush. I adore these for the lips, too. They make a great alternative to lipstick, providing a bright pop of color that is less intense and opaque than most lipsticks but more apparent then a tinted balm. Gotta love multi-use products — pop it in your purse to brighten your complexion and lips on the go. Every color is worth owning.
Until I began writing this review for the Antonym Noir Natural Waterproof Eye Pencil, I didn't realize this eyeliner is waterproof. No wonder it performs so well! This eye pencil has become a daily staple, and it works equally well day or night taking you from a simple look to a dramatic affair. The color is a rich pigmented black that stays put. This is the best pencil for tight-lining, which I always do because it defines my eyes better than mascara alone yet doesn't look overdone. The color glides on easily with no tugging. It has a unique built-in sharpener that can be removed — very handy for travel. Even if you don't add this to your daily makeup routine, it's a must for your best-dressed moments.
W3ll People Elitist Eyeshadow in Gold Twinkle
W3ll People Elitist Eyeshadow in Gold Twinkle is a quintessential party color. Yes, it is super shimmery but very versatile. Layer it over a neutral brown or plum colored eyeshadow to give depth to your look, or wear it alone for a fresh and flirty no-fuss approach. You can apply this very subtly with just a dusting of color, or really glitz out with a few swipes of this shadow. This color is for anytime you want to get your glam on, whether it be the company Christmas party or New Year's Eve. Don't worry, you can totally pull it off in more low-key settings, too.
If you want to look like you've been on holiday for the holidays, W3ll People Luminist Mineral Glow gives the finishing touch that will do the trick. W3ll People Luminist Mineral Glow is available in gold, pink, and bronze. My favorite is the Pink Glow, which gives the softest blush to cheeks when worn alone, and layers beautifully with other bronzers and blushes for a more polished look. I love the soft focus effect I get when I dust this mineral powder across the apples of my cheeks. It really brightens your complexion and highlights without being overdone. The Gold Glow would look beautiful paired with one of the 100% Pure Cheek and Lip Tints.
It's easy to put all the emphasis on your face when prepping for a fun night out, but a little love for the rest of your skin can go along way toward elevating your look. African Botanics Shimmering Gold Body Oil boosts your skin with nourishing ingredients while helping you fake a luminous complexion in the meantime — perfect for winter skin that's going to peek out of your party dress. This light body oil illuminates skin with its iridescent golden finish and gives you that lit from within look. It smells divine — warm and floral thanks to Gardenia, neroli, and vanilla bean. I love to smooth this over my arms, neck, and collarbones for a beautiful healthy sheen.
Have you tried any of these beauties? What makes your must-have list for the holiday party season?