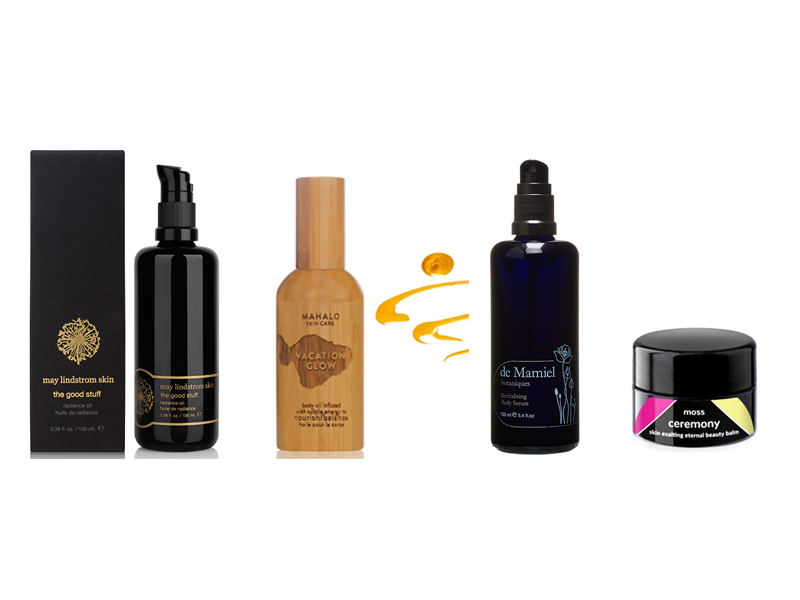 It's time to break out the sundresses and cut-off shorts for summer, which means showing off that beautiful skin you've been nourishing with clean botanical based products. Still not entirely comfortable in your own skin? There are a few genius products that will not only revitalize and hydrate the skin, but also add a subtle glow thanks to the translucent, radiance-boosting power of mica.
Trust me, there's shimmer and then there's SHIMMER. None of the following products will produce a glittery, out at the club look. Instead, the gold mica will ever so subtly reflect light and give skin that gorgeous sheen and finish we're used to seeing in the pages of the glossy magazines. It's definitely a your skin but better kind of effect.
In addition to the mica, most of these glow enhancing moisturizers contain one or more botanical oil that is rich in beta carotene, like rosehip or sea buckthorn berry oil. You'll know these by their bright golden orange color, and while this color never stains or gives your skin an orange hue (thanks to them being properly diluted in the blend), they do boost your skin tone and add a healthy glow, sort of like when you are drinking lots of fresh carrot and beet juice.
So, long story short—if you want to up your bare skin game this summer, don't look to the sun. Grab a moisturizer with a little mica and lots of golden oils to do the trick. Here are a few of my favorites…
de Mamiel Revitalizing Body Serum — I love that the very first ingredients in this luxe body oil are true heavy-hitters in the skin rejuvenation department. Rosehip seed and camellia seed oil lead the charge, but the goodness doesn't stop there! Prickly pear, marula and so much more are joined by skin calming herbs and a gorgeous blend of fresh and bright essential oils that give a summery citrus-floral scent that's happy and energizing.
Mahalo Vacation Glow — This energy infused hair and body serum includes a rich dose of reparative sea buckthorn and tamanu as well as the deeply hydrating avocado and macadamia oils plus an added boost of C0Q10. It may be the richest formula of those featured here, so treat your dry skin to this little treasure for an instant Vacation Glow. The scent is as rich and sultry as the formula, with a mix of heady florals like jasmine, ylang ylang and tuberose tempered by frankincense and sandalwood notes.
May Lindstrom Skin The Good Stuff — Dubbed liquid sunshine by May, this formula is one of her original skin treats and one of the very first body oils I encountered that was infused with golden mica for that subtle glow we all crave. This light formula has jojoba as the lead ingredient, which really aids in allowing the oil to absorb into the skin quickly. For hot and humid summers, that's ideal. The scent is delicious enough to eat—chocolate meets rose, ylang ylang and lavender in this unique mélange.
Moss Skincare Ceremony Skin Exalting Everlasting Beauty Balm — Finally! The same gorgeous hue in the body oils mentioned above can now be found in a product formulated specifically for the face. Ceremony is a decadent balm that imparts antioxidants, nourishing fatty acids, and vitamin C rich free radical scavengers like green coffee bean oil. Buriti fruit oil lends its butternut gold color to the balm in addition to lots of vitamin A. The light jasmine and sandalwood scent is calming and comforting. Though rich, this balm absorbs quickly and leaves the perfect soft-focus finish.