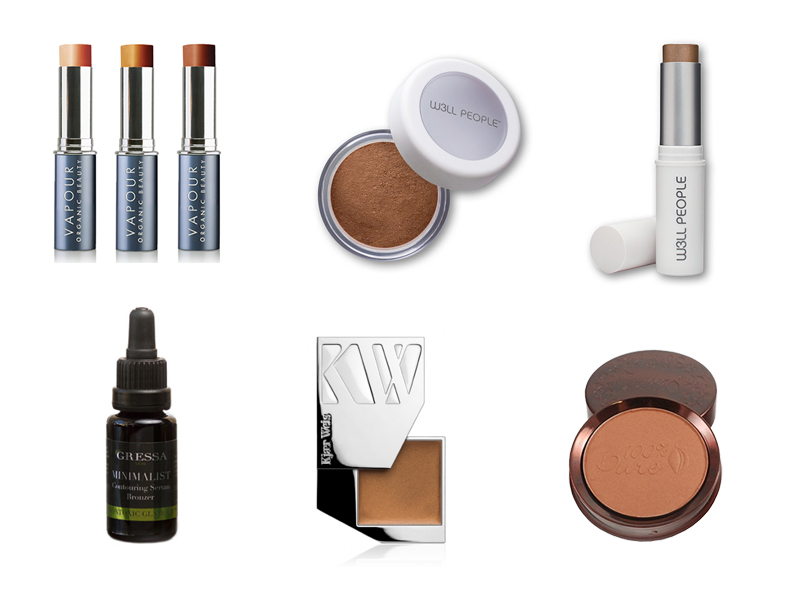 Bronzer is the perfect thing to have on hand for an instant pick-me-up with little effort. There's a reason why we crave that sun-kissed look—it reads healthy and wholesome to us. I'm doing my best to protect my skin from damaging UV rays, so I'm turning to bronzers to brighten up my look and give a natural glow without the negative side affects of too much sun. Fortunately, there are some beautiful clean options to choose from.
While bronzer can be used all year long to warm up your complexion without going overboard on blush, I find myself reaching for it almost daily this time of year. For one thing, I'm often wearing a heavier application of mineral sunscreen, which can make me look slightly more pale than normal. A bit of bronzer is all I need to make up for that.
My default makeup look is pretty natural, and I tend to wear even less during the hot summer, so once again bronzer is key to getting that radiant glow I once turned to the sun for. With all the healthy minerals and botanical ingredients in the following bronzers, you're not only saving your skin from sun damage—you're adding good stuff to your skin in the process!
Want to find your perfect bronzer? I've tested each of the following bronzers, several of which I've used on a regular basis for a while. They are each beautiful in their own right, and my goal here is to share enough information to help you differentiate and choose the best fit for you.
Of course, you can also order samples of these from Integrity Botanicals and experiment for yourself! The bronzers are listed from the lightest color payoff to the most intense.
Vapour Organic Beauty Solar Translucent Bronzer — This cream stick comes in three shades. I used the lightest shade during the winter, Mirage—a pale gold that's never orange or muddy looking. The shea butter helps the stick glide easily over skin. Solar is also infused with antioxidants like pomegranate, green tea and acai berry. This is ideal for fair ladies who want a light natural glow.
Kjaer Weiss Dazzling Bronzer — My current obsession due to the great color match for my skin and the creamy, dreamy application. This is a true golden shade that's perfectly balanced and neutral in tone. As such, it also makes a gorgeous eye shadow! The formula blends in seamlessly with little effort.
W3LL PEOPLE Bio Bronzer Powder — One of my long-time favorites, this powder contains green tea, chamomile and aloe powder to help soothe and calm redness while giving a natural glow. Also quite neutral—not too red, brown or orange— this finely milled powder can be quickly dusted on for a luminous effect that I love. Try this as an eyeshadow, too!
WELL PEOPLE Bio Bronzer Stick — With slightly more red too it than the other cream options here, the Bio Bronzer Stick is an awesome alternative to blush and gives warmth and color to the skin. This was my go-to all winter when my pale skin needed something more than blush to look alive. Blush can be so obvious, whereas the Bio Bronzer Stick just perks up your look and gives you fresh, healthy looking skin.
100% Pure Cocoa Pigmented Bronzer — We're getting into serious pigment here, so reach for this if you aren't so fair or if you really love to tan. Pigment doesn't mean fake looking, however, and this Cocoa Pigmented Bronzer is pretty luscious. Infused with pigments of cocoa, coffee, tomato and berries and avocado butter to nourish skin, just use a light hand and you'll be in suntanned heaven.
Gressa Minimalist Contouring Serum — Much like the other Minimalist makeup products in the Gressa Skin collection, this bronzer is a liquid formula that only requires the tiniest drop of product to do the job. Deep chocolate in color, one drop per cheek blends out into a gorgeous, rich glow. Look like you've been bumming around the Bahamas without the sun damage with this bronzer. Use it as a contouring color or as a traditional bronzer.