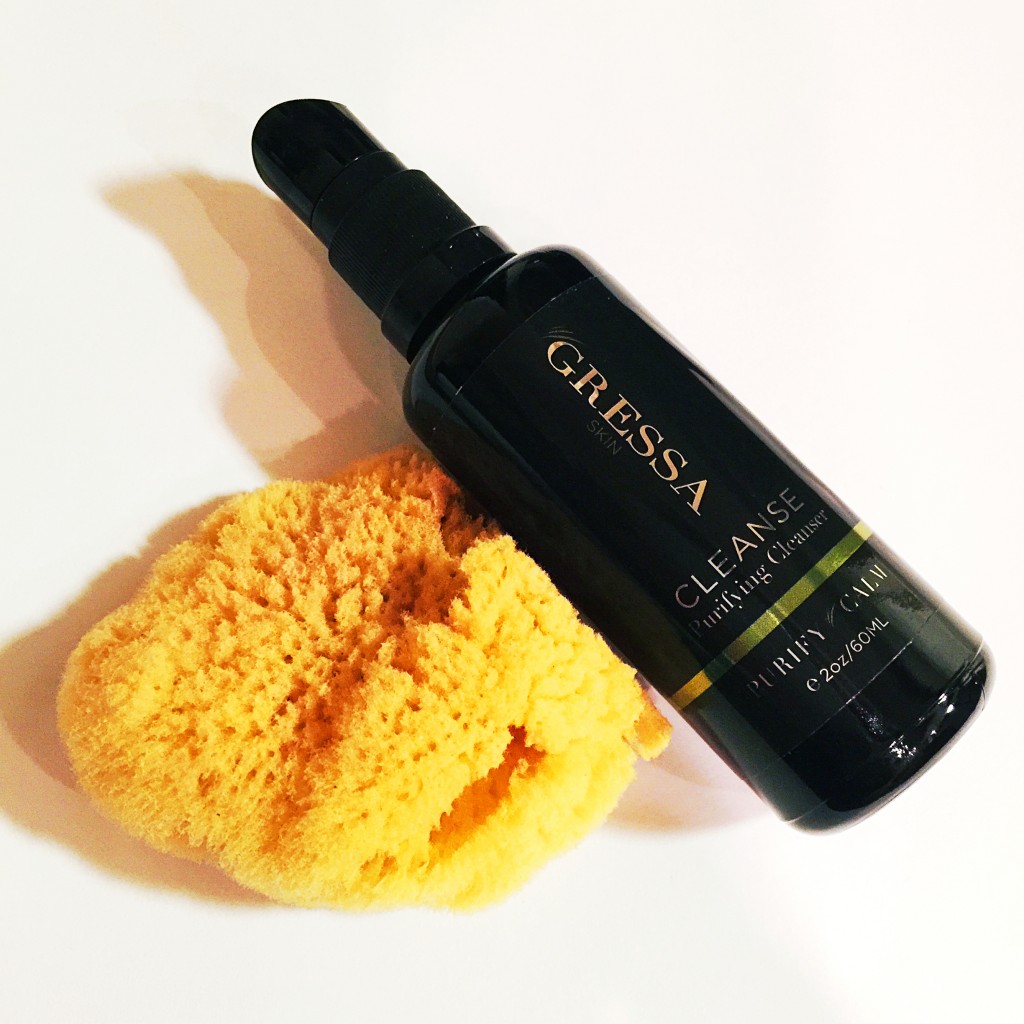 I'm constantly experimenting with different combinations of products based on what my skin needs from day to day. I'll never be that person with one routine for the rest of my life—the discovery process is too fun! One morning recently I was in too much of a rush to exfoliate with my usual mix, but I needed to scrub my face in order to get a smooth makeup application, and I  knew better than to skip it. I grabbed the St. John's Atlantic Silk Facial Sponge from its perch on my shelf and hopped in the shower where the Gressa Purifying Cleanser was waiting. I love these products on their own, but that morning I discovered that together they are even better.
Here's how I use them together for a skin balancing cleanse with a dose of buffing power…
In the shower I massage two pumps of the Gressa Purifying Cleanser onto my damp face. Then I take the dry (yes, dry) Atlantic Silk Facial Sponge and begin to buff my face with it using gentle pressure in a small circular motion. If you want more exfoliation, start with a dry sponge. As the sponge comes into contact with the foaming cleanser, it will begin to soften. Once the sponge is totally wet, it isn't as exfoliating, but in that moment beforehand when it's still pretty dry it exfoliates as well as something like the Clean Dirt. The slip of the Purifying Cleanser acts as a slight buffer and helps the sponge glide across skin without being too rough. And voilá, I've cleansed and exfoliated my face in the shower in less than 30 seconds.
The Gressa Purifying Cleanser is a lightly foaming cleansing gel that won me over with its soft herbal, fruity scent and gentle, non-drying formula. You can smell the fresh chamomile and helichrysum infused into the formula. The Purifying Cleanser never leaves me with that "stripped clean" feeling some foaming cleansers give. The glycerin in the formula helps skin retain moisture and stay comfortable while the other ingredients remove impurities and tone.
It's been nearly a year since I first wrote about St. John's Natural Sea Sponges, which are sustainably harvested from the Gulf of Mexico and come in a range of shapes, sizes and textures. One of the best things about natural sea sponges is that they are resistant to odor and bacteria, and they last for years with proper care. My Atlantic Silk Facial Sponge is still as healthy and happy as it was when I first got it, even after lots of use.
If you're looking for a new cleanser or the perfect tool to boost your cleanse with a little exfoliation, be sure to check out the Gressa Purifying Cleanser + St. John's Facial Sponge. They make quite a pair!