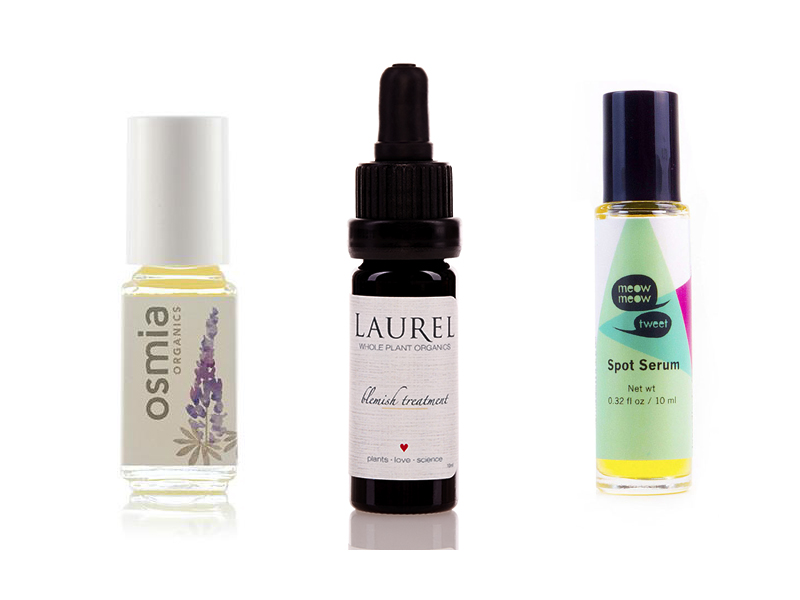 Summer is notoriously rough on skin. Extra sweaty days can leave our pores congested, harboring bacteria that allow acne to thrive. So how to prepare for the inevitable spot or two? Remember those acne treatments that always seemed to burn and make skin even more irritated and red, even if the zit in question started to go away? The days of addressing acne with harsh drying treatments are over, and thank goodness, because I don't remember those treatments being very effective anyhow. My DIY thyme toner alone is more effective than those oil stripping astringent toners I used daily growing up, and for times when a pimple or three start to pop up, the following extra concentrated spot treatments are exactly what I reach for.
If you struggle with breakouts, whether once a month, all the time or just in the summer, do your skin a favor and pick up one of the following botanical acne treatments. They are each a little different, but all highly effective and gentle.
Laurel Blemish Treatment — Black cumin seed oil, tamanu oil and thyme essential oil keep skin clear and balanced in this formula. Black cumin and tamanu have long been used to treat acne and inflammation. Both are antibacterial and tamanu helps prevent scarring with its high levels of vitamin A. Thyme has been proven more effective than benzoyl peroxide at treating acne, and it doesn't have the nasty side effects that BP has, so you'll see it in most natural acne treatments. For their ultra healing properties, blue chamomile, lavender and helichrysum are in the mix, too. The aromatherapy aspect of the formula helps treat underlying stress that can lead to acne in the first place.
Meow Meow Tweet Spot Serum — This treatment uses organic jojoba oil as the base of the formula, which is fantastic for fussy skin because of its similarity to our sebum. It won't clog pores or exacerbate problems, and it actually helps keep pores clear and healthy. The essential oil blend fights bacteria growth so that blemishes are stopped in their tracks as soon as they start. It includes eucalyptus, cajeput, thyme, peppermint and clove—all known for their acne busting properties. The bonus is that this treatment can be used as an aromatic roll-on to calm anxiety and headaches as well as an itch-relief treatment for bug bites. Talk about multi-purpose!
Osmia Organics Spot Treatment — Similar to the Meow Meow Tweet formula with a few important distinctions, this Spot Treatment was my first natural acne product. It truly demonstrated how powerful botanicals are at fighting and healing breakouts. The key is to use early and often because it's very effective on blemishes before they even come to the surface. You can actually prevent blemishes from coming to the surface at all if you catch and treat them early on (and then fight the urge to touch it). Evening primrose makes a healing and balancing base oil for essential oils of lavender, cajeput, lemon, parsley, thyme and cypress. This potent antibacterial combination not only smells incredible, it really works on breakouts.
Have you tried any of these natural acne treatments? How did they work for you?