As Terri and Marc, co-founders of Integrity Botanicals, are gearing up for the birth of their second beautiful baby, it seems like an especially good time to post about the ever-confusing topic of safe essential oil use in pregnancy. My team and I at Osmia Organics get loads of emails about this issue, and so does the Integrity Botanicals team. So many, in fact, that I finally decided to do the homework myself and consolidate the data to create a common-sense guide.
There are a few good resources out there, but the information can be contradictory: one person says clary sage is no problem, another says avoid it at all costs. A practitioner with Traditional Chinese Medicine training avoids evergreen oils in pregnancy, while a traditionally trained aromatherapist uses them to increase energy and stamina. So I consulted my trusted aromatherapist friends, looked at the available (and reputable) medical data, and synthesized the information in a way that makes sense to me, as a western-trained physician and CEO of a natural skincare company.
If you're an aromatherapist, or working with one, you should feel free to explore the boundaries of this guide. But, if you just need some safe guidelines for using essential oils in pregnancy, you've found them.
Before you fret too much about this topic, remember that most essential oils (except those in the first section of the table below) are safe in pregnancy when used in low dilutions, like a couple drops in a bath, a diffuser, or a massage oil. There are no studies showing evidence of birth defects or miscarriages due to "normal use" of appropriate essential oils. Using large, undiluted quantities of any essential oils, either internally or on the skin, is a bad idea during pregnancy – and all other times!
Guidelines for Essential Oil Use in Pregnancy
Internal (taken by mouth) essential oils should probably be avoided during pregnancy because this method results in the greatest exposure to  your growing baby. They are potent medicines, and even beautiful, fragrant plants can be toxic!
Using undiluted essential oils on the skin during pregnancy should only be done under the direct supervision of a licensed aromatherapist. Generally, I do not recommend undiluted topical application during pregnancy.
Other methods of essential oil use include baths, inhalation, wash-off products, and leave-on products. This will come down to personal choice, but the safest plan is one you've heard before: everything in moderation! Use appropriate essential oils  (see chart) moderately and in low concentrations, and you will be fine.
Keep in mind that your skin – and your nose – can be much more sensitive during pregnancy, so less is more. It's a time of many fluctuations, and skin troubles are (unfortunately) not uncommon. Of note, phototoxicity is more common in pregnancy, so I've included a section in the chart about phototoxic oils.
Lastly, and very importantly, remember that just because you used an essential oil in pregnancy does not mean it's safe for your newborn baby! Babies have sensitive skin, developing systems, and immature immune function, so most essential oils are too potent for babies under one year of age. I recommend using unscented products like our Oh So Soap and Naked Body Oil on babies under one, and then incorporating appropriate oils in moderation, with the guidance of an accredited aromatherapist.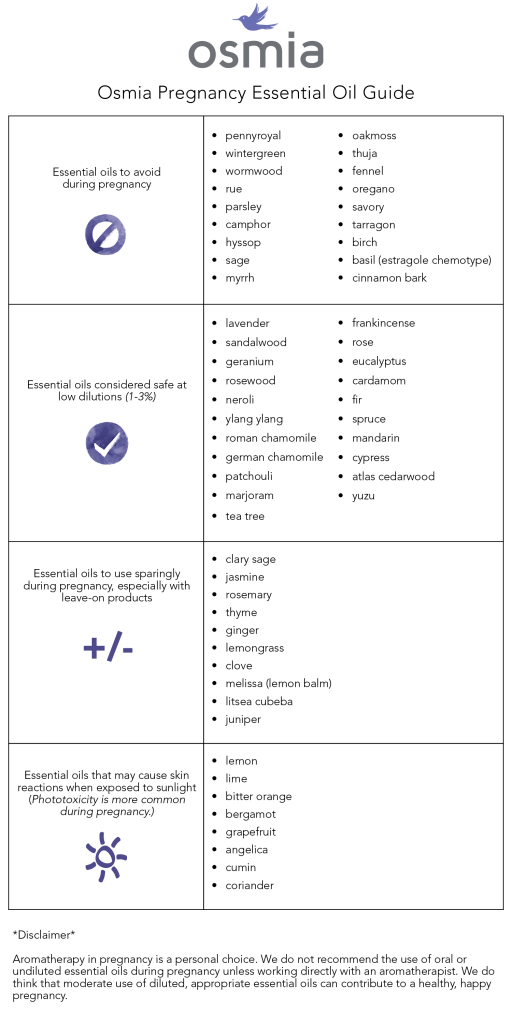 The chart above is based on several factors. First, I reviewed the scientific information available online, including guidelines from the International Federation of Professional Aromatherapists (IFPA) and the National Association for Holistic Aromatherapy (NAHA). Then, I reached out to several nationally known aromatherapists** and had them review this chart, incorporating most of their suggestions. If you want to dig deeper on the available data, check out Essential Oil Safety by Robert Tisserand.
**Very special thanks to Robert Tisserand, Hope Gillerman, and Amy Galper for their expertise and guidance. Though I may not please them all with my compilation of their opinions, I am fairly certain none will gasp in horror, and I am very certain this chart provides safe guidelines for expectant mothers.
Carrier oils are the oils in which you can dilute essential oils, and they are all considered safe in pregnancy. Even though you would not want to ingest castor oil during pregnancy, for example, you may use it on your skin. Olive, jojoba, apricot kernel, sweet almond, fractionated coconut, and hemp seed oil are other common carrier oils, and are safe for use in pregnancy.
As for which Osmia products to use in pregnancy, there are only four products that we recommend using sparingly or not at all due to the essential oils in them: Spot Treatment, Water Body Oil, Sunset Body Oil, Light Body Oil. Even the Spot Treatment recommendation is conservative, since it's used on about 3 square millimeters of skin at a time.  All of Osmia's facial soaps, body soaps, facial skincare, lip care, and bath products are safe during pregnancy, as well as Night and Naked Body Oils.
There, now you have some common-sense rules to follow as you grow this little peanut in your belly. Most importantly, try to enjoy this time instead of falling victim to our fear-mongery society when it comes to all pregnancy-related things. This is what your body is designed to do, and your body knows a lot more about how to protect this baby than your brain does. So take a big breath, slather on some Night Body Oil, and get a great night's sleep!