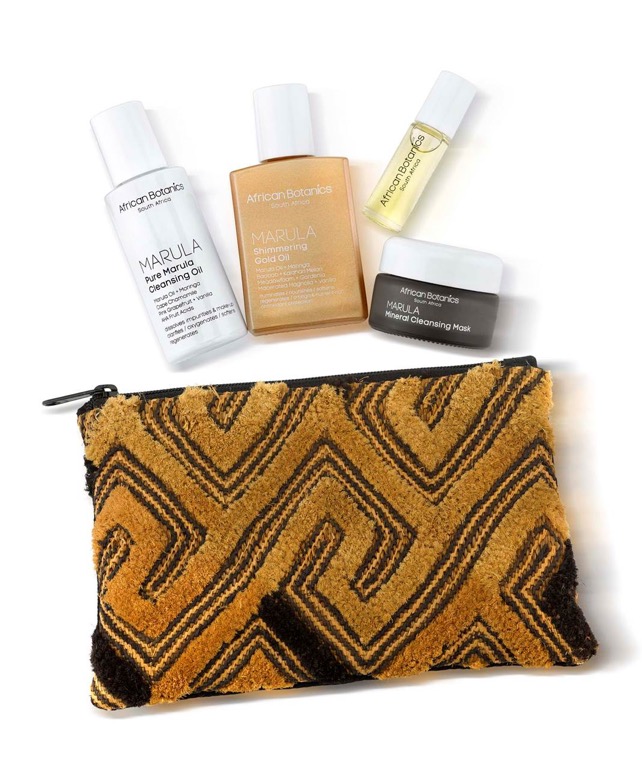 Travel kits are the perfect way to get to know a product line. No need to splurge on the full size until you know it's right for your skin or hair. When you find a line that you love, having your favorite products in a TSA-friendly set makes traveling much more efficient. Even if you are not boarding an airplane, travel sets can help streamline packing for a quick weekend road trip or an overnight stay. Once you buy the full size, be sure to keep your travel minis on hand and refill as needed. Sometimes I even keep travel sizes in my shower to save space. All practicality aside, can we just agree that miniature versions of full size products are adorable? If you're traveling this holiday season, here are seven travel kit options that are chic, economical, and TSA-friendly. They make wonderful gifts, too!
African Botanics sources their star ingredient Marula oil from South Africa. Pure Marula oil has a natural sweet fragrance and imparts a gorgeous glow to skin. That's why this entire line features this antioxidant-packed gem. The Wanderlust Travel Set comes packaged in a stylish hand-woven cosmetic bag and includes enough product for a two-week introduction to the African Marula oil ritual. The kit contains the Pure Marula Cleansing Oil, the Mineral Cleansing Mask, Pure Marula Oil, and the Marula Shimmering Gold Oil. The Cleansing Oil dissolves easily with water alone, and can be used to refresh skin in the morning or remove make up at the end of the day. The Pure Marula Oil and the Shimmering Gold Oil offer moisturizing options for your face, body, and hair. Feeling fatigued or dehydrated from your flight? The Mineral Cleansing Mask replenishes and refreshes your skin on the go.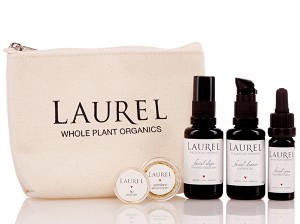 Laurel is a beautiful example of handcrafted skincare. Designed by an herbalist with a true gift for creating powerful healing infusions and extracts, Laurel Whole Plant Organics incorporates medicinal herbs into their products to address specific skin concerns. All of the plants Laurel uses are grown organically or biodynamically, and within 100 miles of where they make the products. Laurel gives travelers three options to choose from depending on your skin type, and each travel set includes the Laurel Cleanser, Elixir, Serum, plus a Lip Treatment and a sample of the Almond Grain Exfoliant. Choose between the Oily/Combination, Normal/Dry/Mature, and Gentle Travel Sets. The Cleanser, Elixir, and Serum are packaged in small versions of Laurel's signature black glass bottles, and the sets come in a canvas zip bag. Overtime you will see beautiful results when you use Laurel Whole Plant Organics, and the travel set is a great place to start.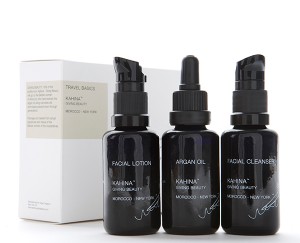 If you haven't tried this luxe line, start with this travel set. With their gorgeous black packaging and premium ingredients, Kahina is one of the most coveted natural beauty lines around. Even beyond natural beauty circles, argan oil has a cult following. Kahina sources one of the finest argan oils in the world, and the entire line is crafted around this star ingredient. Massage a few drops of Kahina's Argan Oil into your face immediately following the Kahina Facial Cleanser, or layer over the Kahina Facial Lotion for even more hydration. All three products are included in this set. Kahina says the kit should last about one month depending on use, but I'm betting that the argan oil lasts a lot longer. Hang onto the black caps for travel and refill your empty bottles with body oils or lotions for easy grab-and-go options for your purse.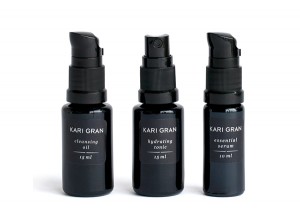 This is a perfect example of how a starter kit can lead to a bigger love affair with a skincare line. This very starter kit was my first introduction to Kari Gran, and I have since purchased several full size bottles of the Cleansing Oil and Hydrating Tonic. The Cleansing Oil is one of the best around, and I spritz the Hydrating Tonic on my face and hair throughout the day for an uplifting pick me up. You may choose between the Lavender or Rose Hydrating Tonic, and both provide a soothing aromatic experience in addition to doing their job as hydrators. Also included in the kit is the Kari Gran Essential Serum, which has incredible healing properties thanks to 15 organic plant and essential oils. It also smells heavenly. This kit is a great value. For $35 you can treat your skin with pure, natural ingredients that have been expertly blended.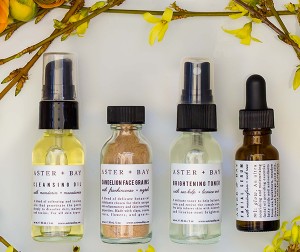 Aster + Bay does modern apothecary skincare exceptionally well. There's a story behind every ingredient and the formulas are thoughtfully crafted. This travel kit includes every step you need in a basic skincare routine. Another incredible value, the Aster + Bay Travel Kit includes mini 1oz versions of their Cleansing Oil, Brightening Toner, and Dandelion Face Grains, plus a full size (.5 ounce) Facial Serum of your choice. Serum options include the Glow Facial Serum, Hydrate Facial Serum, and Purify Facial Serum. Aster + Bay understands the science behind their natural ingredients, which means your skincare routine will be as effective as it is pleasing to use. The herbaceous and earthy scents come directly from beneficial ingredients like helichrysum and cistus essential oils or frankincense and myrrh powders. These ingredients each serve a specific purpose, but they also make for a lovely sensory experience.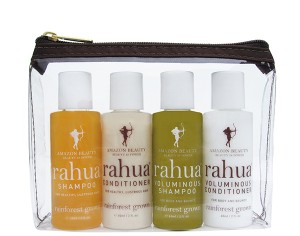 The Rahua hair care line has helped more people than I can count make the transition from conventional shampoo and conditioner to all natural — myself included. Personally, the Voluminous Shampoo and Conditioner are my favorite duo, but the Classic version is a better fit for some hair types. With this Jet Setter Kit you can figure out whether the Voluminous or Classic version best suits your hair needs, while ensuring you're able to travel lightly. Each has a mild herbal scent and leaves you with glossy, healthy hair. A sacred essential oil called Palo Santo gives Rahua its signature scent.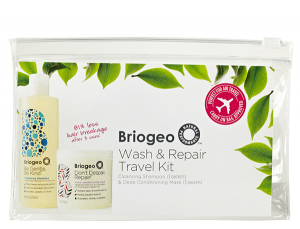 Want to travel extra light? Nab one of these Brigeo Travel Kits, which includes 3 packets of the Brigeo Be Gentle, Be Kind Cleansing Shampoo, plus 3 packets of the Brigeo Conditioner of your choice. Conditioner options include the Curl Charisma Curl Defining Conditioner, Don't Despair, Repair! Deep Conditioning Mask, and the Blossom & Bloom Volumizing Conditioner. The shampoo and conditioner come in .5 ounce packets that you toss after use, so you don't need to worry about leaky bottles, and you'll create lots of extra space in your carry-on, too.
If you are traveling this holiday season, pick up one of these travel sets to lighten your load. Think about it — would you rather spend money on checking a bag for your flight or on a new skin care experience that is carry-on friendly?