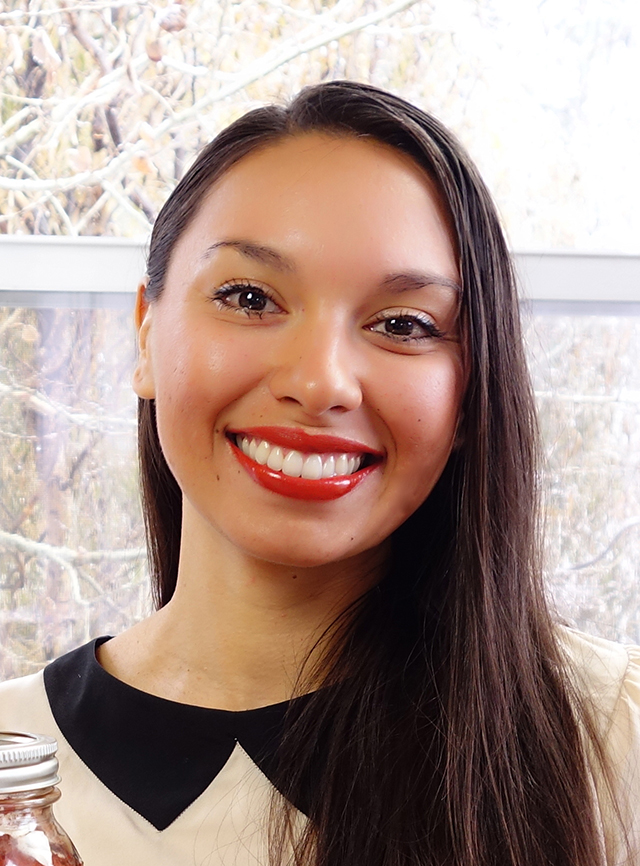 Axiology is a fresh new line of lipstick that has ladies in the green beauty community and beyond a flutter with excitement. With its vegan, non-toxic and conditioning formula plus bold colors and chic packaging, it's impossible not to lust over Axiology. The founder, Ericka Rodriguez, has gone above and beyond to make Axiology a unique offering among a growing number of clean options, so I couldn't wait to pick her brain about the origins of her line and what makes Axiology so special.
Susannah: How did you begin formulating lipstick and when did you realize that you wanted to start your own lipstick business?
Ericka: I started making my own lipstick after realizing I couldn't pronounce most of the ingredients in my beauty products. I thought it would be fun to make my own natural makeup and I began playing with different ingredients. I don't have a background in chemistry so I relied on the internet, blogs, and lots of trial and error. I was living in Brooklyn at the time and began formulating lipstick on my days off and before work. It started out as a personal project and before I knew it I realized I had created a product I felt the beauty industry was missing. I wanted to share my labor of love with women who desired a natural, ethical lipstick that doesn't compromise on staying power and rich color.
Tell us about the Axiology experience. What's it like to wear one of your lipsticks?
Ah it's such a beautiful feeling. The more conscious I became about ingredients, the more I started shying away from beauty products altogether. I just didn't trust most cosmetic companies. But when I began to mix avocado butter, coconut oil and grape seed oil into a beautiful lipstick, I was amazed. I feel beautiful when I wear Axiology, not only because it feels so nourishing but also because of the philosophy and ethics behind our lipsticks.
What inspired your color palette and lipstick names?
The color palette just happened naturally. I made a commitment in the beginning phases of the business to avoid using synthetic colors due to traces of heavy metals and toxins that I preferred to avoid. Therefore, using natural colors made the lipsticks look more earthy. I also wanted to add an element of play so I started making colors you don't see everyday in the green beauty world. That's how the light purples and blues began to appear. 
The lipstick names remind us of the philosophy behind the brand. Axiology is the philosophy of ethics. We strive to be ethical in all aspects of the company including our ingredients, our packaging and in the ways we give back. We wanted to showcase that with our lipstick names.

Axiology supports the Orangutan Foundation with 6% of profits each year. You clearly care about animals. Why is it important to you that your lipstick is vegan?
Yes, we definitely care about animals. Historically, this industry has abused and mistreated animals in the name of beauty. Some beauty companies still use ingredients that come from animals such as sharks (squalene) and from sheep (lanolin). We strive to make sure that we are doing no harm to our animal friends. We are strictly against animal testing and are very conscious of where our ingredients come from. We are proudly palm oil free as palm oil is causing massive deforestation in Indonesia and Borneo. This is causing the extinction of the orangutan, the rhino and the Sumatran tiger. We feel these practices can be stopped with awareness and demand from the consumer.
What are some of your favorite ingredients in the lipstick and what makes them special?
I love the smell of our lipsticks! This is because I don't use any perfumes or chemical scents, which I think, smell awful. I use sweet orange essential oil instead and our lipsticks smell naturally sweet and fresh.
Axiology packaging is very unique and beautiful. The boxes were sourced in Bali, Indonesia. Why did you choose these boxes and how did you discover them?
Thank you! I was actually living in Bali working on the launch of Axiology. I was there to learn more about natural ingredients and business. There is actually a large entrepreneur culture in Bali and I wanted to learn as much as I could about running my own business. While I was there I discovered a natural paper company that matched the philosophy of Axiology. It is a small women run factory with a beautiful mission. The women collect used paper from all around the island (think hotels, offices, etc.), boil down the paper by hand and lay out the pulp to dry in the sun which then turns into paper. Then they fold and stamp the paper all by hand. The outcome is a beautiful product that also helps alleviate the trash problem on the small island.
What has surprised you about running an independent clean beauty business and where do you see room for growth in the industry? 
I was actually surprised at the high demand for this product. It just proves that people are becoming more aware of what they are putting on their skin. Coming from humble beginnings of making lipstick in my apartment, I was thrilled when my Etsy orders started rolling in. I was also getting a lot of messages from people saying that their doctor recommended Axiology, or the damage that conventional lipsticks caused their skin forced them to turn to Axiology. This made me realize that we had a role to fill in the industry.
I see room for more playful colors and I want to continue offering this to people. I feel like a lot of beauty lines can become stagnant and for us we want to continue coming out with new vibrant colors. We want to make putting on natural lipstick fun and joyful.
To celebrate the launch of Axiology at Integrity Botanicals, we're giving away an Axiology lipstick color of your choice to 3 lucky winners!