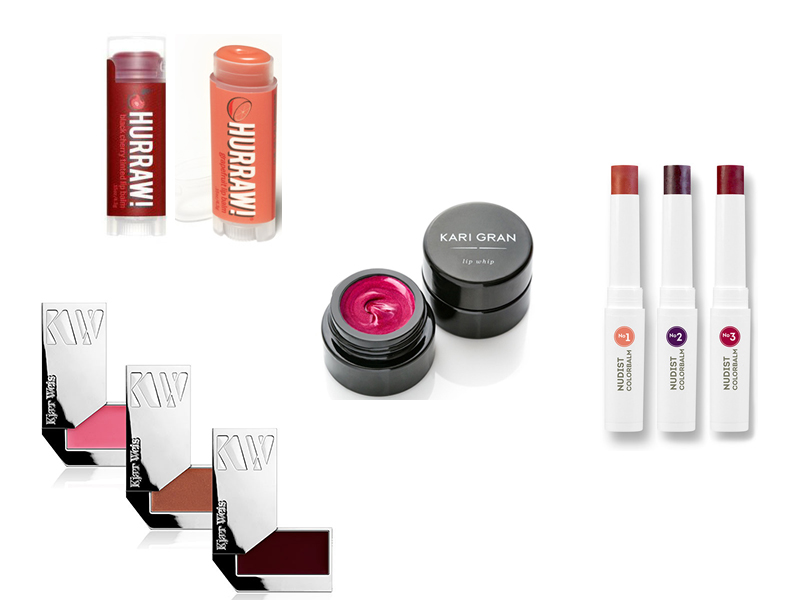 One of my favorite things about green beauty is that products are inherently nourishing and healing, even if they are mainly formulated for another purpose, like makeup. The botanical oils and butters that replace ingredients in conventional products (think mineral oil and other petrochemicals, emulsifiers, texturizers and fillers) are just what we need to protect and repair skin. Here we are heading into winter—a.k.a. lip balm season, and I'm feeling lucky to have so many choices in lip care that protect and hydrate while dressing up my lips with a bit of color. I can walk out the door bare faced with a messy bun in my hair and still feel put together if I have a favorite tinted lip balm on. That hint of color is everything.
Here are some beautiful tinted lip balms for color and conditioning that are healthy, nontoxic and super stylish. Get them for yourself or give as gifts this year.
W3LL PEOPLE Colorbalms — These slim sticks come in a handful of colors, with my favorite being coral, poppy and cherry. They feel weightless on lips, protect well and are long-lasting. The balms deposit a sheer, subtle color with a hint of shine. Think lipstick meets lipbalm, except you can apply easily on the go—no mirror required!
Hurraw! Tinted Lip Balms — Available in tinted shades, Hurraw! Tinted Lip Balms are flavored in Black Cherry or Grapefruit. The color payoff is the most sheer of any balms in this review. They bring a little life to lips without looking like you're wearing anything. The lip balms are slightly glossy and truly nourishing.
Kari Gran Lip Whip in 'Jolene' — This is a cult favorite product among green beauty lovers, and the newest color release is named for Jolene Hart, a nutrition coach who writes about eating well for beautiful skin and health. There is nothing like the Lip Whip on the market, and you'll become obsessed with the silky, nourishing formula. Jolene is my favorite color to date with it's bright pop of pink and iridescent finish.
Kjaer Weis Lip Tints — Packaged in sleek refillable compacts, these lip tints come in beautiful colors that can be super sheer or layered for a more bold lip. Similar to the finish of something like Ilia Tinted Lip Conditioners but more substantial and creamy, these lip tints will dress up your lips while hydrating and repairing.