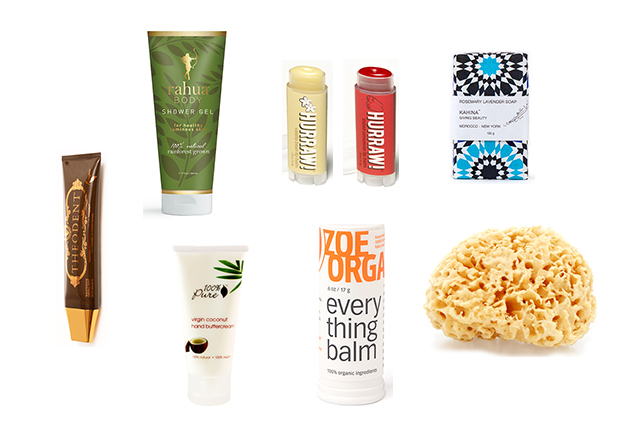 Don't you love stockings? I'm probably not alone when I say that stockings are one of my favorite parts of Christmas morning. Our family normally saves them it for last. But more than digging into my own stocking, I love stuffing them — particularly for my mom and husband. In the spirit of this Christmas tradition, I've curated a list of Integrity Botanicals goodies that I'd love to gift or get. If you are looking for some luxurious little treats to add to someone's stocking, consider some of these items.
Perhaps you haven't considered toothpaste as a gift, but Theodent isn't your average toothpaste. Just look at that packaging! It screams "gift me". You can feel good about that because Theodent Classic Whitening Toothpaste is fluoride free and SLS free. Instead it offers an alternative derived from a compound that occurs naturally in chocolate. This compound — Rennou — is scientifically proven to harden and remineralize toothe enamel better than traditional fluoride treatments. In addition to mint, it's available in chocolate chip flavor making it 100% worthy of a stocking, especially for kids.
In my home you'll find Hurraw! lip balms littered on countertops and resting in glass dishes around the house. We keep these close to hand and ready to grab because they are incredibly effective and utterly delicious. They offer a wide range of flavors such as coffee bean, coconut, grapefruit, and lime. They offer some with a little tint of color as well as one with SPF 15. My stockings have always contained some sort of Chapstick or lip balm. I used to get a lot of Lip Smackers — remember those? Hurraw! lip balms have all the fun of a Lip Smacker without the troublesome ingredients. Perfect for men, women, and kids.
Zoe Organics Everything Balm is a quintessential stocking stuffer item. It's portable, functional, and multipurpose – sort of like the Swiss Army knife of skincare. Shea butter, coconut oil, and jojoba heals the most challenging chapped and dry skin. You can also use it on cuticles, the tips of your hair, and lips. Moms, College students, and everyone in between will appreciate this handy balm in stick form. The stick allows you to target your application and avoid a mess. It has a light vanilla coconut sent that is neutral enough for men and women. For a similar gift with added aromatherapy benefits, try the Zoe Organics Breath Balm.
St. John's Natural Sea Sponges are a wonderful natural alternative to those plastic shower poufs that seem to make their way into stockings each year. From the Gulf of Mexico where divers have been harvesting sponges since 1900, natural sea sponges are resistant to odor and bacteria, and provide a fantastic lather with the perfect amount of scrub. With care, these natural sea sponges can last years — yes, years! Integrity Botanicals offers a range of options. The Natural Grass Body Sponge and Natural Rock Island Sea Body Sponge are as beautiful to look at as they are to use.
Soap is another stocking stuffer classic, and you can take it to the next level with Kahina Giving Beauty Argan Soap. Choose from three varieties — Rosemary Lavender to cleanse, exfoliate, and tone; Lemongrass Nettle to clarify and balance problematic skin; and Goat Milk and Honey to calm and moisturize. Wrapped in paper inspired by Moroccan tile designs and created by Archives New York, the packaging is so festive. Stylish, luxurious, and practical — this is a must have for any stocking.
If you're filling a stocking for someone who prefers a shower gel, Rahua Body Shower Gel is the way to go. Infused with Rahua Ungurahua oil, quinoa, and sacha inchi (for omegas 3 and 9), this gel nourishes and cleanses without stripping your skin of it's natural oils — perfect for these dry winter days. Scented with palo santo, lavender, eucalyptus, and vanilla bean, it offers an uplifting and energizing aroma to get the sleepiest of people going in the morning.
Everyone loves a classic hand cream, and you can feel confident about gifting 100% Pure Hand Buttercream thanks to an ingredient list that is chockfull of botanical goodness and no harmful synthetic chemicals. A concentrated formulation of cocoa and avocado butters deeply hydrates and nourish. The 100% Pure Hand Buttercream is available in Coconut, Honey Almond, French Lavender, and Vanilla Bean.
There's much more at Integrity Botanicals that makes perfect stocking stuffers, so be sure to peruse! What's your favorite stocking stuffer?