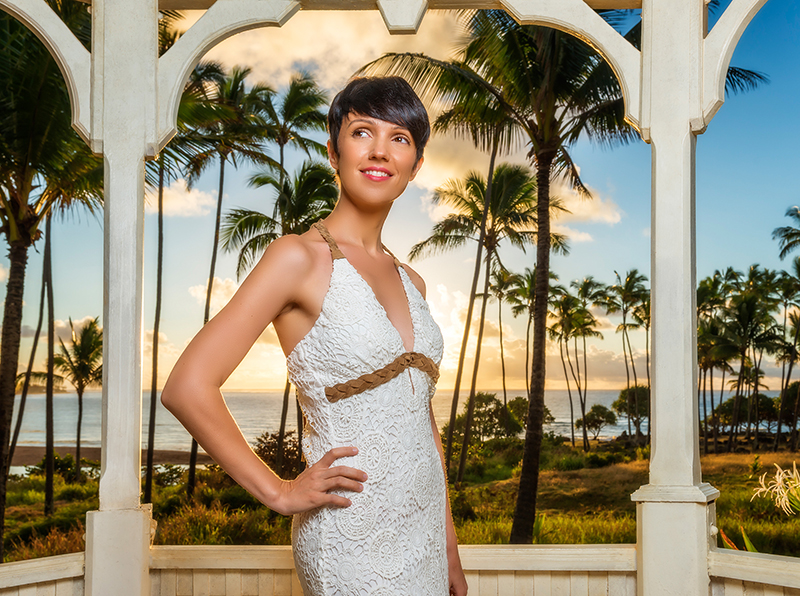 This week a very special skin care line launches at Integrity Botanicals—Mahalo! I had the pleasure of meeting Maryna, the founder of Mahalo, at A Night For Green Beauty in Chicago, and she's as kind and enthusiastic as can be—the kind of person you know instantly you'd love to share a meal with. What I didn't know until this interview is that Maryna is as obsessed with face masks as I am. I guess that should have been obvious based on my experience with the new Petal Mask from Mahalo—but more on that this weekend!
Enjoy getting to know Maryna, and check back with us on Saturday for the official launch of Mahalo.
What makes Mahalo different from other lines?
Unequivocal love and the intrinsic joy that is Mahalo, the joy that I receive from making the products, to joy that I hope our customers experience when they incorporate our skin treats into their beauty rituals and beauty routines.
I've said this before, and with each passing day this statement rings louder and more true for myself and Mahalo—I believe that I was born to do this, everything I have learned, experienced and discovered has come together to create Mahalo. Everything. The kind of experiences—like being born and raised in Ukraine, traveling the globe, living and visiting India five times, living and traveling all over Europe, studying yoga since the age of 5, being a vegetarian for over 25 years, working in high-profile corporate world of events and beauty—all these nuances brought a layer of flavor into my life, a certain attitude and outlook at our beautiful world, an outlook that is distinctly my own. These flavors are spilling into Mahalo. I bring my knowledge of herbs from my grandmama, who introduced me to the world of herbs, alternative medicine and plant whispering at a young age. My fascination with the world of arts, the grand operas, museums, architecture, and textiles are giving the love I have for luxury and beauty that spill into the way I want Mahalo products to be experienced. The awe, gratitude and humility I experience in the eyes of nature and my own naked soul. There is so much more than meets the eye, the Mahalo moment needs to be experienced to be felt or understood.
What's your favorite part of running a skincare line?
Empowering transformation, inspiring rituals and igniting self-love in everyone who comes in contact with Mahalo. The attitude of gratitude all around (Mahalo is a Hawaiian word for gratitude and thanks). 
I also am an avid researcher. Doing research, self-education and refinement for Mahalo, with it's intention set in integrity, is one of the most precious gifts that I am grateful for every day.
The skincare ingredient that has surprised you the most is…
Patchouli oil. This oils is so much more than the "stigma" of "hippie-oil" associated with it. I have a precious vial of patchouli that I brought with me from India, and the older it gets, the more I fall in love with it. It is a seriously underrated oil and I hope to transform the perception people have to Patchouli by presenting it in a gorgeous, refined way.
Do you have a favorite self-care practice?
Bath time + mask + quiet (though sometimes I go for some sultry jazz)—that's my grove. Being an introvert (yes, many people are surprised to hear this, as I am socially very outgoing and vivacious), I need my quiet times to recover. My moment to go all in, connect with myself, be in my own presence. Mindfulness is one of the key words in my life, so taking quiet moments to meditate, soak, mask and breathe is a perfect way to facilitate my self-care love. Did I mention masking? Yes, that's an intrinsic part of my self-love moments. (Wait till you meet the Petal mask, and you will understand what I mean.)
What's the one beauty product you can't live without?
One? Hmmm, this is a hard one. What if I write RareIndigoThePetal in one word, would that count? … I am still thinking, its been 3 minutes and I really had to sit and imagine being on an island with only one of my bamboo jars—this was a tough thought because I believe our skin needs more than just a cleanser, toner, mask, or a serum etc. Though my beauty routine is simple, my skin yearns for all of the above. But if I had to choose just one, I pick the Rare Indigo balm. It's lightweight, calming, deeply hydrating and lasts me all day.
What's your favorite way to detox?
I detox as I go—greens in diet, herbs, fresh juices, turmeric shots, kefir and other probiotics. I've tried dieting when I was younger, but it never turned out pretty. I am not the kind of person that can force myself into doing something, I have to be inspired and it has to make my heart happy. And lets be honest, who has ever said—yay, I am so happy about starving myself on lemon+cayenne water for the next 7 days. Exactly, not my thing.
What's your favorite way to indulge?
Bath time + mask + quiet. I also love good food, be that cooking at home or going out to eat. Food is an experience for me, and I thoroughly indulge in the right pairing, flavorings and texture. Additionally to food I love to indulge my soul with cultural experiences (see the theme here, I am all about experiential moments)—opera, art exhibitions, grand theatrical performances. I like things that wake up my senses, make me feel, make me feel alive.
If you could give one piece of healthy beauty advice, what would it be?
Drink plenty of water. When tired of drinking water (as I sometimes do), flavor it—cucumber, lemon, watermelon etc. Even better, drink water with lemon in the morning. This might seem counterintuitive, but lemon turns alkaline in our digestion, and alkaline environments foster happy and healthy cells, glowing skin and longevity. This might seem simple, but simple things are often profound.
Current obsession?
Product formulation and aromatherapy. I am the kind of person that goes all into something. Once my creativity and heart have been ignited and aligned, I go all in.
Your favorite beauty tool is…
Our Mahalo brush. I have been using it for so many things—applying Pele and Petal masks and applying foundation—I mix a drop of our Vitality Elixir serum or the Rare Indigo balm into a foundation for that extra glow and nourishment. We specifically designed our brush to be small, so to be easily converted for multi-use, I love it.
The first thing you drink in the morning is…
See above = lemon water. I also have a rather deep fondness for matcha lattes and chai.
The perfect beauty food is…
Food that makes you happy. Balanced food. But more greens. Eat inspiring green dishes, so they make you happy.
Name a woman who inspires you.
Danielle LaPorte. She is a fire starter. I love women who dare to be fierce, humble, graceful and strong at the same time. She is my jive, all the way.
What's the next big thing in green beauty?
Green beauty is the new beauty. Green beauty becoming a norm, vs a niche. Although I am not really into next big things, I do what I do and I do my best to do it well.