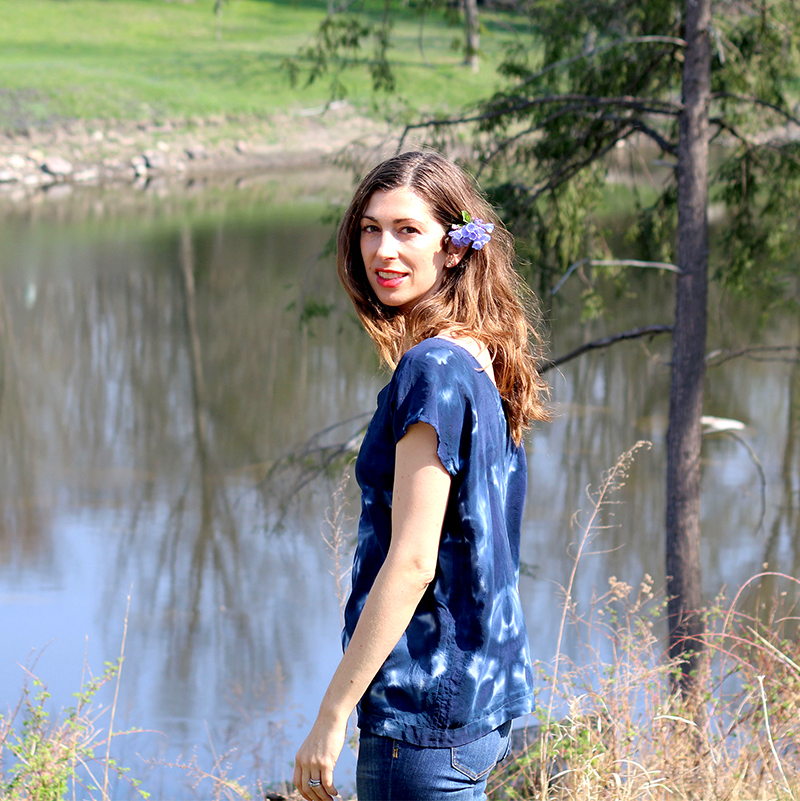 Captain Blankenship launches tomorrow at Integrity Botanicals, and I can't wait for you to try some of my absolute favorites like the Mermaid Dry Shampoo and Mermaid Sea Salt Spray. Until then, I hope you'll enjoy getting to know the founder and formulator behind Captain Blankenship, Jana Blankenship.
But first let me tell you a little story. The first time I ever spoke to Jana, I was chasing my own tail trying to figure out how to make a bigger batch of perfume from the "single serving" recipes I'd developed. I was terrified of ruining the perfume by making a larger quantity and wasting hundreds of dollars of precious botanical material. I asked Jana, whose perfumes I admired, if she could talk to me about her process. I'll never forget her generosity, kindness and encouragement. Jana taught me that as a maker or an artist, there is no right or wrong way to do what you want to do. There's only your way, and the process of discovering that is part of your creative journey. That advice was just what I needed, and I think it speaks to what makes Captain Blankenship so unique and lovable.
 I hope this interview delights and gives you better insight into the spirit of Captain Blankenship. Enjoy!
Susannah: How did you get into formulating products and why did you turn to natural ingredients?
Jana: I was living in Berkeley, CA and was in graduate school for Curatorial Practice. I was really stressed out writing my thesis and started to break out in hives on my face. I had never had a reaction like that in my life and it made me start to analyze everything I was putting on my skin. Even though I was only using natural products, I started reading ingredients lists and noticed that the products I trusted were not as clean as they purported to be. I started to experiment with making my own skincare, bodycare and haircare products with only a few organic ingredients. I used them myself and started giving them to family and friends. I started taking classes in natural perfumery, herbalism and soapmaking, and just kept diving deeper. Integrity of ingredients and lush, experiential scents from essential oils has been at the heart of this company from the beginning. By the time I finished graduate school in 2008 and turned my thesis in, Captain Blankenship was growing into a fuller line. I worked as a curator running the business on the side for several years and then in 2012, decided to focus all my energy on the company.
Tell us a bit about your art background and how that permeates your brand.
Since I was a child, I loved to paint. I still do. I studied Fine Art and Art History in college and then went on to get an MA in Curatorial Practice. The logo and most of the imagery we use on our products came from my own hand. At Captain Blankenship, I like to think that instead of colors, I get to work with an equally rich palette of botanical ingredients. Composing new products is making art to me, bringing in sometimes seemingly disparate ingredients to create harmony. Creativity is key to me in this whole process, trying to find a balance of logic and wonder in my work. 
What's your approach to skincare? How about hair care?
It is similar to "less is more," but, specifically, a few organic ingredients is more. I also feel that we must adapt our regimen for the seasons. What works for your skin in June will not work in December, just as how you dress in June will leave you freezing in the winter. I believe in the power of plants and I try to honor that in my self care rituals. I am very simple about the products I use on my skin and hair. I cleanse my skin with oil-based cleanser and add moisture with face oil. I wash my hair once or twice a week with organic shampoo and conditioner. In addition to these simple rituals, I do live by our Mermaid Dry Shampoo and Sea Salt Hair Spray to add life to my hair and, while I don't wear much makeup, I will add a pop of color to my lips and cheeks with our Rosy Red Lip Balm.
Captain Blankenship products smell so fresh and amazing, plus you make perfume and aromatherapy sprays. How did you become interested in scent and what does this creative process mean to you?
My mom was a fashion designer growing up and I was the kid who was outside infusing pine needles in water. Her vanity was lined with toxic 80s perfumes she picked up for free at couture shows. She didn't care about them and let her little chemist daughter mix them together. I would create my own perfumes by pouring Giorgio and other famed creations into bottles together. I still have my first masterpiece "Scents of Hawaii" and after 30 years it still smells as strong and noxious. From this heavy mixing, I ended up developing an allergy to synthetic fragrances.
I abandoned wearing perfume until one day I discovered a beautiful solid perfume in a sterling silver box in a friend's store in Berkeley. I dabbed it on my wrists and fell in love. It was a perfume with Jasmine, Blood Orange and Grapefruit and was totally reflective of the fresh jasmine blooming all over the Bay Area. I learned that the perfumer Mandy Aftel, lived around the corner. I studied with Mandy and she is my mentor. Her devotion and knowledge of natural perfumery is unparalleled. 
Perfumes were some of the first products I created for Captain Blankenship and scent is definitely at the heart of all the products. Scent is our first sense to develop and is so powerful for unlocking memories and emotions. The smell of fresh spearmint brings me back to my childhood yard. I find that many natural products are one noted, maybe something smells of lavender or vanilla, but they are missing complexity. The experiential dimension of scent has been an integral part of my products.
What's life like for you in the Hudson River Valley?
Lovely. I love living in the country. We moved here from San Francisco 4 years ago. It was a big adjustment, but it is such a great community and so beautiful. We bought a house two years ago and we have a river in our backyard and the mountains in the background. I love hiking and, while it has gotten hard to head to the hills with the business and two kids, every chance I get I am out there. I had missed the punctuation of the seasons living on the west coast and we feel them so fully here. So many of our friends who were living in Brooklyn have started to move up here. We are surrounded by farms and orchards. In the summer, there are waterfalls to swim in. It is such a great place to raise a family. I could go on and on. I wish the ocean were closer and there weren't ticks, but those are my only complaints right now.
Sign up for the Integrity Botanicals newsletter to receive a special offer tomorrow as part of Captain Blankenship's launch!