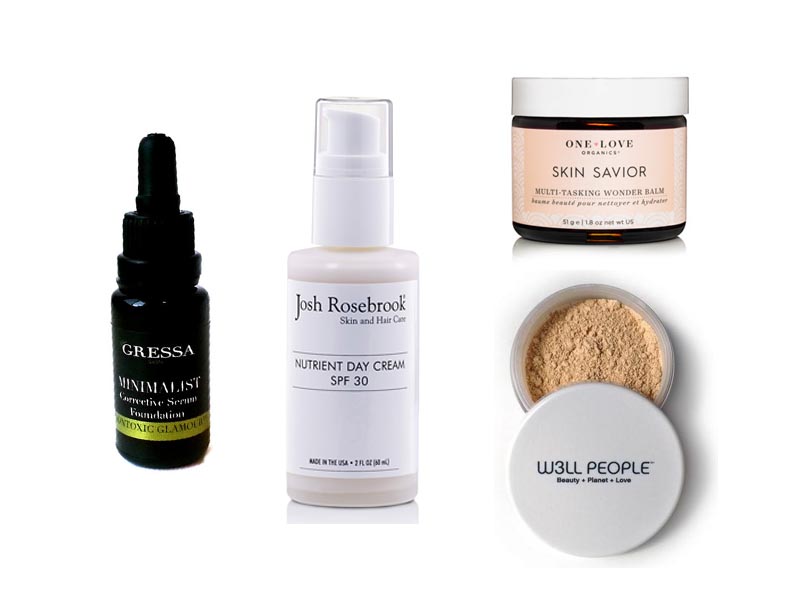 I love experimenting with products. I often have an idea in my mind of just what I want from day to day, so I mix and match items in my beauty cabinet to really customize my experience to my needs. Sometimes I need something I don't already have, and the results work out beautifully. Often I'm just trying to simplify steps in my routine so I can get the best results for my skin in the most efficient way—important when you only have a few minutes to prep before dashing out the door.
Every year around this time I start getting really serious about daily sunscreen. It's true—with all my time indoors and the sunless skies, I'm often less diligent about it in the winter. My go-to sunscreen for the face is the Josh Rosebrook Nutrient Day Cream SPF 30. It never leaves a white cast, doesn't feel like a sunscreen and it's chock full of beautiful ingredients. Josh Rosebrook makes a tinted version of this classic, but alas I still like a bit more coverage to even out my complexion. Before I switched all my products to clean ones, I used to love a tinted moisturizer that had SPF and enough pigment to provide foundation-like coverage. I've been missing something like that in my routine, so I was inspired to try blending my own out of two of my favorite products.
I'll never forget the time Shirley from W3LL PEOPLE did my makeup at an event in LA because she taught me the most brilliant trick. She added a dash of the Altruist Mineral Foundation to a dollop of the One Love Organics Skin Savior Balm and blended them together to make a gorgeous, creamy foundation. Using that same logic, I recently began combining the Nutrient Day Cream with the foundation I can't get enough of at the moment—Gressa Minimalist Corrective Serum Foundation. I simply disperse one pump of the Nutrient Day Cream into my palm and add 3 to 4 drops of the Minimalist Corrective Serum Foundation. Then I blend together and spread onto my face like normal. You can customize this to have more pigment or less, but the consistency of these two products works very well together and leaves a beautiful semi-matte finish that makes me feel fresh-faced and happy. It also quickens my routine since I'm not layering products one at a time, and I have the tinted SPF I felt was missing from my routine.