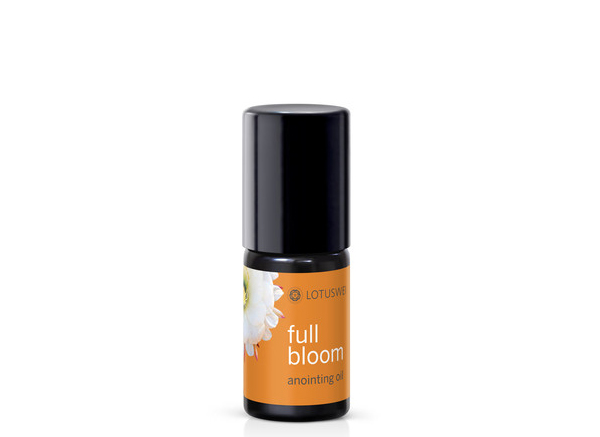 If you're looking for something that toes the line between aromatherapy treatment and perfume beautifully, you must check out the new Lotus Wei Full Bloom Anointing Oil. Lotus Wei has recently introduced anointing oils, which are concentrated blends of organic essential oils and therapeutic flower essences in a base of organic jojoba oil, and they work like a charm. I'm pretty hooked on the Healing Sleep Anointing Oil in the evening, and Full Bloom is something I reach for during the day when I want to smell something gorgeous that will awaken my senses and give me a little pep.
Full Bloom is described as having a citrus-spiced aroma, but I'm not sure that does it justice. While that might give you the impression that you're going to smell something akin to a spiced tea or potpourri, this scent is definitely more complex than citrus and spice alone. It's refreshing and cooling thanks to the spearmint and coriander. Though spearmint isn't something you often see in formulas like this, it's a wonderful aromatherapy and perfume ingredient because it's much softer than peppermint but has that same ability to lift and perk you up. (You'll find spearmint in Gâteaux, too.) Most of us know coriander for its culinary uses, but it smells incredible in essential oil form—delicate and floral with a touch of spice. Sweet orange and lavender are present and well harmonized—they don't dominate the blend—they just hold it up along with the nutmeg, which is so faint it's barely be noticeable.
Lotus Wei prescribes the Full Bloom Anointing Oil for people who want to experience appreciation for the preciousness of life and be open and fearless. The flower power in this blend includes pink lotus and night-blooming cereus. (For more on how flower essences work, see my interview with Katie Hess, the founder of Lotus Wei.) I love wearing Full Bloom because it makes me feel relaxed, happy and productive—three things that make all the difference during that afternoon slump when finishing work tasks seems extra challenging. It's also a nice way to set the tone for your day in the morning.
Lotus Wei has a gift for creating well balanced and transformative aromatherapy treatments, and the Full Bloom Anointing Oil is the perfect addition for spring.