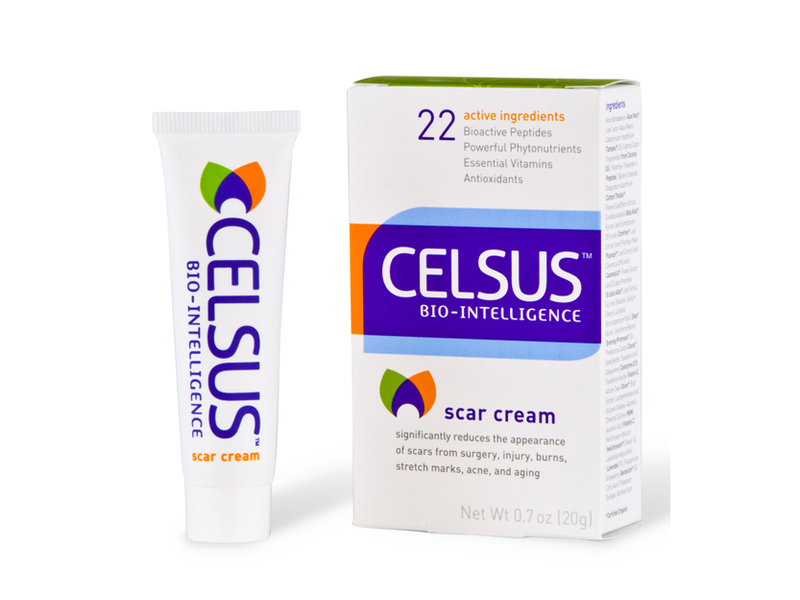 What if I told you there's a scar cream on the market that's made with the same beautiful ingredients you're likely to find in your high end skin smoothing serums and creams? Well there is, and it works. The CELSUS Bio-Intelligence Scar Cream was ahead of the clean beauty curve in many ways. It's been on the market for years, and was something I ran into before I'd fully made the switch to all natural skin care. I'd had surgery and was looking for something to help heal the scar when I found the CELSUS Bio-Intelligence Scar Cream.
At that time, I was just beginning to understand how important ingredients are for the efficacy of a product. This was a scary looking scar, so I was motivated to find ingredients that work rather than just a buying into a bunch of marketing hoopla. I came across the CELSUS Bio-Intelligence Scar Cream and bought it after reading more about their formula. Of course nowadays, I have a full appreciation for the healing power of helichrysum, tamanu and all the other goodies found in the CELSUS Bio-Intelligence Scar Cream. I'm glad I took a chance on it back then when my knowledge was more limited.
The CELSUS Bio-Intelligence Scar Cream is a concentrated formula made with 22 active organic ingredients that are clinically proven to reduce the appearance of scars.
These include bioactive peptides, vitamins, antioxidants, essential fatty acids and nutrient rich extracts and essential oils—all the things the skin needs to thrive and repair itself. Some standouts include the ever-powerful skin rejuvenator helichrysum, as well as coenzyme Q10 for its antioxidant and anti-inflammatory properties and MSM (methyl sulfonyl methane), which helps repair connective tissue and maintain supple collagen cell walls while increasing blood flow to the skin. A host of healing herbal extracts like onion bulb and gotu kola help encourage cell regeneration and inhibit scar formation. The ingredients are pure, potent, organic and they do what they're supposed to do—reduce the appearance of scars.
If you've dealt with scar creams in the past, you might expect some goopy mess to come out of the tube. Quite the contrary! The CELSUS Bio-Intelligence Scar Cream is a lightweight, fast absorbing cream that uses aloe vera leaf juice as its base. The scent is a barely-there herbal scent. The light texture is pleasant and soothing, and it's easy to apply throughout the day without disrupting whatever you're up to. While the CELSUS Bio-Intelligence Scar Cream is formulated to treat the appearance of old and new scars from surgery, burns, stretch marks and acne, this cream can benefit the skin in other ways.
The CELSUS Bio-Intelligence Scar Cream makes a fantastic wrinkle cream, too. Dab a little around your eyes for a lightweight treatment for those fine lines.
It wears beautifully under other products, including makeup. With all those plumping peptides and rejuvenating botanicals, your skin will love this cream even if you're not treating a scar, so keep one in your medicine cabinet for your first aid needs and another with your skin care stash for daily use.