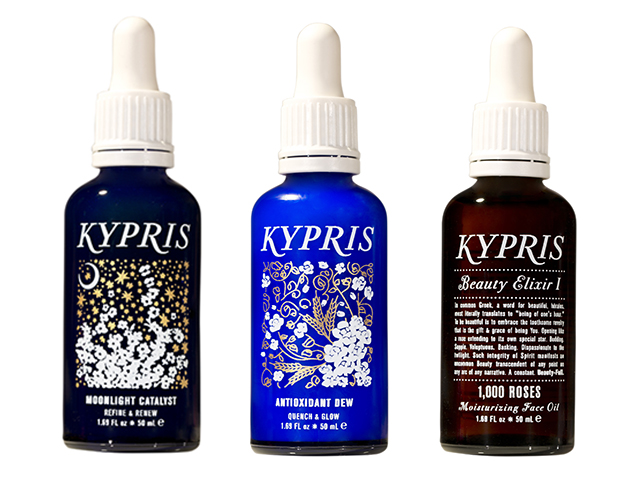 Have you heard about Kypris? This high-performance line was one of my favorite discoveries of this last year. From the romantic, feminine packaging to the brand's passion for sustainably sourced organic ingredients and science-based formulas, Kypris has so much to offer. The founder behind Kypris, Chase Polan, puts such care into every aspect of the line. Kypris products are formulated in a high-tech laboratory by professionals so that the star ingredients can be handled and stored in an environment that protects their quality and integrity. As such, they are able to use medical grade ingredients like CoQ10, the same CoQ10 used by physicians in treating heart patients. Kypris ingredients, like the specific Vitamin C Ester they source, are chosen for their proven benefits and stability. This line is totally worthy of your attention and investment. Here are a few standout products.
This lightweight moisturizer is a hydration powerhouse thanks to algae extract, beta glucan, squalane, and sodium hyaluronate. These skin-softening, moisture-retaining, and humectant ingredients allow the skin to retain water, which creates a plumping effect. Sodium hyaluronate alone is able to hold up to 1000 times its weight in water. The formula is packed with antioxidants that are delivered via phospholipid encapsulation, which maximizes their compatibility with the skin and helps the antioxidants fight free radicals and mitigate the effects of the environment more efficiently. Rose extracts, with their skin soothing and toning abilities, top it all off. I love the texture and weight of the Antioxidant Dew. It sinks in quickly and the leaves skin feeling instantly more full, hydrated, and protected. It's an essential base later that plays wonderfully with other products whether that's a facial oil, a heavier moisturizer, or make up. If your skin is dehydrated or you simply want a featherweight moisturizer, the Antioxidant Dew is for you.
The Beauty Elixirs are the heart and soul of Kypris. There are three available, and  each Elixir contains the same formulation except for the essential oil actives. All of them deliver the benefits of CoQ10, Vitamin C Ester, Vitamin E, and botanical extracts and oils. CoQ10 helps diminish the appearance of sun damage while Vitamin C Ester and Vitamin E (they work synergistically) help protect the skin and stimulate collagen production. Healing, anti-inflammatory ingredients make up the rest of the Elixirs.
The Beauty Elixirs contain high concentrations of these active ingredients, so the base is comprised of lighter weight oils like sunflower seed oil and grapeseed oil that allow the highly active ingredients to dissolve into the formula for more efficient delivery to the skin. In addition to making a wonderful carrier oil, sunflower seed oil contains high levels of essential fatty acid's and beta-carotene, a UV-protective antioxidant. Grapeseed oil is also rich in antioxidant and polyphenols. Add in a host of other fabulous oils — Baobab, Kukui, Tamanu, Pumpkin Seed, and Prickly Pear Seed (sourced from the U.S.!) — and your skin gets pretty much every nutrient it needs.
Personally, I love Beauty Elixir I – 1000 roses. Like its name suggests, each bottle contains the essential oil of 1000 organic Bulgarian roses, and if you read my ingredient spotlight post about rose you know why I'm hooked on this precious oil. I've been using the Beauty Elixir nightly and usually daily for a while — on and off since the summer and consistently since November. It's one of a few oils that has truly improved the appearance of my skin by brightening, clarifying, and smoothing out my complexion. It's not an overnight fix, mind you; it's something that works slowly but surely, really beginning to show its potential after 8 to 10 weeks of use. I love using it in combination with the Antioxidant Dew and the Moonlight Catalyst, which is Kypris' answer to retinoids that is as gentle as can be and a fantastic skin refining agent.
Kypris will be available at Integrity Botanicals this Thursday! Check back then for a special offer plus an exclusive interview with Kypris founder, Chase Polan.