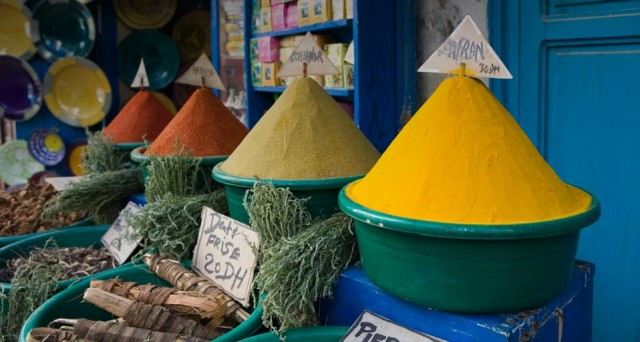 Have you noticed that what you eat has a direct impact on how your skin looks? When I maintain a diet heavy on the vegetables and steer clear of hyper-processed foods and refined sugars, my skin looks clear and healthy. When I stray toward not-so-great food choices, my skin flares up. I'm not going to lie — I drink carrot juice because I love what it does to my complexion, but food is not all vanity for me. I do appreciate how much better I feel on the inside when I'm eating well. Food can have such a balancing effect on your body and mind.
Eating well isn't always easy, though. It often takes planning and preparing. I love this vegetable stew because I can make a big batch on Sunday and have it for quick meals throughout the week. Even though it's meatless, it's deeply satisfying, especially on a cold day. Even better, it's packed with ingredients that nourish your entire system. Warming spices get your circulation going and bring life to skin. Coconut oil adds healthy fat that helps your body better absorb the essential vitamins and nutrients from 8 vegetables, like beta-carotene rich sweet potatoes, vitamin c rich yellow pepper, and lycopene packed tomatoes. Serve over a scoop of brown rice for a complete meal.
Moroccan Spiced Vegetable Stew
Ingredients:
1 tablespoon of coconut oil
1 medium onion, diced
2 tsp ground cinnamon
1 tsp ground cumin
1 tsp ground coriander
pinch of chili flakes (optional)
2 cloves of garlic, minced
4 dates, pitted + diced
2 carrots, diced
2 small sweet potatoes, peeled + diced
1 28-ounce can crushed tomatoes
3 cups vegetable stock
1 yellow pepper, stemmed and diced
2 cups cooked chickpeas
salt + pepper
couple handfuls of chopped greens 
To serve:
fine grated lemon zest
extra virgin olive oil
Heat the coconut oil in a large pot over medium heat. Add the onions and gently cook until translucent, 3-5 minutes, and then add the cinnamon, cumin, coriander and chili flakes. Continue to cook, stirring now and then, until the onions are very soft, or about 5 minutes. Add the garlic and cook until fragrant, about 1 minute. Add the chopped dates, carrots and sweet potatoes. Stir together, add the tomatoes and the vegetable stock, and stir again. Bring to a simmer and cook until the sweet potatoes are just tender, about 10-12 minutes. Add the yellow peppers and chickpeas. Simmer until the yellow peppers are tender and the sweet potatoes are soft, about 5 minutes. Serve it hot over a scoop of brown rice and a handful of raw spinach. Drizzle with olive oil a pinch of lemon zest.