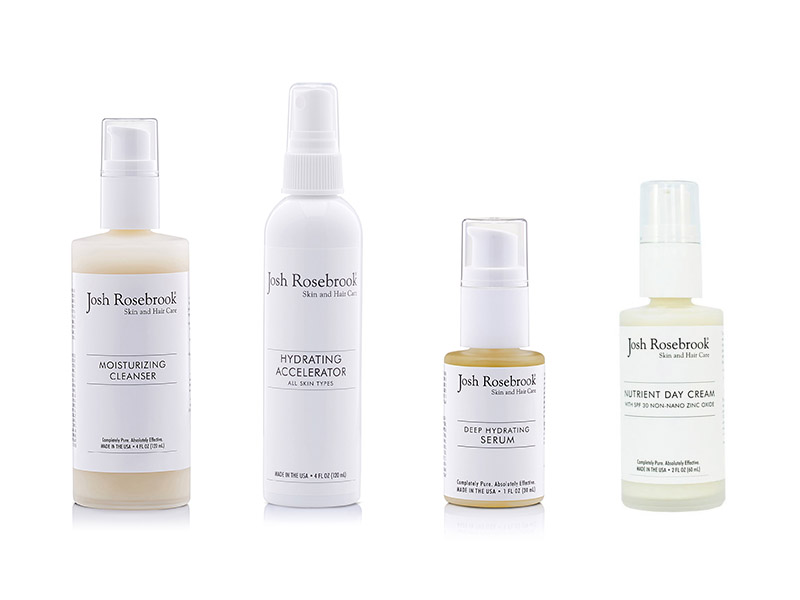 Though it's common to pick and choose products from a variety of beautiful clean skincare lines, sometimes sticking with one brand really pays off in terms of experience and results. After all, any skincare line worth their salt is crafting products that compliment one another and act as a cohesive set. In the case of the Josh Rosebrook line specifically, the products work synergistically to provide maximum nourishment via botanical extracts and active ingredients, so I'd like to share a Josh Rosebrook daily skincare routine that helps my skin look its best every time.
What I love about Josh Rosebrook skincare is that ultimately it's a very gentle line well suited to my most sensitive moments. If my skin is in "recovery mode" for any reason—say after a long trip—indulging in the Josh Rosebrook collection is like letting yourself luxuriate in a silk robe with cucumbers over your eyes. It's the antidote to weary, dehydrated skin. Plus, every product is brimming with smart herbs that add antioxidant and anti-inflammatory power in addition to the specific skincare need each herb serves.
Here's a simple daily skincare routine with Josh Rosebrook that will leave your skin happy, healthy and resilient…
In the morning, cleanse with one or two pumps of the Josh Rosebrook Moisturizing Cleanser. I like to start my cleanse by dampening my face with a spritz of the Josh Rosebrook Hydrating Accelerator and then massage the Moisturizing Cleanser with very gentle pressure and quick little circular motions to waken my circulation. The Moisturizing Cleanser has a base of aloe, African black soap, organic honey and vegetable glycerin that achieve the perfect balance of cleansed and moisturized. Add to that the power of sea minerals, white willow bark plus a host of botanical oils and herbal infusions for a delicious treat. My skin feels truly clean but without that tight dry feeling that can accompany harsh cleansers.
Once my face is cleansed, I follow up with the Josh Rosebrook Hydrating Accelerator, a product I've been pretty obsessed with for several years now. It's a hydrating toner that relies on organic vitamin infused aloe water, a selection of light botanical oils and a nice range of herbal infusions to deliver hydration and nutrients while toning skin. The light ylang-ylang and vanilla scent, which is recurrent in the Josh Rosebrook line, is heavenly and relaxing. You'll want to take the Hydrating Accelerator everywhere with you for a refreshing boost throughout the day. This is a can't-live-without-it product for me.
While my skin is still damp from the Hydrating Accelerator, I press two or three drops of the Josh Rosebrook Deep Hydrating Serum onto my face. Don't let the name throw you—it's suitable for all skin types, not just the most dry and dehydrated. While this serum is indeed deeply hydrating, it's also formulated to balance oil production thanks to ingredients like sage and neem extracts. The Deep Hydrating Serum sinks in quickly and leaves the most beautiful finish. If you apply this at night, you'll wake up with the softest skin. During the day, it makes a great protective layer that keeps fine lines at bay, restores elasticity and protects collagen all while calming and balancing skin. As with most oil-based serums, less is more, but this is an integral step.
The final step in my Josh Rosebrook daily skincare routine is the ultra popular Josh Rosebrook Nutrient Day Cream SPF 30. I've never been so satisfied with the texture and finish of a sunscreen before. It truly wears like a moisturizer with absolutely no white cast to the non-nano zinc oxide. While my fair skin needs more protection if I'm going to be hanging out under intense sunshine, this is fabulous for daily protection. With all the herbal-prowess of the other Josh Rosebrook skincare products, the Nutrient Day Cream balances, brightens and leaves me with happy skin. It's the perfect primer under makeup, so I never feel like I'm sacrificing in terms of experience just to fit SPF into my routine. It's also available in a tinted version, which evens out the skin nicely without depositing too much color.
That's it! While Josh Rosebrook offers additional skincare products that you can build into this routine as needed, this simple daily skincare routine will help restore, balance and protect the fussiest of skin, all while making you feel calm and relaxed in the process.