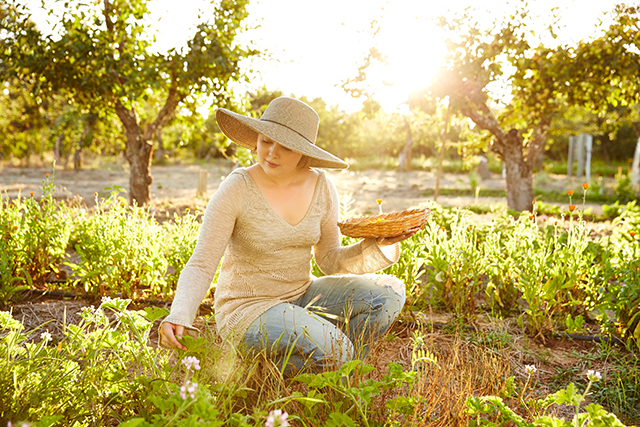 This has been a big year for Laurel Whole Plant Organics. From their participation in A Night For Green Beauty to a move to a new studio space, big things are happening for this line. Try something from Laurel Whole Plant Organics and you'll understand why. Pure, powerful, healing plants form the heart of this line. New to the Integrity Botanicals family, I sat down to chat with Laurel Shaffer, the founder of Laurel Whole Plant Organics, to find out what makes this line special.
Me: You have a lot of passion for natural skincare and it really shows in the products that you make. Tell us why this is your passion and why you love doing what you do with the Laurel Whole Plant Organics.
Laurel: Initially I got started on this journey because of health. I started reading about all of these harmful ingredients and found out that they weren't really doing anything positive for our skin. I wanted to make something that was really pure and good for your skin and body. So that's what started me on the path, but what made that drive even stronger for me was my love of spas. I love, love, love going to spas and having treatments. I think that going to the spa is like going on a journey, a spiritual soulful journey. It felt like there was this disconnect for me because I was going to these spa locations and I was feeling disconnected with the chemicals and the toxins they were putting on my skin. It was getting to the point where I would go to these locations, and I wouldn't even be able to get a facial. I felt so nurtured and loved and taken care of by the practitioners and the whole experience of the place, but just not by the products. I really wanted to make a product line that was pure and healthy for your body and skin but also makes you feel loved and taken care of. That's definitely why I continue to do this. I love working with our spa partners and their aestheticians to create an experience for the spa customer. We work with a lot of aestheticians and spas around the world who do facial treatments with our products.

You source your raw ingredients directly from farmers, isn't that right? Can you tell us about the process of finding and building those relationships and why they play a critical role in your line?

Yes we do, and that is really, really rare and really, really challenging. To be honest with you, a lot of the relationships have just been stumbled upon, like someone that I met through someone else who happened to be growing an ingredient. I just always have my ears open to that kind of thing, and luckily since I am in California it's a lot more common than you'd think to hear, "Oh so and so grows chamomile". That's actually kind of common here, so I'm lucky enough to be surrounded by it, and if there's an ingredient that's hard to find I just search it until we find it at the quality we expect.

Tell me a little bit about your design process. How do you determine what ingredients you want to include in your formulas?

A lot of it is intuitive because I studied plants, so a lot of that knowledge is embedded in my brain at this point. I may jot down maybe 10 plants that I think might be good for a particular formula, and then I dive a little deeper and research, asking why I intuitively chose those plants. Do they make a good fit? What else do I want to add based on my research? I studied herbalism for three years, specifically plants that are grown in California.
Do you grow plants yourself for your line?
We do. Unfortunately, we had to give up our garden when we moved into our new space, but we are planning to add a garden here. We don't grow enough to cover all our needs, but I like to have a little bit of each plant that we work with so that we can stay in tune with the energy of each plant.
Plant extracts play large role in your line, and I know you make your own extracts for your formulas. Can you tell us a little bit about that process?

Most extracts are actually made chemically, and that was something we really wanted to avoid so that we could keep the plants whole and have it be the best possible quality. Our plants actually go through a maceration process of three months. We get the plants directly from the farmer, we grind the plant down, and we macerate the plant typically in jojoba oil for a maximum of three months. Then we press the extract by hand.

Why are plant extracts such a powerful ingredient in skin care?
It's like this: whenever I look at a skin care formula I see things like vitamin A, vitamin C, vitamin E, CoQ10, and all of these antioxidants and beneficial constituents. Then when I look at a plant, I see all of the same things. It's a more effective way to get those nutrients because they are fresh and vibrant.

Sort of like taking a multivitamin versus eating fresh vegetables?
Yes, I use that analogy all the time.
Talk to us about the importance of hydrosols in your line. You use hydrosols in place of water or alcohol. Why?
It's a way to give your skin the hydration that you would get from water, but at the same time you're getting all of the available bio-nutrients from the plant, so you're basically getting every medicinal constituent available from that plant instead of just water alone. We see water as a filler, whereas with the hydrosol you're getting all of the amazing benefits of the plant. Farms up and down the west coast actually make all our hydrosols for us. Hydrosols are typically the byproduct of essential oil making, but ours are distilled specifically for us.
Your line has something for everyone. You address a lot of different skin issues and skin types. What is the biggest challenge in skin care from your perspective?
I think it's nourishment. The majority of Americans are malnourished in their diet and that shows up in skin. That is the number one cause for everything. For me in particular, whenever I'm not feeling well or not eating well I immediately see that on my skin. Poor nourishment is the number one issue in skin because it leads to inflammation, collagen loss, and more. However, there's an abundance of nourishment in plants.
Can you tell us what to expect from Laurel Whole Plant Organics in 2015?
In the new year, probably March or April, we're going to have the grand opening for our new space. We will be offering facial treatments there. We are also really excited to launch our eye serum around the same time.
What's the concept behind your eye serum?
Some of the star ingredients are chamomile, Iranian rose, and pomegranate. It's very rich and hydrating, but it absorbs rapidly so it's great for daytime use. It's for treating puffiness around the eye as well as collagen loss.
Have you tried anything from Laurel Whole Plant Organics? Integrity Botanicals just added Laurel to their selection of brands. The skin care sets are a great place to start to discover what this pure botanical line is all about.