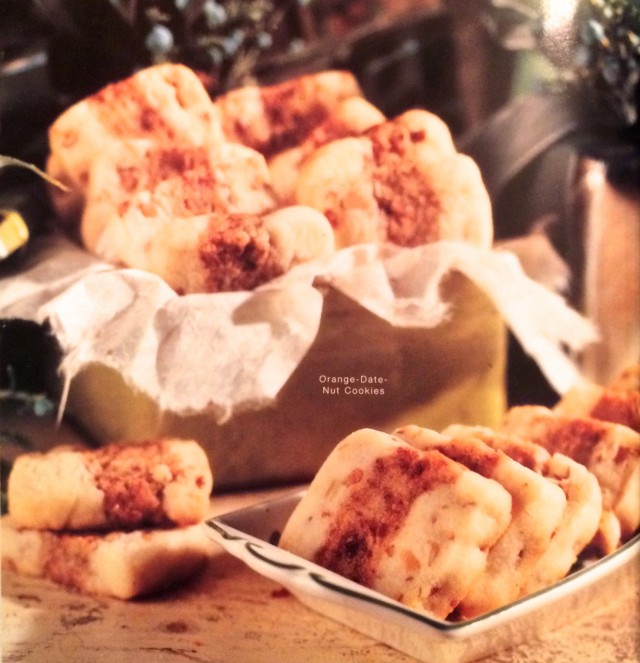 Like many of you, Christmas cookies are tradition in my family. My mom makes a festive selection of cookies every Christmas, and if for some reason I'm unable to make the trip home for the holidays, she's kind enough to mail me my favorite, the Orange Date Nut Cookie. Even when I do travel home, she usually makes enough to send me home with a big bag. Of all the cookies, the Orange Date Nuts are so irresistible that I have been making them for years myself whenever I want to gift something sweet to friends, have treats on hand for parties, or just indulge for no other reason.
What makes the Orange Date Nut Cookies so special? Perhaps it's the perfect ratio of savory and sweet, the buttery finish, the slightly chewy center, or the unique and festive stripe down the middle that comes from the way the dough is layered. They are beyond easy to make, and because the dough is sliced into thin cookies, the recipe makes 8 dozens cookies. Perfect for sharing!
This is a great dough to freeze and have on hand for last minute occasions. The ingredients can also be swapped out to create new flavors. I have made these cookies using dried apricots and pistachios instead of the dates and pecans. I have also made them with dried cranberries and walnuts. Use your imagination, but try this classic version first.
Orange Date Nut Cookies
— yields 8 dozen
 1 package of chopped dates (10 oz)
1 teaspoon grated orange rind
1 tablespoon fresh orange juice
1 cup (two sticks) butter, softened
1 ½ cups sugar
1 large egg
1 teaspoon vanilla
2 ½ cups all-purpose flour
1 ½ teaspoon baking powder
½ teaspoon salt
1 cup finely chopped, toasted pecans (divided into 2 parts)
Line a 9 x 5 inch loaf pan with foil, allowing foil to extend over the edges of the pan.
Process the first 3 ingredients together in a food processor for 45 seconds or until the dates are finely chopped.
Beat butter at medium speed until blended. Gradually add sugar, beating until blended. Add egg and vanilla; beat well.
Combine flour, baking powder, and salt. Gradually add to butter, beating on low speed just until blended.
Divide dough into 3 equal portions. Knead ½ cup pecans into 1 portion of the dough; press dough into prepared pan, creating an even bottom layer.
Knead date mixture into 1 portion of the dough; press into pan evenly over the pecan dough, creating a second layer.
Knead remaining ½ cup pecans into last portion of dough; press into pan evenly over the date dough, creating a third layer. Cover and chill the dough for at least 2 hours.
Invert loaf pan onto cutting board and remove foil. Cut dough lengthwise into 4 sections. Cut each section of dough crosswise into ¼ inch slices. Place slices 1 ½ inches apart on lightly greased baking sheets. It's easier to get clean uniform slices when dough is cold, so if your kitchen is warm, place remaining sections of dough back into the refrigerator to keep cold while you slice one section.
Bake at 350 degrees for 9 – 10 minutes or until edges are lightly browned. Cool slightly on baking sheet and then remove to wire racks to cool completely.
I like to think the orange, dates, and nuts make this a slightly healthy cookie, wink wink. What's your favorite Christmas cookie?
image and recipe credit: Southern Living Incredible Cookies