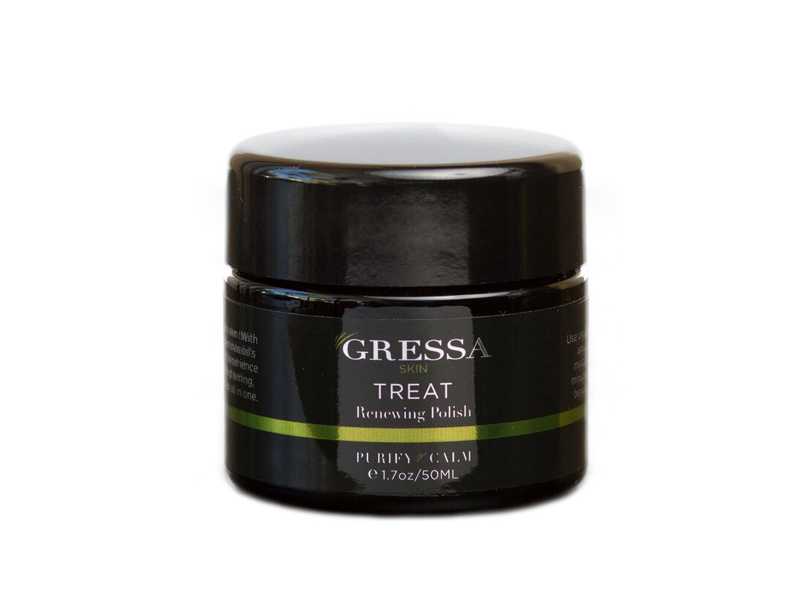 I love exfoliating treatments, especially when there's more to the product than meets the eye. At first blush, you may think the Gressa Renewing Polish is just an exfoliating treatment—albeit a great one—but this skin softening formula has a few ingredients that brighten and clarify in addition to the physical exfoliation it offers. The classic raw honey and brown sugar base with a touch of olive oil makes the Renewing Polish into a thick scrubbing paste. The raw honey keeps skin moisturized while fighting bacteria that cause acne and healing at the same time. Honey does so much repair work for skin that sometimes we forget it's also packed with antioxidants and enzymes that help skin look fresh. Brown sugar provides the grit that physically exfoliates, and the particles are big enough to really do the job, so scrub in small circles using light pressure. Olive oil gives the formula just enough slip to spread onto skin smoothly. This isn't an oily treatment.
But what about those additional benefits I mentioned? Rice enzymes, alpha hydroxy acid and vitamin C work synergistically to brighten and soften the skin.
Because Gressa has added these skin boosting elements to this otherwise physical exfoliation treatment, I love to apply the Renewing Polish like a mask and wear it for 15 minutes before massaging in and rinsing off. When I do this, I put a quarter sized amount of the polish into the palm of my hand and add 2-3 drops of water, just to loosen the thick polish up a bit. You can either massage into skin right away to exfoliate and then let it sit for 5-15 minutes, or you can quickly apply it and massage in more thoroughly right before you rinse.
The gentle lavender and geranium scent never overpower the delicious honey and sugar undertones of the Renewing Polish, which I appreciate. The Renewing Polish has helped keep my skin soft and free of dry patches this winter. This is a must have product if you use foundation, like the Gressa Minimalist Corrective Serum, and find that your makeup collects around dry patches. Regular exfoliation helps makeup apply smoothly and active products sink in and do their job better. The Renewing Polish is both lovely and effective at this task. Have you tried it?