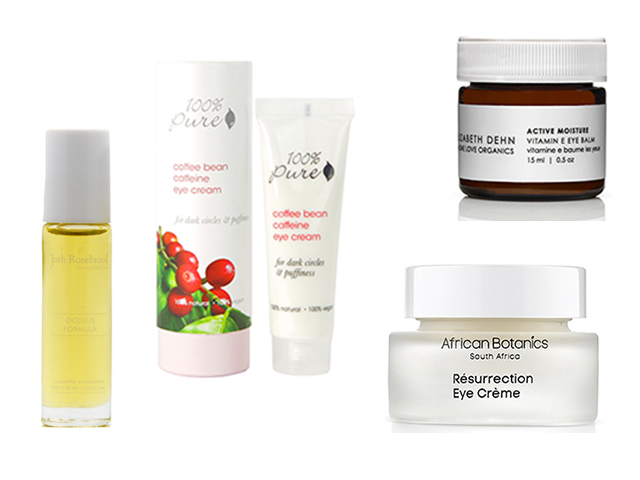 Winter is usually the time people start to get serious about eye creams and serums. If you weren't that consistent about using it in the summer or fall, you suddenly become fanatical about it. I always find my skin in need of moisture and healing as we get deeper into winter. These four eye treatments will restore your skin at the harshest hour of winter, but they can and should be used year round.
Josh Rosebrook Oculus Formula
The Oculus Formula is an oil blend that smells and feels incredible. The scent is herbaceous and clearing but smooth, with pronounced fennel. I would like to have a version for my entire body. The Oculus gets the most use at nighttime, right over my facial oil. It does sink in well, but my natural mascara never agrees with me when I use oils under my eyes during the day. Hyper-nourishing Camellia and Hemp oils help deliver the benefits of herbal infusions like Alfalfa, Fennel, Chickweed, Eyebright, Skullcap, and Slippery Elm. It's a perfect meld that helps brighten and strengthen the skin around your eyes.
100% Pure Organic Coffee Bean Caffeine Eye Cream
The Coffee Bean Eye Cream was the first all-natural eye cream I ever purchased. It was also the first eye cream that ever gave me results. I loved it way back then, and I love it still. An all-around crowd pleaser, this cream is lightweight but moisturizing. It's especially good for layering with oils or heavier creams. The ingredients are pure, simple, and potent. Green Tea, Calendula Hydrosol, Rosehip Seed Oil, and Green Coffee, all organic, makeup the first four ingredients alone! It's toning, calming, and brightening. If you don't think you need an eye cream, this one will likely change your mind.
One Love Organics Elizabeth Dehn Vitamin E Active Moisture Eye Balm
Intensely healing and moisturizing, expect a true, nourishing balm texture with the Vitamin E Active Moisture Balm. For this reason, I mostly reserve this balm for night use, and the smooth lavender scent with hints of fennel really adds to my nighttime ritual. A waterless combination of organic butters, oils, and active herbal ingredients, this cream locks moisture in for real. If you have dry or mature skin, this balm has your name written all over it. Anytime my eyes are super parched and get that crepey look going on, this balm is the answer. Puffiness is no match for this balm. A little goes a very long way, making this balm an incredible value.
African Botanics Marula Resurrection Eye Cream
The Marula Resurrection Eye Cream gave me a new love for eye creams this last year. This cream is brimming with hydrating, fine-line reducing ingredients, absolutely brimming! It shows in terms of results. My eye area looks smoother and more plumped when this cream is in rotation. Great for day or night, it provides a smooth base under makeup and helps your peepers look less puffy in the morning thanks to anti-inflammatory Arnica, Baobab and Carrot Seed Oils. The formula is luxurious and silky, and it sinks into skin quickly. It's richer than the 100% Pure Eye Cream, but seems appropriate for any skin type. If you're looking for a collagen-boosting eye treatment, start here.
Treat your delicate eye area to an eye cream this winter and develop a habit you'll thank yourself for years later!