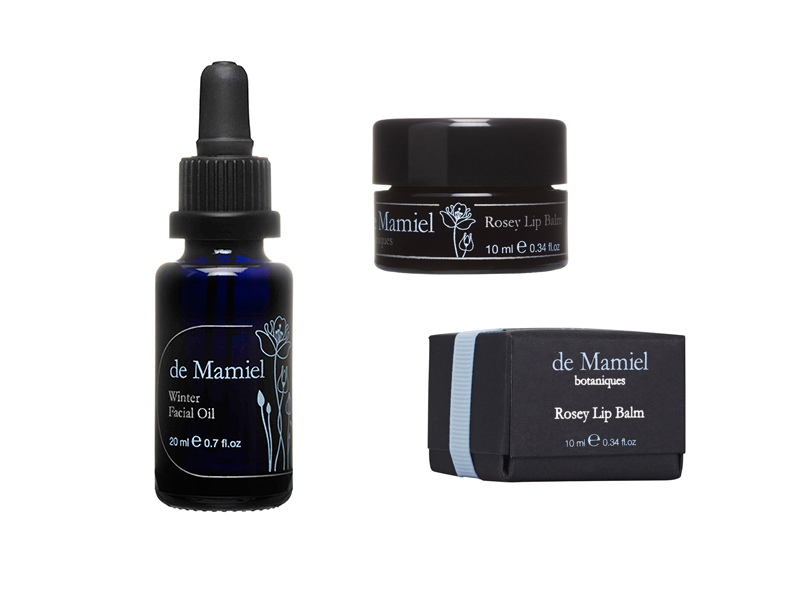 If you followed our de Mamiel launch back in September, you know that one of the exciting things about de Mamiel is their limited edition seasonal face oils. The de Mamiel Winter Seasonal Facial Oil is here, and de Mamiel describes it as restoring, cocooning and elevating. Indeed, if those adjectives resonate with you—you're going to love it.
With temperatures below freezing, I'm loving the heavier does of hydration that the Winter Seasonal Facial Oil offers. The scent is deeply restorative and grounding thanks to the finely tuned therapeutic oils like vetiver and neroli. What I smell most, however, is an uplifting and calming trio of jasmine, patchouli and chamomile. De Mamiel includes a blend of 16 hand made flower essences for their ability to enhance emotional wellbeing via the acupuncture meridians. While the affect of flower essences is harder to pin down than the glowing, happy skin that results from the nourishing oils in this blend, it's lovely to know that the formula is meant to treat on a holistic level, too. The Winter Facial Oil absorbs beautifully and gives you a dewy, well-conditioned complexion even through dry indoor heat and the bitter cold outdoors. It's a comfort in the evening as your main source of replenishing moisture, and wears well under makeup during the day. We know inherently that we need to alter our skincare routines with the seasons, and I love that de Mamiel is blending with the specific challenges of each season in mind.
Of course lips need love this winter, too, and the de Mamiel Rosey Lip Balm is a special treat. If you're looking for moisture that lasts through the night, this has worked really well for me. I keep it on my nightstand, but I also move around with it during the day. It both penetrates the lips and adds a protective layer of moisture that stays on the surface to keep your kisser well conditioned and comfortable. The gorgeous ingredient list includes antioxidant rich healers like evening primrose, manuka honey and calendula. The Rosey Lip Balm has a rich rose fragrance, and don't forget that rose oil is more than just a mood lifter—it's a seriously moisturizing and restorative ingredient. Do make a point to break the waxy surface of the lip balm when you first open the pot to get to the really emollient good stuff.
Shopping for de Mamiel? For a limited time, receive a free Rosey Lip Balm with any de Mamiel Restorative Cleansing Balm purchase at Integrity Botanicals. Code: ROSEYLIPBALM