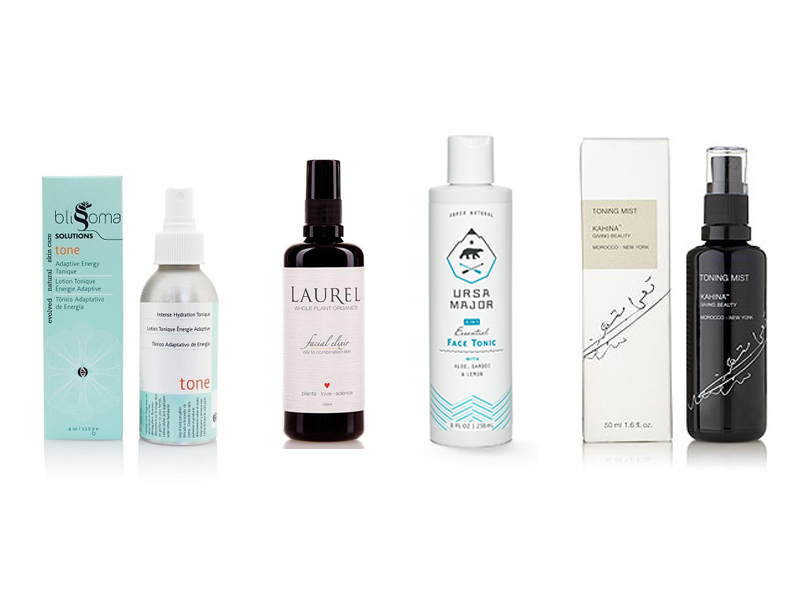 Do you use a toner? My first experience with a "toner" was probably similar to yours — an alcohol-based, highly astringent concoction that I swiped over my face while battling typical breakouts and oily skin. The toner would often burn, and it definitely removed oil, but it was overly harsh and drying. Little did I know—these drugstore toners disturbed my skin's acid mantle, leaving me even more vulnerable to breakouts. Most natural toners are the exact opposite—they're typically alcohol free and full of nourishing, pH balancing ingredients, which is why I believe they're an integral part of a balanced skincare routine.
The summer time can be especially rough on skin, and the extra sweat and oil we produce can clog pores and harbor bad bacteria, leading to breakouts. If your skin is prone to breakouts, you'll benefit from a toner formulated with antimicrobial ingredients as well as calming essential oils and herbal extracts. Ingredients like witch hazel and herbal infusions help purify without disturbing the acid mantel so that skin isn't further compromised when it's already stressed. Beyond the benefits they offer, many toners are such a joy to use because they include floral waters and essential oils that offer a calming aromatic experience when misted on the face.
Try one of these 4 toners that balance & fight acne this summer…
Ursa Major 4-in-1 Essential Face Tonic. Full of anti-inflammatory and anti-microbial ingredients, this refreshing toner will heal and hydrate while adding gentle exfoliation via a 3% natural alpha hydroxy acid and beta hydroxy acid complex that dissolves dead skin cells and keeps pores clear. It doubles as an excellent post shave treatment that prevents ingrown hairs and calms skin.
Laurel Facial Elixir: Oily/Combination. With its sweet chamomile and citrus scent, you can tell right off the bat how calming this toner will be for inflamed skin. Powerful herbal soothers like helichrysum, calendula and meadowsweet help heal acne infections and reduce redness while licorice and rose geranium balance oil production and detoxify. Laurel's herbal wisdom comes to life in this healing formula.
Kahina Toning Mist. There's nothing like willow bark and aspen bark (natural forms of salicylic acid) to help clear pores and turn over dead skin cells for smooth, luminous skin, and both are featured in this gentle but active toner. These ingredients also help balance oil production. The base of aloe and rose hydrosol keeps skin happy and calm while organic white tea extract adds a boost of essential antioxidants to help protect skin from environmental damage. I love how this formula minimizes pore size and keeps skin clear.
Blissoma Adative Energy Tonique. This toner is packed with potent and healing organic herbs that are ideal for acne prone skin types. Organic rhodiola, holy basil and red clover help balance skin, particular skin that's susceptible to hormonal fluctuations. Organic calendula helps heal blemishes and soothe angry flare-ups. The coolest aspect of this toner? It's made in a base of a specially prepared infusion of fresh organic cantaloupe, so it adds rejuvenating vitamins like A, B3, B6 and potassium, as well as a fresh melon aroma.